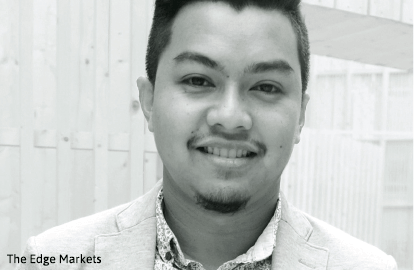 This article first appeared in haven, The Edge Malaysia, on Issue #77 February + March 2016.
WHO: A native of Kuala Lumpur, Shahril Faisal as a boy expressed an innate love for building and making things out of Lego bricks and clay, transforming them into "any desired form and construction", he says. That interest stayed with him through his growing up years, so much so that he decided to major in industrial design at university. "The course offered something that I could picture myself pursuing. Designing and creating seemed to suit me," he muses. 
Shahril, who founded his eponymous brand in 2014, defines good design as innovative, novel and unique, and that deviate from the usual approach and can shift perceptions. Furthermore, there is a sense of simplicity and something unexpected in good design. On his design philosophy, Shahril says, "My style is generally mute and subtle in appearance but possesses strong meaning… Almost all my designs have compositions of rectilinear lines with contoured profiles that create well balanced and harmonious forms… I fancy minimal and clean elements, which help to achieve a degree of elegance and gracefulness."
Shahril is based in the Netherlands for a few years, and is using his time there to learn and immerse in the European design scene. 
WHAT: What stands out most about Shahril's designs, which include various styles of tables, chairs and lighting, is an undeniable finesse undergirded by a contemporary sensibility. There are strong, distinct lines that serve an aesthetic purpose but also frame and support the structure of a piece of furniture, a beautiful illustration of form and function. His Twine chair, for instance, is made with mild steel tubes and laminated plywood, designed in such a way as to have the steel tubes "visually represent something made of string threading through a flexible leather strap", says Shahril. 
His inspirations, while they can come from anywhere, have included nature and Malay traditional houses and objects like kites. "The more I travel and see things the more easily it is for me to get inspired," he says. "And sometimes, even the process of sketching and iterative refinements can lead to [imaginative] outcomes."
Shahril is planning to set up his design studio that would enable him to do more collaborative work with Malaysian manufacturers. "I also hope to propel my brand forward for the masses, to deliver affordable yet highly novel and quality designs. Quality would refer not only to the fabrication of the products, but also in terms of the design of the products."
This year, he is expanding on the Twine series, which will be exhibited Milan's Salone Satellite in April. He will also be launching a bamboo chair and table at the International Furniture Fair Singapore in March. 
WHERE: Two of Shahril's designs can be found on Designation.co. For more information about the designer, log on to www.shahrilfaisal.com.