This article first appeared in Personal Wealth, The Edge Malaysia Weekly, on August 13, 2018 - August 19, 2018.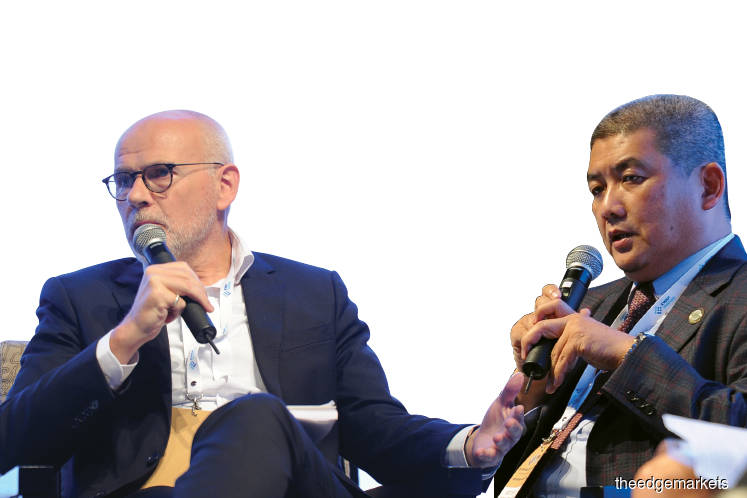 The authorities will need to look into deregulating and liberalising the country's power generation sector if there is to be any hope for long-term investments in renewable energy solutions. The ongoing protection afforded to legacy power generation assets and some state-controlled utility companies means there is little incentive for investors to move into such investments.
"The monopoly by companies such as Tenaga Nasional Berhad (TNB) does not motivate others to come in and introduce competitive renewable energy solutions to the market," says Serba Dinamik Holdings Bhd group CEO Datuk Dr Ir Mohd Abdul Karim Abdullah.
He was speaking at the recently held KWAP Inspire: Environmental Conference 2018 on "Stranded Assets: A Critical Look Beyond Fossil Fuels".
Mohd Abdul Karim points out that a lack of tariffs for alternative sources of renewable energy contributed to the lack of interest in the space. "If the regulators are not in line with the technologies, then the owners of these innovative assets will find it difficult to implement technologies that could eliminate emissions in the atmosphere," he says.
"Suppose we wanted to implement wind technology in Malaysia. Without imposing any tariffs related to wind technology, however, no one would want to produce wind-generated electricity.
"It is the same for hydrogen fuel cells. It is quite possible to produce enough electricity to power up entire halls, but there must be a tariff related to its generation. This is where the regulators need to step in and create the demand."
This lack of regulator engagement is why renewable energy continues to disappoint in terms of returns on investment, Mohd Abdul Karim contends. "The returns are not meeting investor expectations and this poses a challenge to all the financiers involved in such initiatives," he says.
Mohd Abdul Karim believes that the price per kilowatt of power can be very competitive if the sector is gradually deregulated. "The sector should be opened up to aspiring solution providers, who can come in and provide the kind of competitive pricing that users will benefit from."
The monopolistic competition market structure in power generation has been touted as a barrier to greater renewable energy investment and uptake in the country. The Malaysian Photovoltaic Industry Association released a statement in June, calling for the democratisation of the electricity supply market. It says the growth of renewable energy "should not be stunted by any monopolistic entity".
The association adds that renewable energy providers in Malaysia would benefit from tax exemptions and greater transparency in the execution of the national renewable energy agenda. "The Sustainable Energy Development Authority was initially established as an authority on renewable energy, whose mandate was to implement the Feed-in Tariff scheme. Somehow, over the years, it appears that the role of renewable energy — specifically solar photovoltaics — has been transferred to other energy agencies."
Although Bursa Malaysia-listed Serba Dinamik is entrenched in the oil and gas engineering, contracting and maintenance services subsector, Karim tells Personal Wealth on the sidelines of the conference that deregulation to allow more renewable energy solutions into the market would be a boon for the company.
"We are a service provider. Our core revenue drivers come from operations and maintenance. From this perspective, there isn't much difference in the machinery used [to generate electricity]. The rotating equipment, compressors and turbines may have differentiated components to deal with new sources of energy, but we will always be able to get guidelines from the designer or manufacturer," he says.
Gaining economies of scale
Peter Dickson, founding partner and technical director of Glennmont Partners, a UK-based renewable energy investment fund, believes that renewables are quickly gaining economies of scale. "Over the last nine years, the price of solar power has fallen 82%. Wind-generated power has fallen by about 65% during that time frame. Also, solar is now competing without subsidies in many parts of the world and the trend will only continue."
That is why renewable energy sources are starting to outperform their conventional counterparts. There is a very low margin cost of production, says Dickson. "It does not cost money for the wind to blow or the sun to shine, or even for water to flow into hydropower stations. "Although these technologies were expensive to install initially, as they have become more advertised, they have started to perform. Renewable energy solutions are, thus, forcing the price of electricity down in various markets."
The International Renewable Energy Agency, in its Renewable Power Generation Costs 2017 report, shares this view. "Electricity from renewables will soon be consistently cheaper than that from fossil fuels. By 2020, all the power generation technologies that are now in commercial use will fall within the fossil fuel-fired cost range, with most at the lower end or even undercutting fossil fuels," says the report.
As a result, conventional power assets are finding it increasingly difficult to compete in markets they once dominated. According to Dickson, it has got to the point that in the UK and many parts of Europe, it is impossible to build new coal or gas capacity without some form of subsidy.
"This is where we are in Europe. But we are starting to see the same trends in Asia. We find that the biggest flows of investment into the sustainable energy sector are occurring in Asia. We see similar inflows occurring on the African continent and certain places in the US," he says.  
In short, investments in renewable energy are ramping up in most parts of the world. "1990 was a turning point [in Europe], which saw interest in renewable energy technologies come to the fore. With improved regulations in the mid-1990s and early 2000s, that flow of investment became a flood and has now caused the cost of producing renewable energy to fall significantly. We are now at a point where people are investing in renewable energy out of choice," says Dickson.
Ironically, ongoing investments in conventional energy sectors and legacy power generation assets will only increase the risk of these assets being stranded. According to Dickson, assumptions made based on current commodity prices and energy market behaviour does not take into account that circumstances can, and likely will, change.
"There are six gas-fired power stations built in India's Andhra Pradesh state, totalling 2,000mw of energy that are sitting idle. That is because the analysis on the availability and price of gas at the point of investment did not last — the circumstances have since changed," says Dickson.
In fact, according to an April 2017 news report, some 14,305mw of India's 25,329mw of gas-based energy production capacity is stranded — either partially or fully — due to a lack of gas supply. As at April last year, the Indian government had been in talks with Indonesia with a view of relocating Indian gas-based power plants to the Southeast Asian nation.
"Regulations and the availability of resources change, the prices of oil and gas shift. So does the cost of operations and maintenance, and even the availability of spares. These are the real considerations when talking about the sustainability of an asset," says Dickson.
"It has to be resource-sustainable in that there are sufficient resources to build the asset. But more than that, the asset itself should not be cannibalising the resource, thus contributing to the changes that can affect one's investment," he adds.
"I think investment in conventional energy is slowing down and the coal industry is, in fact, dying all over the world. I also think companies that support these industries — turbine and boiler manufacturers — are now struggling to find their place in the world.
"In fact, various environmental technologies associated with extracting hydrocarbon emissions, such as various nitrous and sulphur oxides, are also on the decline. We are seeing quite a turbulent change from a hydrocarbon-based economy to a low-carbon one. The impact will be quite unpredictable and probably very wide."