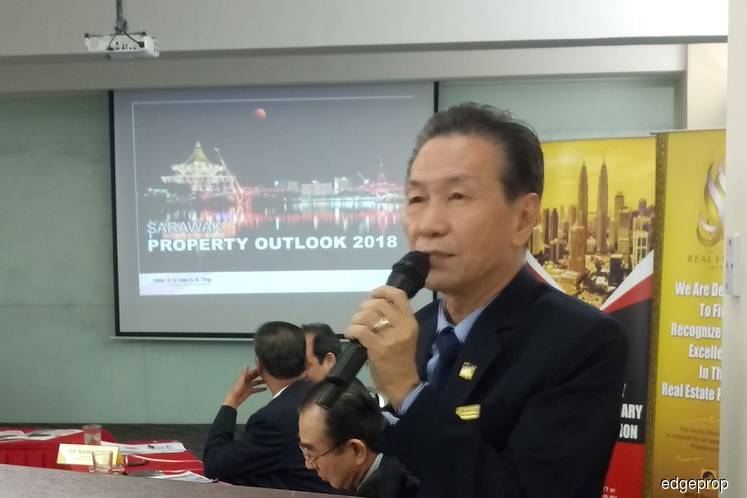 PETALING JAYA (Feb 6): High-rise residential projects have seen stronger demand in Sarawak, according to Malaysian Institute of Estate Agents (MIEA) Sarawak branch chairman Datuk Alex Ting.
At MIEA's media conference after the launch of the MIEA Property Market Sentiment Report today in Petaling Jaya, Ting noted that high-rise residential projects are getting popular in Sarawak although landed homes are still fairly affordable.
"Condominium and apartment projects near urban areas saw stronger demand last year especially from the younger generation, young families and from those who prefer more lifestyle-oriented developments as they usually offer better facilities," said Ting.
However, he stressed that landed homes remain in good demand but high-rise homes in the CBD are catching up," he explained.
The overall Sarawak residential property market performance in 2017 had shown signs of recovering up until the announcement of a 25 basis point interest rate hike by Bank Negara end of last year.
Nevertheless, he described the overall Sarawak property market as fairly stable with the All House Price Index growing steadily.
"We face challenges like the problem of land usage and conversion, and low buying sentiment due to the interest hike as there is the possibility of another 0.25% interest rate hike. This will further dampen sentiments in Sarawak," he said.
Meanwhile in Sabah, MIEA Sabah branch chairman Victor Wong expected the local property market to pick up this year.
"Property prices in Sabah will continue to increase steadily over the year. There was a slowdown in transactions in 2017, most likely due to difficulty in obtaining financing. But we foresee that transactions will pick up in 2018 as there is a marked increase in interest from foreign investors and buyers," he shared.
He added that the newly launched direct flights from China and South Korea to Sabah are bringing in more foreign investors which will offer a spillover effect on the local hospitality property sector.
"Airbnb is very active in Sabah. Many investors come in to buy property for short-term rental business," Wong noted.
Commercial property in Sabah has done well in 2017 too, according to Wong.
The commercial property sector saw an increase of 13% in transactions and 21% in value by the third quarter of 2017. Looking ahead in 2018, Wong expected both the occupancy and rents of commercial offices in prime locations, to hold steady at a relatively healthy level.
He stressed that this only applies to shopoffices in prime locations and to newer units, hence property owners of old and rundown units need to upgrade their properties to attract tenants and buyers.