This article first appeared in The Edge Financial Daily, on May 24, 2019.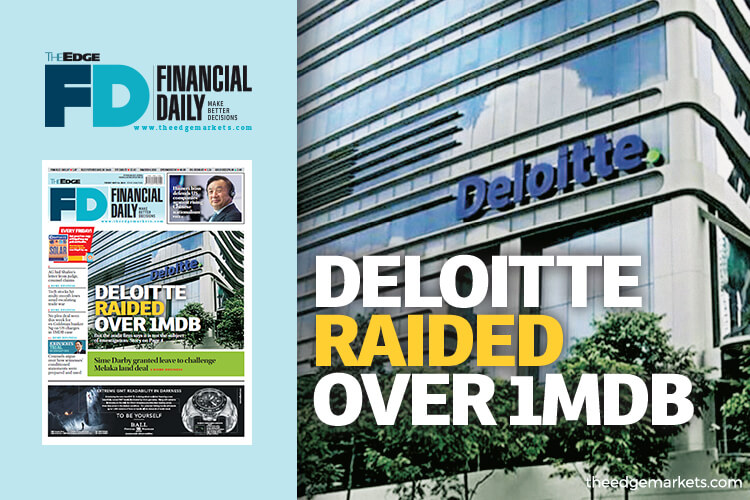 KUALA LUMPUR: Audit firm Deloitte Malaysia has confirmed that its office in Taman Tun Dr Ismail here was raided by police yesterday, as authorities here continue its probe into the multibillion-ringgit scandal at 1Malaysia Development Bhd (1MDB).
But the firm clarified that it was not the subject of investigation.
"On May 23, 2019, officers of the Royal Malaysia Police arrived at the offices of Deloitte Malaysia seeking assistance in the provision of records relating to 1MDB.
"Deloitte Malaysia is not the subject of the investigation and is cooperating fully with the authorities in their investigation," Deloitte said in a brief emailed statement yesterday.
Police also separately confirmed the incident, according to news reports earlier in the day.
"I can confirm that we have raided the firm and seized documents to help with our probe into the 1MDB case. A team from the Bukit Aman CCID (commercial crime investigation department) conducted the raid, in line with its ongoing investigations into the case," Deputy Inspector-General of Police Datuk Mazlan Mansor was quoted as saying by The Star.
The police reportedly carted away 11 cardboard boxes in two police vehicles when they exited Deloitte's office around 5.30pm yesterday.
On Jan 30 this year, Deloitte became the first audit firm to be penalised in connection with 1MDB when it was slapped with a RM2 million fine by the Securities Commission Malaysia for failing to report irregularities it found in relation to the issuance of a RM2.4 billion sukuk murabahah programme issued by a 1MDB subsidiary in 2014.
The firm was also slapped with another RM200,000 fine for not submitting a copy of Bandar Malaysia's financial statements to MTrustee Bhd — the trustee for the sukuk — within seven days after furnishing the financial statements to Bandar Malaysia.
Deloitte was 1MDB's third auditor after KPMG and Ernst & Young were fired by the fund. In 2016, after US authorities filed civil lawsuits over 1MDB, Deloitte said the 1MDB finance statements it audited should no longer be relied on. Deloitte resigned as the fund's auditor earlier that same year.
The 1MDB scandal, where billions of ringgit have allegedly been siphoned off, is now being investigated in at least six countries for alleged graft and money laundering.
Former prime minister Datuk Seri Najib Razak, who set up the fund in 2009, has since been slapped with 42 counts of corruption and money laundering charges linked to 1MDB.