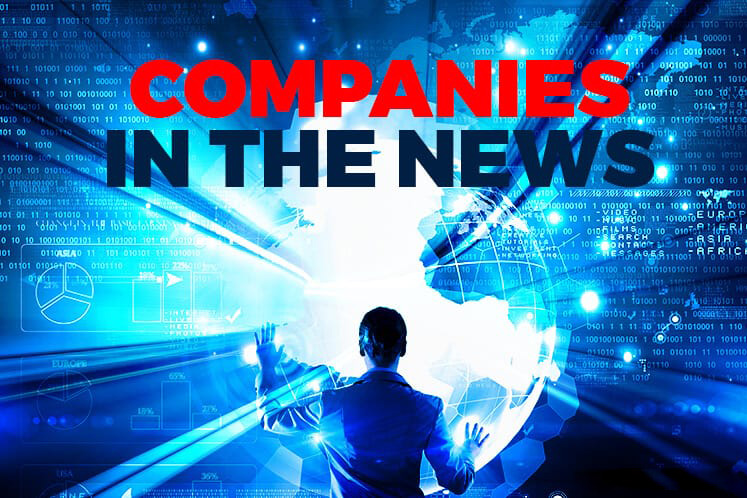 KUALA LUMPUR (May 14): Based on corporate announcements and news flow today, stocks in focus for Wednesday (May 15) may include the following: Deleum Bhd, Digi.Com Bhd, JAKS Resources Bhd, Tenaga Nasional Bhd, Media Chinese International Ltd, Tan Chong Motor Bhd, Supermax Corp Bhd, Dialog Group Bhd, Damansara Realty Bhd, AirAsia Bhd and AirAsia X Bhd.
Deleum Bhd is looking at a gradual expansion into overseas markets to mitigate the oilfield services provider's geographical risk.
Deleum group managing director Nan Yusri Nan Rahimy said the group is looking at setting up operations in Indonesia, Brunei, the United Arab Emirates, Saudi Arabia and Oman to raise Deleum's overseas revenue contribution to a high single-digit percentage of total group top line from some 1% now.
Digi.Com Bhd is expecting a flat growth in its service revenue for the financial year ending Dec 31, 2019, amid the challenging market environment.
The mobile telecommunication network provider explained that despite anticipating service revenue figures to stay around the 2018 levels, given the lower termination rates of 33% year-on-year, this would mean that Digi would still have to see its service revenue grow stronger to compensate for this loss.
JAKS Resources Bhd has inked a Memorandum of Understanding (MoU) with Vietnam-based LICOGI 13 to acquire a power plant project as well as for future joint ventures for other solar and wind energy projects.
JAKS said the MoU was to acquire the Lig-Quang Tri Solar Power Project (LQT) that will come into operation at the end of June 2019 in the central province of Quang Tri, Vietnam.
JAKS said the power purchase agreement for LQT was executed on Oct 23, 2018 and that this project has a life span of 50 years.
Tenaga Nasional Bhd has earmarked a capital expenditure (capex) of between RM9 billion and RM9.5 billion for the current financial year ending Dec 31, 2019.
Of the total capex, RM6 billion will be used for its grid division and RM2.5 billion will be allocated for its generation division, mainly to cater for the Jimah East Power Plant and Southern Power Generation (SPG) Pasir Gudang Plant, said TNB chief financial officer Nazmi Othman, adding that the remainder will be for renewable energy and smart metering.
He said that the capex for this year is lower compared with RM12 billion the group spent last year.
Media Chinese International Ltd (MCIL) has issued a profit warning today, warning shareholders that it may record a net loss for the financial year ended March 31, 2019 (FY19).
MCIL blamed the weak results to a provision for the impairment of goodwill of approximately US$15 million in relation to a business unit of the group.
Tan Chong Motor Bhd managed to sell more cars that earned better profit in the first quarter ended March 13, 2019 compared with a year ago as reflected in its quarterly net profit that came in at RM17.21 million, more than eight times the RM2.087 million reported in the previous corresponding quarter.
The group's quarterly revenue grew only 4.4% to RM1.08 billion from RM1.034 billion a year ago. However, its operating profit soared to RM40.04 million in 1QFY19 from RM23.63 million previously.
Earnings per share stood at 2.45 sen versus 0.65 sen a year ago.
The automaker attributed the good set of quarterly earnings to higher sales and better sales product mix arising from the new models that were launched in Malaysia and the overseas market.
Supermax Corp Bhd's net profit rose 3.7% to RM34.62 million in the third financial quarter ended March 31, 2019 (3QFY19) from RM33.38 million a year ago, due to the commissioning of new replacement lines which resulted in higher output and greater efficiency.
This resulted in a higher earnings per share of 2.64 sen for 3QFY19 compared with 2.52 sen for 3QFY18.
Quarterly revenue also increased 10.4% to RM361.2 million from RM327.07 million a year ago.
The improved quarterly performance helped lift the glove maker's net profit for the cumulative nine months (9MFY19) to RM108.7 million, an 11.8% increase from RM97.18 million a year ago, while revenue was up 14.2% to RM1.11 billion from RM975 million in 9MFY18.
Dialog Group Bhd saw its net profit jump 20.9% to RM143.71 million in the third financial quarter ended March 31, 2019 (3QFY19) from RM118.84 million a year ago, mainly due to cost savings realised on completed projects and increased share of profit in joint ventures and associates.
The better quarterly earnings was achieved despite a 26.6% fall in quarterly revenue to RM636.61 million from RM867.37 million in 3QFY18, on lower contribution from its Malaysian and international operations during the current quarter.
The group also declared an interim dividend of 1.5 sen per share for the financial year ending June 30, 2019 (FY19), payable on June 27.
For the cumulative nine months (9MFY19), the group's net profit fell by a marginal 1% to RM395.13 million from RM395.53 million a year ago, while revenue declined 22.6% to RM1.94 billion from RM2.5 billion in 9MFY18.
Damansara Realty Bhd's indirect subsidiary Dac Land Sdn Bhd (DACL) is teaming up with private developer Active Estates Sdn Bhd (AESB) to develop a commercial project comprising 68 units of shoplots on a plot of land in Johor Bahru, with a net development area of 2.9 acres.
Under the joint land development agreement, DACL will be entitled to RM41.62 million or 40% of the project's gross development value, whichever is higher at the end of the agreement. The project is expected to be completed in five years.
AESB, in return, will pay for funding costs, procure approvals for the development, pay DACL a guaranteed profit, and be responsible to apply for any revisions or alterations of the project's approved plan.
AirAsia Bhd and AirAsia X Bhd have filed a judicial review challenging the Malaysian Aviation Commission (Mavcom) for declining to decide on the disputes between Malaysia Airport (Sepang) Sdn Bhd (MASSB) and the airlines with regard to the passenger service charge (PSC) and alleged poor level of service at klia2.
The low-cost airlines said Mavcom has a statutory duty to decide on the dispute once mediation between parties has failed, or is deemed to have failed, based on the Mavcom Act.
AirAsia and AirAsia X are seeking an order of mandamus to compel Mavcom to adjudicate on the disputes between them and MASSB in accordance with its statutory duty.