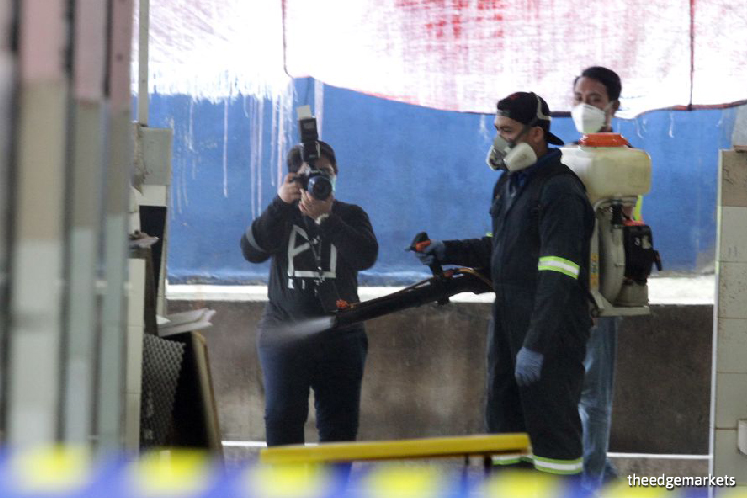 KUALA LUMPUR (April 28): A decision on whether to reopen the Taman Megah market — which was shut on Sunday after one trader there tested positive for Covid-19 — will be made in five days, said Petaling district officer and disaster committee chairman Johary Anuar.
This morning, 152 people — including traders and workers at the market as well as 17 enforcement officers — were screened for the disease and had their samples taken, he told reporters.
"Those who took the screening test today will get their results in 48 hours and the result will dictate whether the market should continually close or operate as usual," he said.
He added that there were traders who had gone for tests to detect the coronavirus that caused the disease at private hospitals, but they did not self-quarantine and had gone to the market after taking the tests.
"Those who came to the market showed no symptoms," he said.
He added that the market will now be closed for at least five to seven days, depending on the results.
Johary said another round of screenings and swab tests will happen at Pasar Besar Jalan Othman at 9am tomorrow.
One trader was tested positive for the virus, leading to the closure of the market.
The district officer said his wife, who does not work at the market, has also been diagnosed with Covid-19.
Both markets here were closed after it was found that their Covid-19 cases were linked to the Kuala Lumpur wholesale market in Selayang.
The market, which was closed on Monday last week, reopened last Friday after it was sanitised and disinfected.
The area around the market as well as Selayang Baru were put under an enhanced movement control order to contain the spread of the virus and enable the Ministry of Health to test and treat residents there.
Below are photos taken by photographer Suhaimi Mohd Yusuf.
Stay at home. We will deliver the news to you at theedgemarkets.com.