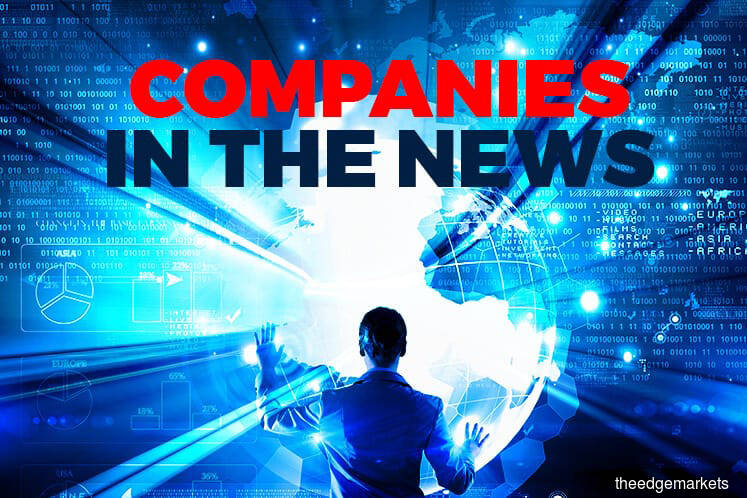 KUALA LUMPUR (May 31): Based on corporate news flows and announcements, the following stocks may be in focus on Monday (June 3): DBE Gurney Bhd, Telekom Malaysia Bhd, Opcom Holdings Bhd, Press Metal Aluminium Holdings Bhd, SKP Resources, Destini Bhd, YTL Power International Bhd, Malaysia Airports Holdings Bhd (MAHB), KPJ Healthcare Bhd, Sime Darby Plantation.
DBE Gurney Bhd inked a partnership with Silver Homes Development Sdn Bhd (which is controlled by Datuk Doh Jee Ming and Datuk Doh Tee Leong) to develop 482 residences on 499 pieces of leasehold land, measuring 17.23 acres in Perak. The housing project includes 268 units of single-storey terrace houses, 117 units of double-storey terrace houses and 37 units of double-storey houses. The project has a gross development value (GDV) of RM100 million and is to be shared on a 75:25 basis in favour of DBE Gurney.
Telekom Malaysia Bhd said its chairman Rosli Man deferred the appointment of a new CEO at the behest of the Prime Minister's office. The group said at Rosli had informed its board in early March about the PMO's request. The bourse filing detailed that the board had recommended current acting CEO Imri Mokhtar as its Managing Director and CEO to the Ministry of Finance.
Opcom Holdings Bhd's executive chairman Tan Sri Mokhzani Mahathir resigned due to personal reasons. He was appointed to the group's board ten years ago. Separately, Kedah Menteri Besar and brother to Mokhzani, Datuk Seri Mukhriz Mahathir, disposed of 2.57 million shares, trimming his stake to 21.68%.
Press Metal Aluminium Holdings Bhd entered an MoU with PT Bintan Alumina Indonesia (PT BAI), alongside the latter's direct and indirect shareholders Shandong Nanshan Aluminium Co Ltd, Redstone Alumina International Pte and PT Makhota Karya Utama, to negotiate a proposed acquisition of a 25% stake in PT BAI. This would allow the group a secure long-term alumina supply, as PT BAI is currently building a million-ton alumina refinery plant and accompanying facilities in Galang Batang in the Riau Islands, Indonesia, with plans for a second phase.
SKP Resources Bhd's net profit declined 27.78% to RM20.41 million for the fourth quarter ended March 31, 2019 (4QFY19), from RM28.27 million last year. Quarterly revenue declined 21.9% to RM357.1 million, from RM457.27 million. For FY19, net profit was down 23.1% to RM97.61 million, from RM126.75 million last year. Revenue contracted 20.5% to RM1.66 billion, from RM2.09 billion last year, due to lower revenue recorded from existing key customers, as well as different product mix.
Destini Bhd's first quarter ended March 31,2019 (1QFY19) net profit declined nearly 92% to RM636,000, from RM7.75 million, due to lower revenue from its aviation manufacturing services. Revenue dropped 37.58% to RM84.49 million, from RM137.57 million. Earnings per share (EPS) fell to 0.06 sen, from 0.67 sen in 1QFY18.
YTL Power International Bhd's 1QFY19 net profit fell 23.4% to RM111.26 million, from RM145.36 million last year, due to its multi-utilities business and water and sewerage business reporting weaker earnings. Revenue climbed 11.5% to RM2.89 billion, from RM2.59 billion, with all segments reporting higher contributions during the quarter. EPS fell to 1.45 sen, from 1.83 sen.  
Malaysia Airports Holdings Bhd (MAHB) 1QFY19 net profit fell two-thirds lower to RM149.58 million, from RM444.59 million a year ago, due to one-off gains last year in relation to the fair valuation of the group's investment in GMR Hyderabad International Airport Ltd (GHIAL) which amounted to RM258.4 million, and a gain on disposal of its investment in GMR Male Private Ltd (GMIAL) of RM28.2 million, as well as higher expenditure. Revenue increased to RM1.25 billion, from RM1.215 billion seen previously.
KPJ Healthcare Bhd's 1QFY19 net profit was down by 7.9% to RM39.13 million from RM42.48 million, due to a RM2.07 million loss from its discontinued Australian aged care business. Revenue for the quarter increased 5% to RM868.13 million, from RM822.88 million in 1QFY18. Earnings per share dipped to 0.93 sen, from one sen. The group declared an interim dividend of 0.5 sen per share, payable on June 28 this year.
Sime Darby Plantation Bhd's 1QFY19 net profit contracted 70.3% to RM74 million from RM249 million posted last year. Quarter revenue shed 17.8% to RM3.01 billion from RM3.66 billion previously. Earnings per share retreated to 1.1 sen, from 3.7 sen. The group attributed the lower net profit to a sharp fall in crude palm oil prices (CPO) and palm kernel (PK) prices, as well as higher finance costs, while also benefiting from a one-off net gain of RM26 million.
The group said it has changed its financial year end to Dec 31 from June 30, so its 1QFY19 is not comparable with 1QFY18, but it can be compared to the three months that ended March 31, 2018.
Sime Darby Plantation's executive deputy chairman and managing director (MD) Tan Sri Mohd Bakke Salleh, 64, is retiring from his positions, with Mohamad Helmy Othman Basham, 52, to succeed him as MD. Mohamad Helmy is to take over on July 1, 2019, after Mohd Bakke retires on June 30, 2019.