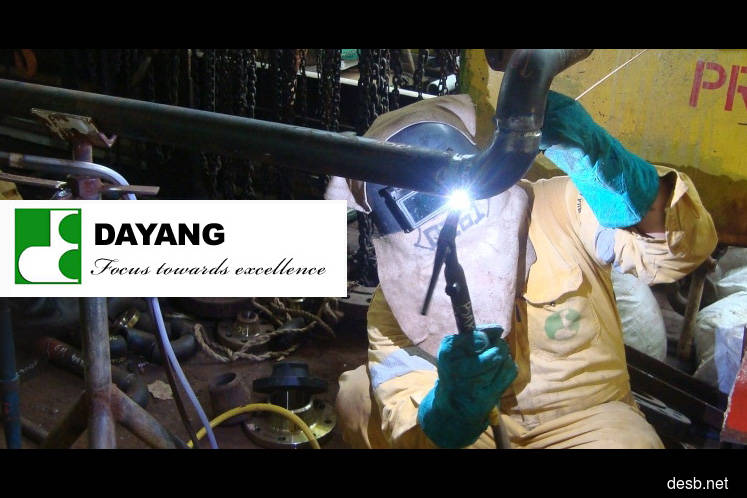 KUALA LUMPUR (May 23): Dayang Enterprise Holdings Bhd shares dropped as much as 20 sen or 18% so far today to 93 sen amid lower crude oil prices and despite the oil and gas (O&G) support services provider reporting lower first quarter net loss of RM4.14 million.
At 11:18am today, the counter cut losses at 95.5 sen after some 40 million shares exchanged hands. Dayang's share trade resumed following a suspension between 9am and 10am today.
However, Dayang securities' proprietary day trading (PDT) and intraday short selling (IDSS) have been suspended for the rest of today after the stock's substantial price drop, Bursa Malaysia said.
"Please be informed that the PDT and IDSS activities for stock: DAYANG (5141) has been suspended for the rest of the day as the last done price of the approved securities dropped more than 15 sen/15% from the reference price. The PDT and IDSS activities will only be enabled the following trading day, Friday, May 24, 2019 at 08:30am," Bursa said in a special announcement on its website.
Dayang shares fell with other actively-traded O&G-related counters including Sapura Energy Bhd and Bumi Armada Bhd as world crude oil prices fell.
Reuters reported that oil prices dropped on Thursday, extending falls from the previous session amid surging US crude inventories and weak demand from refineries. It was reported that Brent crude futures, the international benchmark for oil prices, were at US$70.62 per barrel at 0109 GMT, down 37 cents, or 0.5%, from their last close while US West Texas Intermediate (WTI) crude futures were down by 31 cents, or 0.5%, at US$61.11 per barrel.
Crude futures already fell by around 2% the previous day, according to the newswire.
Yesterday, Dayang said in a bourse filing that its net loss in the first quarter ended March 31, 2019 (1QFY19) narrowed to RM4.14 million from a net loss of RM21.31 million a year earlier. Quarterly revenue rose to RM156.41 million from RM148.78 million in the previous year.
"Comparatively, the group's revenue for the current quarter ended March 31, 2019 increased by 5% while the group made a loss before tax of RM8.5 million for the current quarter as compared to loss before tax of RM36.0 million in the corresponding quarter ended March 31, 2018.
"The increase in revenue and improved loss before tax in the current quarter is mainly due to higher work orders received and performed under the topside maintenance contracts. In addition, the improved loss before tax in the current quarter has also taken into account the net realised/unrealised foreign exchange gain of RM1.1 million as compared to a net realised/unrealised foreign loss of RM28.5 million in the corresponding quarter," Dayang said.