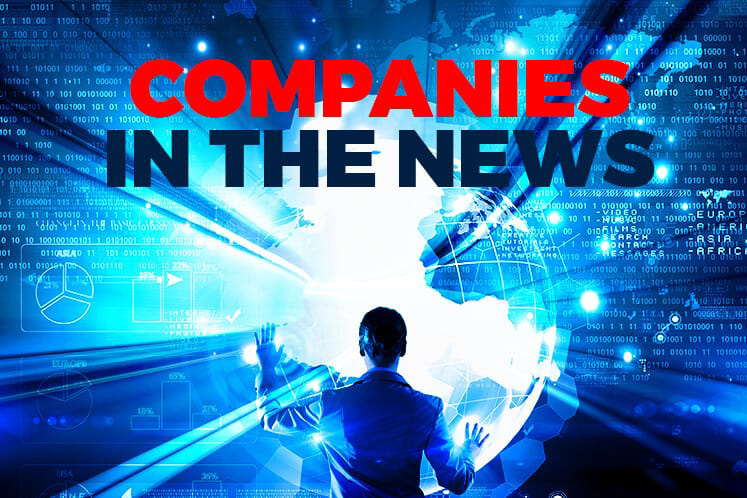 KUALA LUMPUR (July 26): Based on corporate announcements and news flow today, companies that may be in focus on Monday (July 30) may include the following: Dayang Enterprise Holdings Bhd, Syarikat Takaful Malaysia Keluarga Bhd, Velesto Energy Bhd, Sunway Construction Group Bhd, Uzma Bhd, Sapura Energy Bhd, Axiata Group Bhd, Malayan Banking Bhd and Gabungan AQRS Bhd
Dayang Enterprise Holdings Bhd's wholly-owned subsidiary, Dayang Enterprise Sdn Bhd, has secured a five-year contract from Murphy Sarawak Oil Co Ltd and Murphy Sabah Oil Co Ltd for the provision of Pan Malaysia maintenance, construction and modification.
The duration of the contract is for a primary period of five years effective from July 17, with an option to extend for a period of one year.
There is no firm value on the contract, as it depends on work orders to be issued to it at a fixed schedule of rates, but is expected to contribute positively to group's earnings over the duration of the contract.
Syarikat Takaful Malaysia Keluarga Bhd (Takaful Malaysia) reported an 11.9% increase in its latest quarterly net profit to RM50.42 million from RM45.07 million a year ago, attributed mainly to higher net wakalah fee income.
Revenue rose 11.8% to RM542.43 million from RM485.34 million in the corresponding quarter last year, thanks to higher sales generated by its Family and General Takaful business, which was partially offset by fair value losses.
Cumulative net profit for 1HFY18 stood at RM120.4 million, up 18.2% from RM101.82 million previously, while revenue improved 12.5% to RM1.29 billion, compared with RM1.15 billion in 1HFY17.
Velesto Energy Bhd has bagged a contract worth US$25 million (RM101.52 million) to provide drilling rig services for Sarawak Shell Bhd and Sabah Shell Petroleum Company Ltd (SSB/SSPC).
The contract awarded by Royal Dutch Shell Plc's subsidiaries, SSB/SSPC, to its unit Velesto Drilling Sdn Bhd has a tentative commencement date between Aug 1 and Sept 30.
The contract is expected to contribute positively to the earnings and net assets of Velesto Energy group during the contract period for the financial period ending Dec 31, 2018.
Sunway Construction Group Bhd has won the bid for the 30-year lease of a piece of land measuring 38,421.8 sq m in Pulau Punggol Barat, Singapore, from the island state's Building and Construction Authority, to build a fully mechanized, state-of-the-art integrated precast plant on the land, with an expected annual production capacity of 100,000 cubic meters of concrete products.
Total consideration for the land is S$25.7 million comprising the land price and administrative fees, and will be proportionally borne by the joint venture parties, i.e. Sunway Concrete Products (S) Pte Ltd and Hong Leong Asia's precast concrete unit HL Building Materials Pte Ltd.
Uzma Bhd's wholly-owned Uzma Integrasi Padu Bhd is issuing RM1 billion worth of Islamic Medium Term Notes (Sukuk Wakalah) with up to 15 years in tenure.
It intends to use the fund raised from the unrated Sukuk Wakalah to refinance its outstanding financing facilities, fund its working capital and as capital expenditure for the general corporate purpose.
The proceeds will also be used for payment of all fees, costs, and expenses in relation to the Syariah principle of Wakalah Bi Al-Istithmar (Sukuk Wakalah Programme).
Sapura Energy Bhd's president and group chief executive officer Tan Sri Shahril Shamsuddin is no longer part of the group's board remuneration committee after a revision of the composition today.
Subsequent to the revision, the board remuneration committee will now consist of chairman Datuk Hamzah Bakar, who is also a non-independent non-executive director, and three other independent non-executive directors, namely Mohamed Rashdi Mohamed Ghazali, Datuk Muhamad Noor Hamid and Datuk Ramlan Abdul Rashid.
Axiata Group Bhd will record a non-cash financial loss of RM1.5 billion to RM3 billion following the approval by the Department of Telecommunications (DoT) of India on the merger between India Cellular Ltd (Idea), Vodafone India Ltd  and Vodafone Mobile Services Ltd.
It said that the reclassification of Idea from associate to simple investment upon completion of the scheme is attributed to the dilution of Axiata Group's shareholding in the merged enlarged Idea-Vodafone entity from 16.33% to 8.17%, which will result in loss of certain shareholder's rights as provided under the subscription agreement dated June 25, 2008 between Axiata Group and Idea.
The estimated loss is expected to have a material impact on financial quarter ended June 30 this year.
Malayan Banking Bhd's (Maybank) unit PT Bank Maybank Indonesia Tbk saw its profit after tax and minority Interest (PATAMI) for the six months ended June 30, 2018 (1HFY18) fall 6.59% to Rp932.7 billion compared with Rp998.5 billion last year, due to lower fee-based income and a slight compression in net interest margin (NIM).
Maybank Indonesia noted that the business was impacted by subdued economic conditions in the first semester of 2018.
Gabungan AQRS Bhd has filed two separate suits to several parties for the breach of contract for the provision of accommodation to Petronas Chemicals Fertiliser Sabah Sdn Bhd.
It said the suits have been filed by two of its subsidiaries, namely Trusvest Sdn Bhd and Gabungan Strategik Sdn Bhd respectively, against Seri Wilayah Engineering Sdn Bhd and six others, and Imaprima Sdn Bhd and six others, respectively.
It also said that the High Court in Kota Kinabalu had granted an order in terms of Trusvest's application for an interim injunction on July 16.
It added that both suits will most likely be heard together and are currently fixed for case management on Aug 27.