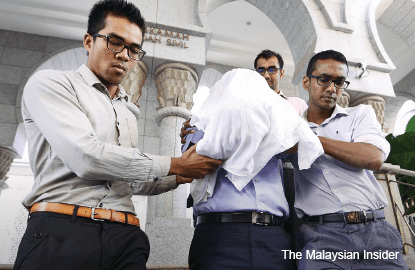 KUALA LUMPUR: Datuk Dr Shamsul Anwar Sulaiman of Ihsan Perdana Sdn Bhd was remanded yesterday, over investigations into debt-ridden state fund 1Malaysia Development Bhd (1MDB).
He was picked up on Tuesday afternoon at The Curve shopping mall in Mutiara Damansara, and was brought to the headquarters of the anti-graft authorities for questioning, where he was arrested.
He was brought to the magistrates' court in Putrajaya yesterday, where police obtained a five-day remand order.
He is the second individual under remand over investigations into 1MDB.
Ihsan Perdana is a company that undertakes corporate social responsibility programmes of 1MDB's charity foundation.
It was mentioned in The Wall Street Journal (WSJ) report on July 2 as one of the entities in the money trail of billions of ringgit that went into Prime Minister Datuk Seri Najib Razak's personal bank accounts.
Malaysian Anti-Corruption Commission (MACC) prosecutor Ahmad Sazilee Abdul Khairy yesterday said Shamsul, 54, was met at The Curve on Tuesday, before being taken to the agency's headquarters, where he was arrested under Section 17 (a) of the MACC Act.
Ahmad Sazilee said the MACC wanted a seven-day remand order, but magistrate Eric Lau allowed a five-day remand until Sunday.
When asked outside the magistrates' court yesterday if Shamsul is the managing director of Ihsan Perdana, Ahmad Sazilee nodded.
Another source from the MACC said Shamsul's remand is to facilitate investigations into alleged bribery.
On Monday, the special task force investigating 1MDB and claims of money flowing into Najib's accounts made its first arrest as part of its probe.
Jerome Lee Tak Loong was arrested at the Kuala Lumpur International Airport, before boarding a flight to Taiwan.
Police on Tuesday obtained a four-day remand order to hold him for further investigations.
Lee, 39, was identified by his lawyer Tan Sri Muhammad Shafee Abdullah to Singapore's The Straits Times, but the lawyer did not say how he is linked to 1MDB.
But sources among the investigating team told The Malaysian Insider that one of Lee's companies had dealings with SRC International Sdn Bhd, a Finance Ministry-owned entity that was previously a 1MDB subsidiary.
Other checks showed that Lee was also group executive director of Putrajaya Perdana Bhd, a planning and development company involved in developing the federal administrative capital of Putrajaya.
It is also learned that Lee had a stint at 1MDB in 2011. The state investment firm yesterday issued a statement upon news of his remand that no 1MDB employee had been remanded.
SRC International and Ihsan Perdana are allegedly part of the US$11.1 million money trail that ended in Najib's personal bank accounts between December 2014 and February this year.
The trail, as reported by the WSJ based on documents sourced from Malaysian investigators, began with RM50 million in SRC International, which was then moved to another company, Gandingan Mentari Sdn Bhd, and then to Ihsan Perdana.
From Ihsan Perdana, RM42 million was allegedly transferred into Najib's accounts at AmBank.
The prime minister has denied taking 1MDB's funds for personal use, but has not commented directly on the fund transfers. His accounts that received the funds have since been closed.
On July 8, the special task force also announced that two of the six bank accounts it had frozen as part of its investigations belonged to SRC International and Ihsan Perdana.
The RM42 million that flowed through these two companies are part of a larger amount of some US$700 million (RM2.65 billion) that allegedly ended up in Najib's accounts.
The largest portion, US$681 million, was funnelled separately in March 2013 from overseas, from Tanore Finance Corp, a company in the British Virgin Islands, through Falcon Private Bank in Singapore. — The Malaysian Insider
This article first appeared in The Edge Financial Daily, on July 23, 2015.