This article first appeared in The Edge Malaysia Weekly, on October 22, 2018 - October 28, 2018.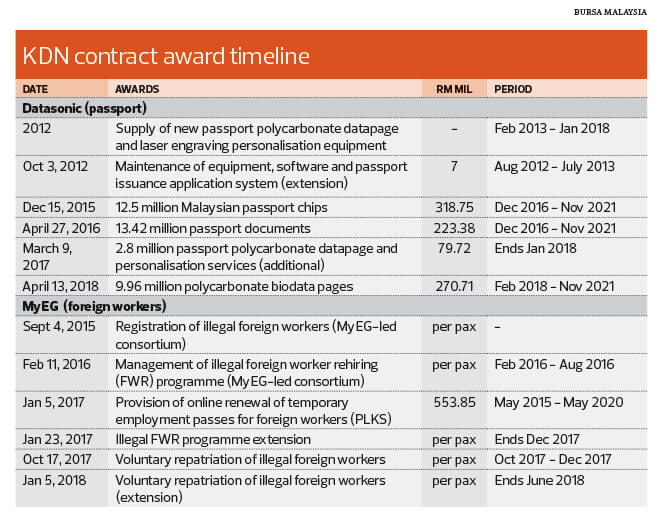 INVESTORS did not take lightly the mention of Datasonic Group Bhd and My EG Services Bhd in the charge sheets against former deputy prime minister Datuk Seri Ahmad Zahid Hamidi last Friday. Zahid, who was minister of home affairs from July 2015 to May 2018, was slapped with 45 charges.
He faces two charges of receiving RM6 million from Datasonic deputy managing director (MD) Chew Ben Ben on April 26, 2017, via two cheques issued by Sarana Kencana Sdn Bhd to a Malayan Banking Bhd account held by Lewis & Co.
A company search shows that Datasonic MD Datuk Abu Hanifah Noordin is a shareholder and director in Sarana Kencana.
Zahid is alleged to have facilitated the awarding of a five-year contract by the Ministry of Home Affairs (KDN) to Datasonic to supply 12.5 million chips to be placed into Malaysian passport polycarbonate biodata pages via direct negotiations.
According to a Datasonic filing with Bursa Malaysia on Dec 15, 2015, its wholly-owned unit, Datasonic Technologies Sdn Bhd, received a letter of award from KDN on the same day for the RM318.75 million contract to supply the chips for the period from Dec 1, 2016, to Nov 30, 2021.
A separate filing on April 13, 2018, shows that KDN had awarded a separate contract to Datasonic to supply 9.96 million polycarbonate biodata pages to the Immigration Department from Feb 1, 2018, to Nov 20, 2021, for RM270.71 million.
Zahid was also slapped with three charges for allegedly receiving RM13.25 million from Mastoro Kenny IT Consultant & Services between July 15, 2016, and Feb 8, 2017, to help the firm secure MyEG projects under the purview of KDN.
KDN awarded two contracts to MyEG during the period. This includes the appointment by the Immigration Department of a MyEG-led consortium to manage the illegal foreign worker rehiring (FWR) programme from Feb 15, 2016 to Dec 31, 2017. The parties in the consortium were not named in MyEG's bursa announcement of the award.
On Jan 5, 2017, KDN awarded MyEG a RM553.85 million contract to provide online passes for foreign workers — known as Pas Lawatan Kerja Sementara — for the Immigration Department from May 23, 2015, to May 22, 2020.
The charges were filed under Section 16(a)(B) of the MACC Act 2009. Each is punishable with up to 20 years' jail plus a fine of RM10,000 or five times the bribe value under Section 24(1) of the Act.
Shares of Datasonic and MyEG hit limit down on Friday when the news broke.
Datasonic shares fell 29.5 sen before rebounding but were still down 21 sen or 30.22% to end at 48.5 sen, losing nearly RM315 million in market capitalisation in a single day. Its market cap stood at RM616.57 million at the end of trading on Friday.
MyEG fell 47 sen before recovering slightly to close at RM1.13 per share, down 37 sen or 24.67%, for a market capitalisation of RM3.99 billion. The counter lost RM1.56 billion in market cap on Friday alone.
That same day, Datasonic issued a statement saying its unit had won a five-year contract to supply passport polycarbobate datapages and a printing system based on per passport produced via an open tender in April 2012.
It later clarified that the December 2015 contract was "based on a value proposition of enhanced chip security (to put the chips bonded into the polycarbonate data page instead of at the back of the passport cover)".
It said the contract was at "15% lower pricing as compared to the previous vendor that provided a total saving of RM56.25 million to the government over a period of five years".
Datasonic's substantial shareholders include MD Hanifah (28.38%), deputy MD Chew (25.67%), Hanifah's spouse Datin Popi Riandani Dody Muchtar (12.87%) and Lembaga Tabung Haji (9.49%).
According to Datasonic's latest annual report, its board of directors includes chairman Gen Tan Sri Dr Mohamed Hashim Mohd Ali, who is the brother-in-law of Prime Minister Tun Dr Mahathir Mohammad and the younger brother of Tun Dr Siti Hasmah Mohd Ali.
Also on the board are deputy chairman Datuk Wan Mohd Safiain Wan Hasan and former federal court judge (shariah) Datuk Dr Aziz Jamaludin Mhd Tahir, both of whom served in the Prime Minister's Department in the 1990s.
Separately, MACC confirmed that the company and its board of directors are not under investigation in relation to the charges brought against Zahid, MyEG said in a Bursa filing.
The commission also confirmed that MyEG is not a party to the investigation.
MyEG denied any knowledge of, or prior dealings, with Mastoro. "The company has never appointed any vendor or contractors in any of its dealings with the Ministry of Home Affairs," it said.
MyEG's substantial shareholders include group managing director Wong Thean Soon with a 8.64% direct stake. Wong and executive chairman Datuk Norraesah Mohamad have deemed interest via Asia Internet Holdings Sdn Bhd, which holds 29.26% in MyEG.
Norraseah, a former senator, was an Umno supreme council member from 2000 to 2013. Similarly, MyEG executive director Datuk Raja Munir Shah Raja Mustapha is also a long-time Umno strongman, having served as youth chief and deputy chief in Tanjong, Pulau Pinang, previously.
It is not the first time MyEG's share price has been battered this year. The counter fell by more than half to under RM1 soon after the defeat of Barisan Nasional in the 14th general election (GE14), amid investor concern over its prospects as a beneficiary of government contracts (see chart).
Soon after GE14, Kumpulan Wang Persaraan (Diperbadankan) ceased to be a substantial shareholder in the company. However, the Employees Provident Fund raised its stake to 5.17% presently.
In a note last Friday, CIMB Research analyst Nigel Foo reiterated his "add" call for the counter with a target price of RM1.81, based on 21 times FY2019 forecast price-earnings ratio.
"With MACC's clarification, we believe the recent price weakness could be an opportunity to accumulate the stock. The key earnings driver for the stock in FY2019/FY2020F is the online registration of new foreign workers (NFWs) for which MyEG recently received approval from the government," says Foo.
"We have assumed in our conservative earnings forecasts that MyEG will recruit and register 50,000 NFWs annually in FY2019/FY2020. We understand that the company could generate around RM2,000 revenue per NFW.
"Based on these assumptions, MyEG could generate around RM100 million revenue annually, and assuming a 50% net profit margin, MyEG's annual net profit could rise by RM50 million."
Save by subscribing to us for your print and/or digital copy.
P/S: The Edge is also available on Apple's AppStore and Androids' Google Play.