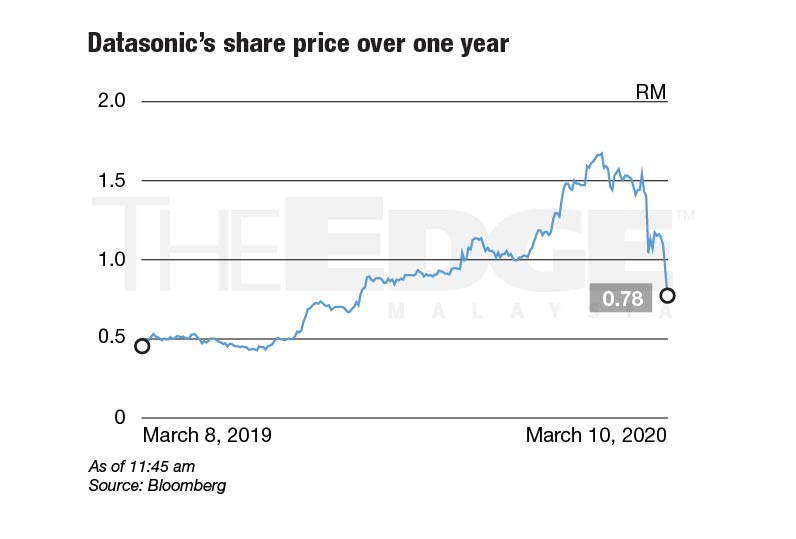 KUALA LUMPUR (March 10): Investors engaged in a sell-down of their holdings in Datasonic Group Bhd this morning, as uncertainties over its prospects of securing public contracts amid the new political landscape weighed on sentiment.
The counter, which opened at 90 sen apiece, reached a high of 95 sen at 9:51am today, before plunging 23.89% to a low of 68.5 sen at 11:04am.
Since then, the counter has pared its losses. That said, at the midday break, it settled 11.7% or 11 sen lower at 83 sen, giving it a market capitalisation of RM1.12 billion.
It saw 94.25 million shares traded, exceeding its 200-day average trading volume of 12.06 million shares.
The counter has been steadily rising since March 2019, and reached a one-year high of RM1.67 on Jan 24, 2020.
However, the stock has been declining since then. Year to date, it has lost some RM788 million in market capitalisation.
Today's decline was the second time this year that it has posted such a fall. It had previously declined by 25.71% or 36 sen to RM1.04 on Feb 26, from RM1.40 on Feb 25.
According to SJ Securities Sdn Bhd remisier KC Goh, some quarters within the investing fraternity viewed that as a result of it being a politically linked counter, the stock could be sold down.
"Some investors thought [it] is a [politically] linked counter so [they] sold it down but some others thought [it] is a value buy, so they started to buy back at 68.5 sen; now it is already at 80.5 sen," he said.
He further explained that investors are concerned that the makeup of the current government could serve to disrupt or adversely impact the group's operations.
Meanwhile, another analyst who spoke on condition of anonymity told theedgemarkets.com that the group's ability to secure new projects under the new administration could have been a contributory factor for this morning's selldown.
"This may be due to the new government," the analyst said.
It is worth noting that the group is currently bidding for two contracts, namely the foreign visa system and the National Integrated Immigration System, the latter of which is reported to be worth a hefty sum of RM1 billion to RM1.5 billion.
As such, the new political landscape has cast uncertainties over its prospects of securing future public contracts.
Bloomberg data indicates that the counter's 12-month consensus target price (TP) stands at RM1.96 per share, with the two analysts who cover the stock placing TPs ranging from 43 sen to RM1.96.