This article first appeared in Enterprise, The Edge Malaysia Weekly, on May 13, 2019 - May 19, 2019.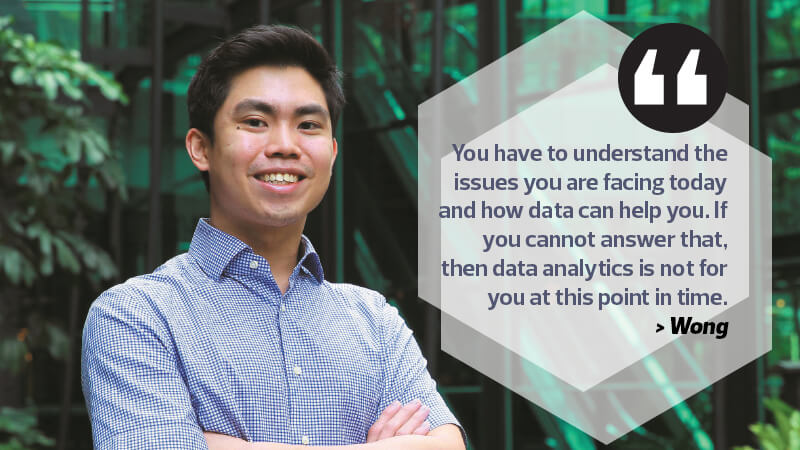 When people think of data analytics, beauty and fashion are not the first things that come to mind. But it is in these industries that real-time data analytics is becoming most crucial, says Omnilytics Sdn Bhd founder and CEO Kendrick Wong.
There was a time when fashion trends experienced a five-year cycle, but those cycles are long dead. With the advent of social media platforms such as Facebook, Instagram and Pinterest, people have access to fashion trends that are currently being shaped, says Wong.
This is where Omnilytics comes in. The Kuala Lumpur-headquartered fashion analytics platform offers real-time market intelligence data to more than 70,000 brands globally. Essentially, it collates and analyses real-time data for companies to stay ahead of their competition and run their operations more efficiently.
"Everyone likes to discuss fashion trends. It is one of those things that is nice to be a part of. The fashion and beauty industries are among the most competitive and demanding sectors to be in. At Omnilytics, we work with a lot of different fashion brands that want to know how best to position themselves on platforms of their choice and the best way to acquire customers," says Wong.
The 26-year-old came up with the idea for the platform after realising that his other start-up — Shoppr, a fashion aggregator app that he had co-founded right out of university in 2014 — was sitting on mountains of retail consumer data. Shoppr, which has been dubbed the Tinder for fashion, connects users to more than 3,000 local and international brands through universal searches, sales and brand alerts and personalised product recommendations, based on their body type, lifestyle and budget.
As Shoppr grew, Wong and his co-founders realised that the company's cash burn rate was exponential and sought to rationalise their expenditure by discovering another revenue stream via Omnilytics.
"When Shoppr was undergoing expansion, we realised that the cost of acquiring a customer was quite high — much more than we had thought. We believed the cost would come down due to economies of scale, but it actually increased," says Wong.
"We had to get to an inflection point where it decreases, but the cost to get to that point was too high. Ultimately, we understood that the cost of acquiring a customer in Asia and the lifetime value of the customer did not match up."
That was the turning point for Shoppr. The founders went back to the drawing board and consulted the company's clients.
"We learnt that our clients wanted competitive data. For example, Nike wanted to know how Adidas was performing in certain markets and vice versa," says Wong.
"It did not hit us until much later that we actually had that kind of information accumulating in Shoppr's database. We had been supplying this data to users by monitoring sites such as Zalora, Asos, Boohoo, Nike, Topshop and H&M in real time.
"So, we took all this data, put in a lot of effort analysing it, repackaged it and sold it to the brands themselves. That was how Omnilytics was created."
Shoppr continues to act as a point of data collection while Omnilytics harnesses the power of this data to help fashion and beauty businesses gain a competitive advantage, he adds. "These are two different companies, but they work in tandem."
Using Omnilytics, Wong began carving a niche by focusing entirely on data analysis for beauty and fashion brands.
How does having the relevant data help businesses improve upon their competitive advantage?
For small fashion businesses, the main problem is how to increase their revenue without discounting their products, says Wong. "Hunting for discounts is a huge thing in Asia. So, how do you increase your revenue without discounting your products?
"We have a client in Singapore who wanted to increase sales without discounting because she wanted to target more affluent customers. That was the issue she posed to us. So, we had to figure out what her competitors were selling and target customers within the demographics she wanted.
"Within three months, she saw a 60% increase in revenue, without offering any discounts. She launched unique designs, increased the frequency of her launches and targeted them at specific groups."
While most of Omnilytics' largest clients are multinational fashion brands and platforms, he is working to bring on board more small and medium enterprises (SMEs). "A British company called Boohoo is a good example of an online fashion retailer that went from being a small company to one of the best performing fashion stocks in the UK in 2017. It grew entirely through the intelligent use of data. It knew what was being demanded and how to supply it," says Wong.
While real-time data analytics is a boon, not all businesses are ready to embrace it, he says. "You have to understand the issues you are facing today and how data can help you. If you cannot answer that, then data analytics is not for you at this point in time."
He adds that many of his clients still do not understand how to harness the data provided to grow their businesses. Multinational fashion brands have the capabilities to analyse and interpret the data to beef up their business, but the same cannot be said for SMEs, he points out.
"For SMEs, we noticed that it is a bit more challenging because they have limited resources and there is only so much they can allocate to understanding how to utilise data. At one point, we had all these clients who were paying us between US$2,000 and US$10,000 monthly for data without knowing how to use it. This was a bad thing for us and them. We had to figure out a way to teach SMEs to utilise the data effectively and at scale using tutorials and webinars," says Wong.
That is why, despite being a technology start-up, Omnilytics is anything but lean, he jokes.
"All these other things we had to do, we could not do them with the initial group of people we had. That is why the company's headcount grew like crazy last year. We started out with 15 people, but we now have 58," says Wong.
The nature of its business is such that its employees end up working with competing brands. But to ensure that there is no conflict of interest, the company has  built in a "firewall", says Wong.
"For example, the people who work on the Adidas contract do not work on the Nike contract, so they do not share information. That is how we have had to work this out because in the fashion and beauty space, everyone ends up being a competitor, eventually."
Wong believes that data analytics plays a vital role in helping companies identify problems within their organisations and solve them tactfully. "But data analytics is only useful depending on how much you know, how you want to implement it within your organisation and whether you have the capacity to implement the findings. Every company today has a myriad of data at its disposal, but how many actually know how to utilise this effectively?" he says.
Many SMEs rely on gut instinct or what has worked historically, says Wong. But just because these tactics work today, it does not mean they will keep on working. "If you want to understand what drives innovation, you have to utilise data that tells you what is in demand because that gives you a clearer picture," he adds.
Companies that have grown tremendously over the last decade are those that understand how to tap into the data and utilise it. "Those who have not are not performing," says Wong.
Omnilytics will continue to explore other verticals in the fast-moving consumer goods space before trying to expand into other industries, he says. In the past, it tried to move into the financial services industry when it was approached by a hedge fund interested in investing in fashion-related stocks.
"The hedge fund approached us because it wanted to buy the stocks of fashion and beauty brands and wanted to use our data as part of its analysis to determine whether it should buy those stocks. We thought we could target more hedge funds, but failed. So, we pulled back and started focusing more on fashion and beauty brands," says Wong.
"We thought we could delve into three industries very quickly. But only then did we realise that we had not achieved enough stability in the two sectors we were already in. So, when we dived into the financial services sector, our plans collapsed."
It was a painful lesson, but that was how he understood that every sector has its own problems and different ways to solve them. "A lot of times, we did not know how to solve the problems. We had an idea, but taking that to implementation or having realistic implementation was vastly different. We have blundered so many times. It is about how we learn along the way and how quickly we learn from those experiences," says Wong.