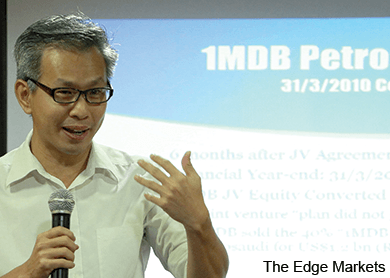 PETALING JAYA (Mar 4): The DAP lodged a police report today on 1Malaysia Development Bhd's (1MDB) deal with PetroSaudi International.
DAP national publicity secretary Tony Pua, who lodged the police report at the Damansara police station here, urged the police to investigate Sarawak Report's allegations against 1MDB, a wholly-owned unit of the Finance Ministry.
"This is a serious crime, involving massive amounts of money, billions of ringgit. The police needs to look at this particular transaction with urgency, so that the culprits are brought to book," Pua told reporters after lodging the report.
PetroSaudi and 1MDB had entered into a joint venture in September 2009. The collaboration saw 1MDB investing US$1billion (RM3.64 billion) while PetroSaudi committed US$1.5 billion worth of assets.
Sarawak Report, citing email correspondence between businessman Low Taek Jho and his cohorts, alleged that Low had orchestrated the deal so he could use PetroSaudi as a front to siphon US$700 million from 1MDB.
Today, Pua said he had verified the authenticity of the documents disclosed by Sarawak Report but not the emails that were exposed.
He suggested that the police investigate the matter.
 
"The emails involved a lot of people, so you need a lot of people to deny that they are true, for it to be considered false.
"There is correspondence with the banks, it is easy to verify with banks whether these emails are true or false," Pua said.