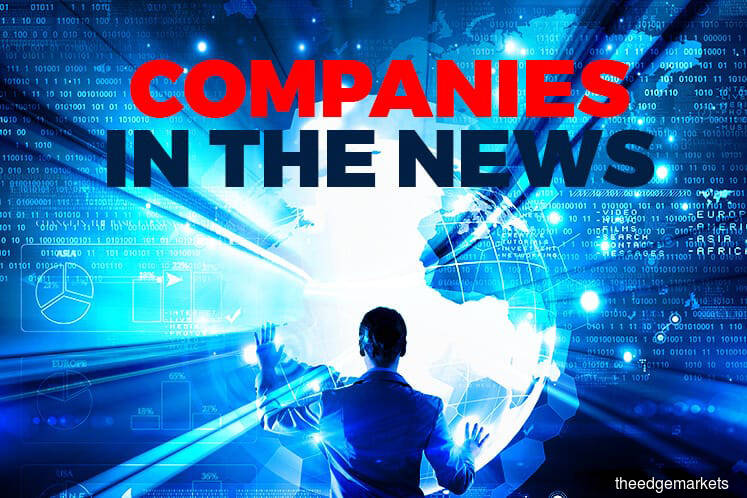 KUALA LUMPUR (Sept 25): Based on corporate announcements and news flow today, stocks in focus tomorrow (Sept 26) may include: Damansara Realty, Ho Wah Genting, AirAsia, FoundPac, MISC, Dialog, HLT Global, PLB Engineering, Alliance Bank, Alliance Financial Group, Iris, Lotte Chamical Titan, Bison, Poh Huat and Comintel.
A consortium comprising Damansara Realty Bhd's 95.5%-owned TMR Urusharta (M) Sdn Bhd and Kumpulan Perubatan (Johor) Sdn Bhd has won a RM27.62 million contract to provide medical services for development facilities for Petronas' Refinery and Petrochemical Integrated Development (Rapid) project in Pengerang, Johor.
TMR's scope of work is to provide the management of medical services in the contract. The duration of the contract will be for 39 months from Sept 25, with additional optional services worth RM7.8 million.
Ho Wah Genting Bhd is setting up a 49%-51% joint venture (JV) company with Switzerland's Dufry Group to operate a duty-free shop in SkyAvenue mall at Genting Highlands Resort, Pahang.
With an expected initial investment of RM9 million for the JV company, Ho Wah Genting said the venture will help tap into Dufry Group's strength in travel retail business amid its expansion into the travel retail business.
AirAsia Bhd said two additional parties — Singapore-listed Plato Capital Ltd and private equity firm Oxley Capital Ltd — are keen to partner the group and China Everbright Group in setting up a low-cost carrier in China known as AirAsia (China).
A term sheet was signed today by AirAsia, Plato, Oxley and Everbright for the parties to discuss and negotiate definitive agreements for the proposed venture.
The partnership, said AirAsia, will also invest in the development of a low-cost carrier terminal, an aviation academy for pilots, engineers and crew training as well as a maintenance, repair and overhaul provider in the city.
Precision engineering parts manufacturer FoundPac Group Bhd is acquiring a 75% stake in laser stencils maker Dynamic Stencil Sdn Bhd for RM16.5 million, to expand its product offering in the electrical and electronics segment.
FoundPac said the purchase consideration was made considering a price-to-earnings ratio-based valuation of RM22 million for the whole 100% stake in Dynamic Stencil, together with a two-year profit guarantee totalling RM9 million from the vendors.
MISC Bhd plans to dispose all of its 45% equity interest in Centralised Terminals Sdn Bhd to Dialog Group Bhd for RM193 million. Subsequently, Dialog will own the entire stake in the terminal operator.
Centralised Terminals was set up as a 45%-55% JV between MISC and Dialog. It owns an 80% stake in Langsat Terminal (One) Sdn Bhd and Langsat Terminal (Two) Sdn Bhd, which are centralised tankage and tank terminal facilities serving the oil, gas and petrochemical industry in Johor.
HLT Global Bhd is planning a bonus issuance of up to 132.96 million new shares in the company, on the basis of one bonus share for every two existing shares held on an entitlement date to be determined later.
The rubber glove dipping line service provider has also proposed to issue up to 199.44 million free warrants, on the basis of three warrants for every four HLT Global shares held on the same entitlement date. The bonus shares will not be entitled for the bonus warrants.
Similarly, PLB Engineering Bhd has proposed a one-for-four bonus issue of up to 22.82 million shares — an exercise to reward its shareholders and increase trading liquidity of the shares on the market — at an entitlement date to be determined later.
Alliance Bank Malaysia Bhd will assume the listing status of Alliance Financial Group Bhd (AFG) on the Main Market of Bursa Malaysia from tomorrow (Sept 26), following which AFG will be delisted.
This follows AFG's corporate reorganisation announced in September last year, which involves the shareholders of AFG exchanging their existing AFG shares for Alliance Bank shares on a one-for-one basis, where their number of shares and percentage of shareholding in AFG will be the same in Alliance Bank.
Iris Corp Bhd and Dipon Gulf Infotech Consultancy LLC have agreed to an out-of-court settlement for a sum of RM16.11 million and costs of RM65,000 at a rate of 5% per year, which will be formalised in a deed of settlement.
The settlement is for Dipon's commercial suit for money allegedly owed by Iris for a machine readable passport project in United Arab States and in Saudi Arabia. Iris said the settlement is not expected to have any other material financial and operational impact to the group.
Lotte Chemical Titan Holding Bhd (LCT) said today the damage caused by a fire at the site of its new TE3 project in Pasir Gudang, Johor on Sept 20 is minimal, with losses estimated at not more than RM50,000 to replace burnt cables.
LCT said the fire was due to contact between residual vapour from the quench water drain pit and the steam line, and that there is no damage to the other plants currently operating normally.
Bison Consolidated Bhd reported a 52.2% growth in its net profit for the third quarter ended July 31, 2017 (3QFY17) to RM6.18 million from RM4.06 million a year ago, thanks to better management of its products and service offerings and collaboration with suppliers.
Revenue rose 25.5% to RM81.71 million from RM65.12 million, driven by improved sales from existing outlets and contributions from its 44 new outlets opened since October last year.
Net profit for the cumulative nine-month period (9MFY17) increased 35.5% to RM18.74 million from RM13.83 million in 9MFY16, while revenue grew 24.1% to RM237.20 million from RM191.12 million.
Poh Huat Resources Holdings Bhd's net profit for the third quarter ended July 31, 2017 fell 3.37% to RM9.66 million, from RM9.99 million a year ago, due mainly to forex losses totalling RM80,000 during the quarter compared with forex gains of RM1.5 million previously.
Revenue rose 20.6% to RM151.48 million from RM125.65 million as a result of higher shipping volume for both the group's Malaysian and Vietnamese operations.
For the cumulative first nine months of the current financial year, Poh Huat posted a net profit of RM37.93 million or 17.76 sen per share, an improvement of 35.4% compared with RM28 million or 13.12 sen per share recorded over the same period of the previous year.
Comintel Corp Bhd posted an 11% decline in net profit for the second quarter ended July 31, 2017 to RM2.22 million, from RM2.49 million a year ago, mainly on higher losses recorded by its system integration and maintenance services (SIMS) segment.
Quarterly revenue, however, was up 20% year-on-year to RM102.76 million from RM85.78 million, thanks to improved contributions from its manufacturing segment despite a drag by its SIMS segment.
Cumulative first two quarters net profit fell 40% to RM4.74 million, from RM7.85 million for the previous corresponding period. Revenue rose marginally by 0.33% to RM190.11 million from RM189.5 million.