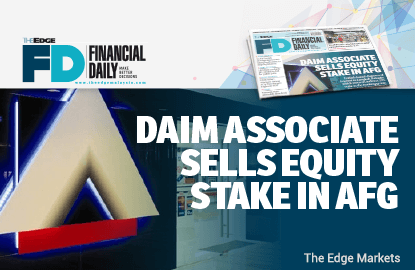 This article first appeared in The Edge Financial Daily, on April 12, 2016.
PETALING JAYA: Lutfiah Ismail, a close associate of former finance minister Tun Daim Zainuddin, has sold her entire shareholding in Alliance Financial Group Bhd (AFG) to Singapore hotelier Ong Beng Seng and two other individuals, Ong Tiong Sin and corporate advisor Seow Lun Hoo.
According to announcements on Bursa Malaysia, the trio acquired the entire equity interest in Langkah Bahagia Sdn Bhd, which holds an indirect 29.06% stake in AFG, on April 8.
Langkah Bahagia owns a 51% interest in Vertical Theme Sdn Bhd, which in turn has a 29% equity stake in AFG. Singapore's state-controlled sovereign wealth fund Temasek, through its unit Duxton Investments Pte Ltd, holds the remaining 49% in Vertical Theme. 
Langkah Bahagia is the largest shareholder of AFG, followed by the Employees Provident Fund (16.44%), Malaysia Focus Investment (4.82%) and Medimetro Sdn Bhd (3.67%).
The trio's equity interest in Langkah Bahagia would give them an effective 14.8% stake in AFG.
The share sale is expected to spark speculation on what could follow suit after the block of shares changed hands to the three individuals. Also, some quarters are curious to know whether the stake was being offered to Temasek, which owns DBS Bank Ltd, before the trio.
It would be within the foreign shareholding limit of 30% set by Bank Negara Malaysia, should Temasek take over the 51% stake in Vertical that is held by Langkah Bahagia.
The filing with Bursa did not reveal the vehicle that the trio had deployed to buy the block of shares and the transaction price.
Based on yesterday's closing price of RM4.12, the effective stake of 14.8% in AFG is worth some RM943 million.
The share price of AFG has been on an upward trend recently. From a low of RM3.07 in late January, the stock jumped 36% in just three months to RM4.18 on April 6 — the highest level since July last year.
There have been rumblings in the market since 2011 that Langkah Bahagia is looking to sell its effective 14.8% stake in AFG.
The Edge weekly had written in September 2014, quoting sources, that Singapore parties linked to Temasek were interested to acquire the equity stake in Langkah Bahagia, but the stumbling block was in the pricing. The 52-week average price of AFG's stock in 2014 was RM4.42. The stock hit a five-year high of RM5.105 on July 5, 2013.
Lutfiah was formerly on the boards of Kuala Lumpur City Corp Bhd and Nomad Group Bhd, two companies purportedly linked to Daim.
Beng Seng was born in Malaysia, but his family shifted to Singapore when he was a child. The announcements to Bursa state his nationality as Malaysian.
Beng Seng, meanwhile, has interests in hotels and fashion, among others, and his flagship company is Hotel Properties Ltd. He has partnered Temasek in the past, acquiring properties in London.
He is also known to be a close associate of Tan Sri Syed Mohd Yusof Tun Syed Nasir, who with Sultan of Selangor Sultan Sharafuddin Idris Shah were substantial shareholders of Southern Bank Bhd.
Tiong Sin is the founder and chief executive officer of RRJ Capital Ltd, and was the managing director of Goldman Sachs, among others, according to information gathered.
Seow, meanwhile, controls Newfields Group, a boutique corporate advisory outfit, and is the former president and chief executive officer of Hong Leong Credit Bhd, which is now Hong Leong Financial Group Bhd.