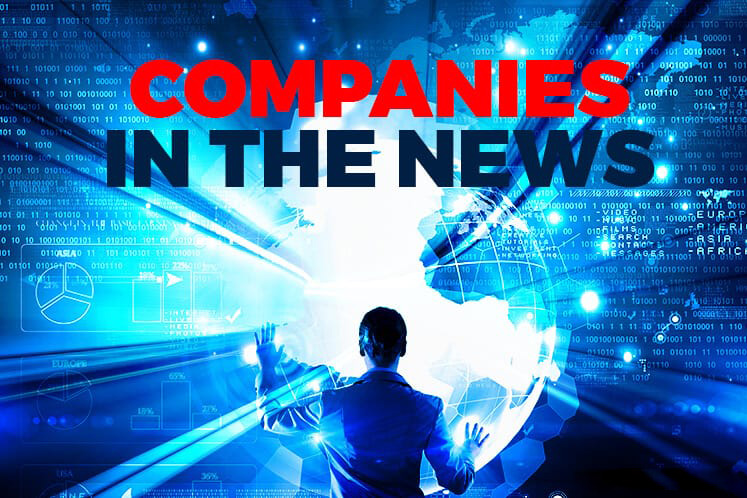 KUALA LUMPUR (March 5): Based on corporate announcements and news flow today, stocks in focus for Wednesday (March 6) may include the following: Daibochi Bhd, Scientex Bhd, Brahim's Holdings Bhd, Malayan Banking Bhd, UEM Edgenta Bhd, AirAsia Group Bhd, Sunway Construction Group Bhd and Ikhmas Jaya Group Bhd.
MIDF Amanah Investment Bank Bhd Research is recommending Daibochi Bhd's shareholders to accept the offer from Scientex Bhd to take over Daibochi shares that Scientex does not already own for RM1.59 per share.
The research house said there is limited upside gain in the near term while the 1.9% dividend yield is unappealing.
MIDF Research said both companies can tap into each other's expertise to further improve operations and profitability. However, it said that management teams from both companies will need time to reap the synergistic benefits of the merger.
Brahim's Holdings Bhd, which recently was classified as a Practice Note 17 (PN17) company, is planning to exit this status as soon as possible.
Its executive chairman Datuk Seri Ibrahim Haji Ahmad said Brahim's will enter into strategic discussions with partners to review capital and business structure with the view of complying with the listing requirements as soon as practicable.
However, he declined to disclose the progress and details of these discussions.
Notably, the catering services company lapsed into a PN17 status after it had triggered the prescribed criteria under Paragraph 2.1(a) of PN17, whereby its shareholder equity fell below the 25% threshold.
He noted that Brahim's will seek consultations with prospective principal advisers to formulate and submit a regularisation plan within the next three months and make necessary announcements in due course.
As Malayan Banking Bhd (Maybank) targets at least 100,000 users this year for its MAE e-wallet service, group president and CEO Datuk Farid Abdul Alias believes the group's 4.5 million Maybank2u users will be an ideal target market for MAE.
Farid said his "aspirational pickup target (for MAE) is the group's 4.5 million users of Maybank2u".
Maybank today introduced MAE as a new banking service with greater convenience in line with a highly-digitalised operating environment.
UEM Edgenta Bhd expects to grow revenue and profit in the financial year ending Dec 31, 2019 (FY19), as the facilities-management specialist anticipates growth at all of its business segments, comprising healthcare, infrastructure and real estate sectors.
UEM Edgenta chief executive officer Datuk Azmir Merican said today that the company expects to grow FY19 revenue and profit, despite rising competition in the healthcare asset management segment.
For FY18, UEM Edgenta recently reported full-year net profit from continuing operations rising 19% to RM148.24 million from RM124.61 million a year earlier, while revenue grew 3% to RM2.18 billion from RM2.12 billion.
AirAsia Group Bhd's digital venture arm, RedBeat Ventures, has set up a global venture capital fund, RedBeat Capital, and formed a strategic partnership with San-Franscisco-based venture capital firm, 500 Startups.
AirAsia said RedBeat Capital is designed to support post-seed stage startups, by investing in scalable startups seeking to enter or expand their presence in Southeast Asia (SEA), with a particular focus on travel and lifestyle, logistics as well as financial technology.
AirAsia group chief executive officer (CEO) Tan Sri Tony Fernandes said AirAsia and RedBeat Capital are on the lookout for the world's best and brightest to help the low-cost carrier develop a travel technology ecosystem.
RedBeat Capital will also invest in digital enablers to support these verticals such as artificial intelligence, the Internet of things and cybersecurity.
Sunway Construction Group Bhd's unit Sunway Geotechnics (M) Sdn Bhd has launched a lawsuit against Ikhmas Jaya Group Bhd's wholly-owned subsidiary Ikhmas Jaya Sdn Bhd seeking RM8.2 million over unpaid work.
Ikhmas Jaya said Sunway Geotechnics is also seeking RM492,132.34 for service tax under the subcontract; pre-decision interest of RM104,493.85; party and party costs of this claim of RM45,000; and legal cost of RM61,289.
Ikhmas Jaya said its unit and Sunway Geotechnics have met, discussed and agreed in principle for an out of court settlement pending finalisation of the terms and conditions of the settlement.