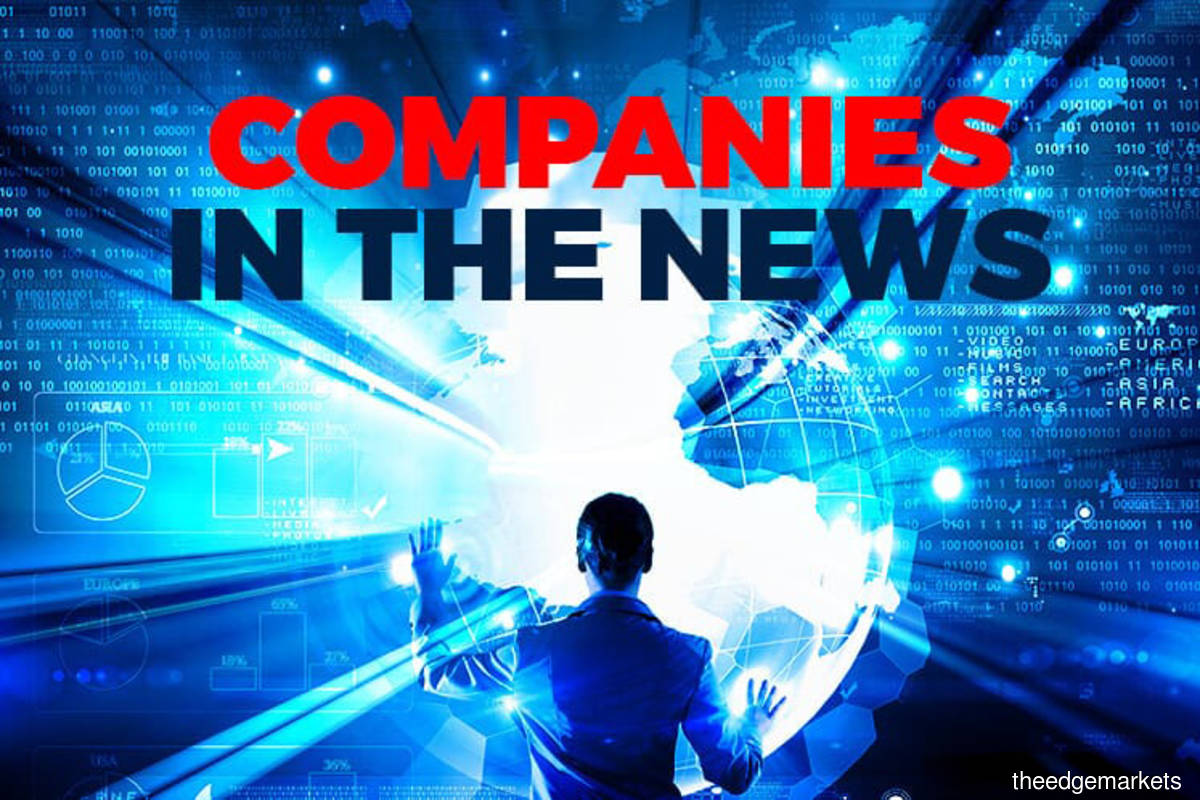 KUALA LUMPUR (Dec 10): Based on corporate announcements and news flow today, stocks in focus for Friday (Dec 11) may include: Cymao Holdings Bhd, AirAsia Group Bhd, Bermaz Auto Bhd, Poh Kong Holdings Bhd, BIMB Holdings Bhd, Top Glove Corp Bhd, UMW Holdings Bhd, KUB Malaysia Bhd, Berjaya Land Bhd (BLand) and 7-Eleven Malaysia Holdings Bhd.  
In response to Bursa Malaysia's unusual market activity query yesterday, Cymao Holdings Bhd said the group is in the final stage of discussion with several parties on a potential new viable business venture to reduce the plywood maker's reliance on its core business.
Cymao said in light of the plywood industry remaining challenging, the group has been exploring new business opportunities to expand its core business or diversify its businesses to reduce reliance on the existing core business, as well as to expand the company's earnings base.
AirAsia Group Bhd group CEO Tan Sri Tony Fernandes was quoted as saying that the company is currently in discussion with India-based conglomerate Tata Group on the future of their joint venture, AirAsia (India) Ltd.  
Fernandes was quoted as saying at a CAPA Centre for Aviation live event yesterday that India's aviation industry has been a competitive market which was tough for outsiders to come into. 
Bermaz Auto Bhd's (BAuto) net profit for the second quarter ended Oct 31, 2020 rose 22% year-on-year to RM24.79 million versus RM20.39 million, boosted by improvement in domestic sales.
Revenue climbed 31% y-o-y to RM599.84 million, compared with RM457.17 million a year ago.
In light of better earnings, BAuto declared a second interim dividend of 1.25 sen per share for the financial year ending April 30, 2021, which will be paid on Feb 5 next year. This is lower than the 2.75 sen per share paid a year ago. 
On a quarterly basis, BAuto's net profit jumped 168% from RM9.25 million in the preceding quarter, as revenue rose 34% from RM448.894 million last quarter. 
Poh Kong Holdings Bhd had a strong kick-off to its new financial year with an 81.1% jump in net profit to RM14.64 million for the first quarter ended Oct 31, 2020, from RM8.08 million a year ago, as its retail business saw an uptrend, following the relaxation of the movement control order. Earnings per share rose to 3.57 sen from 1.97 sen.
Quarterly revenue rose 8.2% to RM221.91 million from RM204.99 million. No dividend was declared for the quarter.  
On a quarter-on-quarter basis, Poh Kong's first quarter net profit is higher by 82.7% compared with RM8.01 million in the preceding quarter, while revenue was up 23.8% from RM179.3 million.
BIMB Holdings Bhd (BHB) has obtained approval from the Minister of Finance and Bank Negara Malaysia for its proposed internal reorganisation and distribution and capital repayment, which will pave the way for the transfer of its listing to its subsidiary, Bank Islam Malaysia Bhd. 
Upon completion of the proposed exercise, BHB's listing status will be transferred to Bank Islam, which will emerge as the one and only full-fledged Islamic financial institution to be listed in the region which will enhance its corporate stature. 
The listing is said will allow Bank Islam to better position itself in the Islamic finance and Islamic capital market and capitalise on the growth of both markets, in its efforts to expand its customer base. 
After the massive share buy-back exercise undertaken by Top Glove Corp Bhd since September, its chairman Tan Sri Lim Wee Chai has picked up the baton by buying 4.28 million shares in his own capacity.
The shares were bought in two transactions yesterday and today, but the transacted prices were not disclosed. Following the purchase, Lim has a direct interest of 26.13% in the world's largest glove maker, plus an indirect interest of 8.63%. 
UMW Holdings Bhd's automotive segment is on track to meet its full-year sales target, supported by strong sales in November 2020 by both subsidiary UMW Toyota Motor Sdn Bhd (UMWT) and associate company Perusahaan Otomobil Kedua Sdn Bhd (Perodua).
The group said the automotive segment had steadily recovered from the adverse impact of the Covid-19 containment measures earlier this year, with demand boosted by the sales tax exemption incentive announced by the government, effective June 15 to Dec 31, 2020.
It said UMWT is poised to exceed its revised sales target of 53,000 units for the year, after selling 6,267 units in November 2020, which brought total sales to 50,074 units for the first 11 months of this year. 
KUB Malaysia Bhd (KUB) said the fulfilment of the conditions under the Sale and Purchase Agreement signed between its indirect wholly-owned subsidiary KUB Agro Holdings Sdn Bhd, and Beradin Plantation Sdn Bhd, has been extended by 30 days until Jan 8, 2021.
Under the agreement made on June 10, KUB Agro Holdings had proposed to dispose of two oil palm estates in Kluang, Johor to Beradin Plantation for RM158 million cash. 
Berjaya Land Bhd (BLand), controlled by tycoon Tan Sri Vincent Tan, has continued to accumulate shares in convenience store chain operator 7-Eleven Malaysia Holdings Bhd over the past three months.  
BLand said its wholly-owned subsidiary Nural Enterprise Sdn Bhd acquired a total of 8.22 million shares, representing about 0.73% equity interest in 7-Eleven Malaysia in the open market between Sept 11 and Dec 8.
The shares were acquired for a total cash consideration of RM10.96 million or an average of RM1.33 per share. As a result, BLand and its subsidiaries now have a 5.28% stake in 7-Eleven Malaysia.