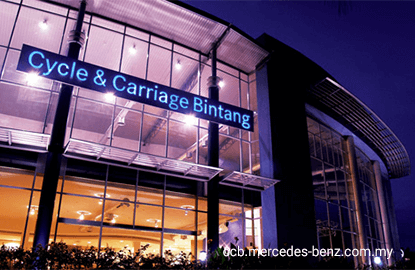 KUALA LUMPUR (July 25): Cycle & Carriage Bintang Bhd's net profit for its second quarter ended June 30, 2016 (2QFY16) came in 9.9% lower at RM19.7 million compared with RM21.8 million recorded in the same quarter a year ago, as revenue dips 10.5%.
Quarterly revenue was at RM422.7 million compared with RM472.4 million a year ago, its bourse filing today showed. It did not declare any dividend for the period.
For the cumulative six months (1HFY16), net profit gained 2.5% to RM29.2 million from RM28.5 million in 1HFY15, as the impact of a change in sales mix favouring lower-priced vehicles — which resulted in lower margins — was largely compensated for by higher unit sales.
It saw a net profit of RM18 million from the Mercedes-Benz operations, which was 4% higher than the year before, due to an increase in unit sales.
The overall improved earnings for 1HFY16 also included the recognition of an RM11.2 million dividend from the group's investment in Mercedes-Benz Malaysia, which was 2% higher than the prior year's.
The period's revenue, meanwhile, inched up 0.3% to RM737.9 million, compared to RM735.5 million in 1HFY15, again due to the higher unit sales.
"While unit sales were up 14%, higher numbers of C-Class and E-Class petrol-engine run out models, which had lower margins, meant net profit increased only marginally. Sales in 2015 had benefited from the higher margin E-Class and S-Class hybrid models," said the group's chairman Haslam Preeston.
He added trading conditions for the remainder of the year are expected to be challenging due to a softening of the domestic economic environment "although the introduction of the new E-Class is expected to have a beneficial effect on the group's results".
Cycle & Carriage closed unchanged at RM3.48 today, for a market capitalisation of RM350.59 million.