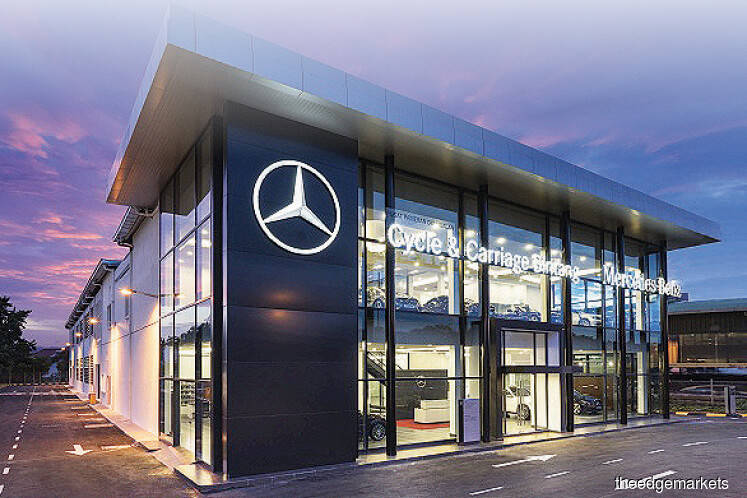 KUALA LUMPUR (July 28): Cycle and Carriage Bintang Bhd (CCB) remained in the red for the second quarter of financial year 2020 (2QFY20), posting an 18.93% narrower net loss of RM9.38 million compared with RM11.58 million a year earlier, owing to a plunge in sales.
In a filing with Bursa Malaysia today, CCB said revenue for the quarter fell 55.12% to RM139.34 million from RM310.48 million for the same period last year as vehicle sales unit dropped 46% and sales volume dipped 22% on the back of softening demand in the premium segment of the automotive sector.
Loss before tax for the Mercedes Benz dealer for 2QFY20 was marginally lower at RM11.53 million compared with RM11.61 million reported in the preceding quarter, attributed to the savings in operating expenses and lower finance costs.
"The group experienced difficult trading conditions further compounded by the implementation of the Movement Control Order from March 18 by the government," said CCB chairman Eric Chan.
Movement restrictions led to a significant reduction in unit sales, aftersales volume and earnings.
"Whilst partial resumption of business commenced on May 4, volumes and margins continued to be impacted on both the retail sales and aftersales front. The automotive market is expected to remain challenging for the rest of the year," he said.
Although the government has introduced a sales tax exemption to boost vehicle sales from June 15 to Dec 31 this year, Chan said it remains too early to quantify the impact on retail sales.
"Despite the difficult business environment, the group remains committed to its business improvement strategy," the company said. 
The company saw an improvement in its balance sheet, with net debt decreasing from RM201.8 million at the end of 2019 to RM179 million at the end of June 2020.
"The group's debt levels and liquidity positions are being carefully monitored and steps are being taken to mitigate both operational and financial risks.
"A range of actions are also being taken to manage costs and preserve cash, including deferring selected capital expenditures and managing working capital," the company said.
CCB shares today closed two sen or 1.44% higher at RM1.41, valuing the automobile dealer at RM142.05 million. Around 28,000 shares were traded.
Year-to-date, the counter has fallen 32.86% from RM2.10. 
Read also:
CCB 1Q losses widens, expects challenging environment ahead
Mercedes-Benz Malaysia sees signs of demand returning to pre-MCO level on tax exemption boost