This article first appeared in The Edge Financial Daily, on July 16, 2019.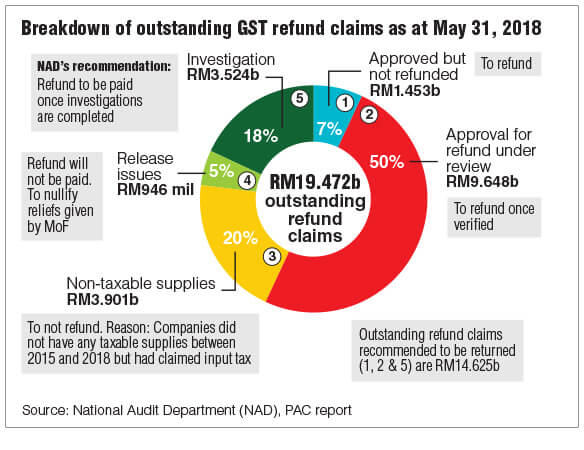 KUALA LUMPUR: The Customs Department had intentionally slowed down the goods and services tax (GST) refund process as the previous Barisan Nasional (BN)-led government had run out of money to pay the refunds, the Public Accounts Committee (PAC) was told.
According to the Hansard of a PAC hearing dated March 7, former customs director-general (DG) Datuk Seri T Subromaniam said the department did not accelerate the refund process as it was worried that tax refund claimants would then question why they have yet to receive their refunds.
"I admit [that] there was a delay. We did not want to process [the claims] quickly because if we processed it quickly and approve the claims, the taxpayer can see in the system. Ours [system] is very transparent. They can see it [and say]: 'Ha, Customs has approved. Where is the money?' In fact, the money is not there," he said.
Subromaniam said some of the tax refund claimants had not received their refunds for two years.
"Business has been choking. Some of them did not get their refunds for two years and this is very, very serious. That is why we have RM19.4 billion outstanding. This [amount] was supposed to [be] put into a fund, but it was not there," he said.
Therefore, Subromaniam said he stood by his earlier statement that the GST refund shortfall was RM19.4 billion.
"When the finance minister (Lim Guan Eng) asked me, I told him: 'Yes sir, the RM19.4 billion has gone through the system's approval [process] and is good to pay'. That was my statement to him. The minister relied on my statement and that is why we issued the statement related to the RM19.4 billion," he explained.
However, the PAC report on the GST refunds shortfall, which was tabled in the Dewan Rakyat yesterday, noted that only RM1.5 billion of the RM19.4 billion claims were actually approved but not paid as at May 31, 2018, based on briefing slides provided by the Customs Department.
The slides also showed that as of end-May last year, RM9.6 billion of the claims were still under review, RM3.9 billion was related to issues of non-taxable supplies, RM900 million related to exemption issues, and RM3.5 billion was still under investigation.
Subromaniam, however, had told the PAC that based on past experience, the bulk of the claims would pass the department's risk management system (RMS).
"No problem, RM18 billion lah. The remainder, 7%, RM1.4 billion will be red-flagged. When red-flagged, it doesn't mean it is not a good claim ya. In [our] system, the officer has to check again. When verification officers check, we found, 6.7% of the 7% is still good, [so] go back for processing by the refund officer. So the problematic [ones are] only 0.3%. That also I would not say problem lah, [just] in terms of documentation [it] is not complete and the officer call them up, he (they) didn't answer. So there are issues like this that will take time before we resolve them. So based on this, 99.7% of RM19.4 billion, is good to pay. That is why I issued a statement and I informed the minister of finance, these are good claims," he said, according to the PAC report.
Recall that Guan Eng had, on Aug 8 last year, told the Dewan Rakyat that outstanding GST refunds amounted to RM19.4 billion as at May 31, 2018, and that the money that was supposed to be returned to taxpayers had been "robbed" by the previous government. He also alleged at the time that the GST refund account was only left with RM140 million.
National Audit Department says RM19.4b GST refunds owed is inaccurate
To the National Audit Department, the claim that GST refund arrears totalled RM19.4 billion as at end-May 2018 was inaccurate, as none of the GST standard operating procedure stated that passing the RMS is equivalent to approval for GST refund claims.
It said its audit verification as at June 5, 2018, found only RM1.453 billion claims were approved by the Custom Department but has yet to be paid. "The shortfall reported by the Customs Department totalled at RM19.47 billion, which was categorised into five status, namely 'approved but yet to be paid', 'in review', 'non-taxable supplies', 'in investigation', and 'exempted' by the Custom Department based on the RMS result," the NAD added (see chart).
Meanwhile, the PAC found that the government has kept all GST collections in the Consolidated Revenue Account, and only made rebates when needed to the GST Refund Consolidated Fund for GST refunds.
By right, it should have transferred all GST collections into the GST Refund Consolidated Fund, then move 65% of that into the Consolidated Revenue Account, the PAC noted.
But even if it had done so, the 35% reserve left in the GST Refund Consolidated Fund is still too low, in the PAC's estimation. The committee is of the opinion that at least 42% should have been set aside for refunds.
No loss of money in GST collection — PAC
Nonetheless, with regard to Guan Eng's claim of GST money having being stolen, the PAC asserted that there was "no loss of money from the GST collection".
This is because "the collection from GST that was not transferred into the GST Refund Consolidated Fund, was actually spent for the purposes of government's operating and development expenditure." The previous government had also overestimated the net collection of GST, the PAC said.
The shortfall in GST refunds, it noted, was because the previous government wanted to project better government cash flow and a smaller deficit. The policy was to ensure that its revenue is sufficient to cover all operating expenses.
Following the GST refund review, the PAC recommended that the government ensures full adherence to the country's law, especially in finance-related procedures so that the finance administration is more organised. "Civil servants have to advise the government in relation to legislation procedure and report to their superior without fear or favour, especially in cash flow planning and accountable fiscal discipline," the committee said.
PAC's probe into the GST refunds started in mid-August last year after Guan Eng's allegation of the stolen GST refunds.
The probe, in which 10 people were called to testify — including former treasury secretary-general Tan Sri Dr Mohd Irwan Serigar Abdullah, former second finance ministers Datuk Seri Ahmad Husni Mohamad Hanadzlah and Datuk Seri Johari Abdul Ghani, incumbent Treasury Secretary-General Datuk Ahmad Badri Mohd Zahir, former finance minister Datuk Seri Najib Razak, Accountant General Datuk Saat Esa, Subromaniam and Guan Eng — was concluded after 11 months.
Excerpt of former Customs DG Datuk Seri T Subromaniam testimony to the PAC
SO, basically, bila kita pergi ke regime GST, kita terpaksa beri jaminan kepada semua dewan perniagaan termasuk FMM dan ACCIM. Kita janji kita akan bayar dalam masa tempoh 14 hari bekerja dan kita masukkan dalam undang-undang, Seksyen 67 (1) Peraturan-peraturan Cukai Barang dan Perkhidmatan 2014. Saya juga terlibat dalam drafting of that law, I was part of the team. That was basically the spirit behind the claim process.
Jadi kenapa kita boleh bayar kalau sudah melepasi tapisan? Oleh sebab akta membenarkan kita audit selama enam tahun, akta yang telah dimansuhkan iaitu Seksyen 43. Apabila kita bentang Rang Undang-undang Cukai Barang dan Perkhidmatan (Pemansuhan) GST, repeal bill, kita juga masukkan enam tahun itu. That means even if you now, we still have six years to audit. That is the spirit of GST refund. Kalau kita hendak audit dulu baru hendak bayar, then it defeats the whole purposes. Business have been choking, some of them did not get their refund for two years and this is very, very serious. Itulah kita sudah ada RM19.4 billion itu yang tertangguh. Sepatutnya ia masuk dalam tabung tetapi tidak ada. Kekurangan dana itu juga menyebabkan kita lambat buat proses yang lapan steps yang akan saya terangkan sebentar lagi.
The reasons why? Itu saya akui memang ada kelewatan. Kita tidak hendak proses cepat sebab kalau kita proses cepat, kita luluskan dan tax payer boleh lihat dalam sistem. Ours is very transparent. Mereka boleh lihat, "Ha, Kastam sudah lulus. Mana duitya?". Padahal duitnya tidak ada. Of course, kita ada internal requisition kepada Ketua Akauntan yang mana saya akan submit. So, saya masih lagi mempertahankan statement yang saya keluarkan, yang mana saya juga bila Yang Berhormat Menteri Kewangan bertanya pada saya, saya sendiri beritahu Yang Berhormat Menteri Kewangan, "Yes sir, the RM19.4 billion has gone through to the system approval and it is good to pay". That was my statement to him. Menteri relied on my statement and that is why we issued the statement berkenaan dengan RM19.4 billion.