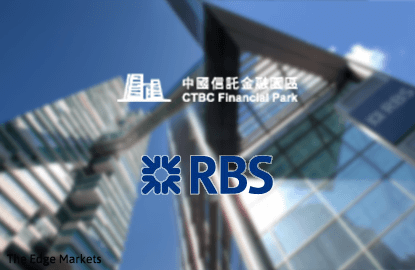 This article first appeared in Corporate, The Edge Malaysia Weekly, on May 30 - June 5, 2016.
CTBC Financial Holding Co Ltd's planned purchase of The Royal Bank of Scotland Bhd (RBS Malaysia) will help it secure a commercial banking licence in Malaysia and make it the first financial group from Taiwan to have a banking subsidiary here.
With Taiwan being Malaysia's seventh largest trading partner, the group sees opportunities to be tapped in the country.
"Currently, there are around 2,000 Taiwanese companies in Malaysia, mostly in the manufacturing and service sectors.
"However, no Taiwanese bank or financial institution has operations in Malaysia. This acquisition will help CTBC extend [its] service to its existing clients with businesses in Malaysia," CTBC tells The Edge in an email response.
"With nearly half of Taiwanese corporations in Malaysia being located in the Greater Kuala Lumpur area and Penang, CTBC will be able to better serve these target customers given the ideal geographical locations of RBS Malaysia's existing branches in Kuala Lumpur and Penang," it adds.
One of Taiwan's top financial services groups, CTBC announced last month that it had agreed to acquire RBS Malaysia for US$189.7 million (about RM739.9 million). The deal, at 0.95 times RBS Malaysia's book value as at September 2015, is subject to approvals from Malaysian and Taiwanese regulators.
The acquisition will be done through CTBC's two subsidiaries — its banking flagship, CTBC Bank, and its insurance arm, Taiwan Life Insurance. On completion, CTBC Bank, which is Taiwan's largest privately operated bank by assets, will hold a 51% stake in RBS Malaysia, with the remaining 49% held by Taiwan Life.
In addition, CTBC Bank is expected to spend a further US$123.9 million on acquiring the Labuan offshore banking unit of RBS Malaysia's parent company, The Royal Bank of Scotland Group plc (RBS Group).
The UK-based RBS Group, loss-making for the last eight years, has been seeking to exit a number of markets globally, either through outright closures or sales. It had initiated a sales process for RBS Malaysia last year. The Edge reported last December that at least three foreign lenders had been keen to acquire the assets.
RBS Malaysia, which has its roots in ABN Amro Bank Bhd (RBS Group bought Dutch banking group ABN Amro in 2007), has a full banking services licence. The businesses it operates in Malaysia, which had reduced over the years, are mainly for corporate customers and includes cash management, trade services and working capital facilities.
RBS Malaysia reported a net profit of RM26.34 million for the financial year ended Dec 31, 2015, compared with RM17.03 million the year before, and had operated as a "going concern", supporting existing customers.
"I don't think CTBC overpaid, when you consider that the value is in the banking licence," an industry source says, commenting on the valuation accorded to RBS Malaysia.
Commercial banking licences are hard to come by in Malaysia. The last time Bank Negara Malaysia granted such licences was in 2010, when it issued five to the wholly-owned units of BNP Paribas SA (France), Mizuho Corporate Bank (Japan), National Bank of Abu Dhabi (United Arab Emirates), PT Bank Mandiri (Persero) Tbk (Indonesia) and Sumitomo Mitsui Banking Corp (Japan). This was in line with the liberalisation of the sector.
There are currently 19 licensed foreign commercial banks in Malaysia and eight local ones.
CTBC says it hopes to complete the RBS Malaysia acquisition in the final quarter of this year.
Taiwanese banks have been under pressure to expand overseas to grow their income, given the intense competition at home. A few, including CTBC and Cathay Financial Holdings Co Ltd, have recently acquired banking stakes in Asean.
Just two months ago, CTBC agreed to acquire a 35.6% stake in Thailand's LH Financial Group PCL for about US$470 million.
As for its plans in Malaysia, CTBC says its overall business approach is to serve the targeted corporate client segments with comprehensive banking products, cross-border offerings and advisory services on corporate treasury management best practices.
"Our objectives in Malaysia are to connect trade and capital flow among Malaysia, Taiwan and other Asian markets, as well as to participate in the development of the local banking market. Our business focus is set to serve Taiwanese corporations operating in Malaysia, Malaysian mid-cap corporations with cross-border needs and local SME (small and medium enterprises) clients through differentiated and efficient banking services.
"With our growing presence in China and Japan, we will also explore the opportunity to serve Chinese and Japanese corporations in Malaysia in the long term," CTBC tells The Edge.
It adds that RBS Malaysia provides it with a well-established and mature business platform. "With the planned IT modernisation and future ramp-up in the business, RBS Malaysia will serve as an attractive platform to further develop the CTBC franchise in the market."
CTBC, which aspires to be a leading regional financial institution in Asia, already has operations in Indonesia, the Philippines, Thailand, Vietnam, Myanmar and Singapore. It set up a representative office in Kuala Lumpur last November, becoming the first Taiwanese bank to get the green light from Malaysia to establish an office in 17 years.
Taiwan's Mega International Commercial Bank and Cathay United Bank each has a marketing office in Kuala Lumpur and an offshore branch in Labuan.
"The timely acquisition of RBS Malaysia and development of the CTBC franchise in Malaysia will play an important role in broadening [CTBC's] presence in Asean," CTBC says.