This article first appeared in Capital, The Edge Malaysia Weekly, on December 27, 2021 - January 09, 2022.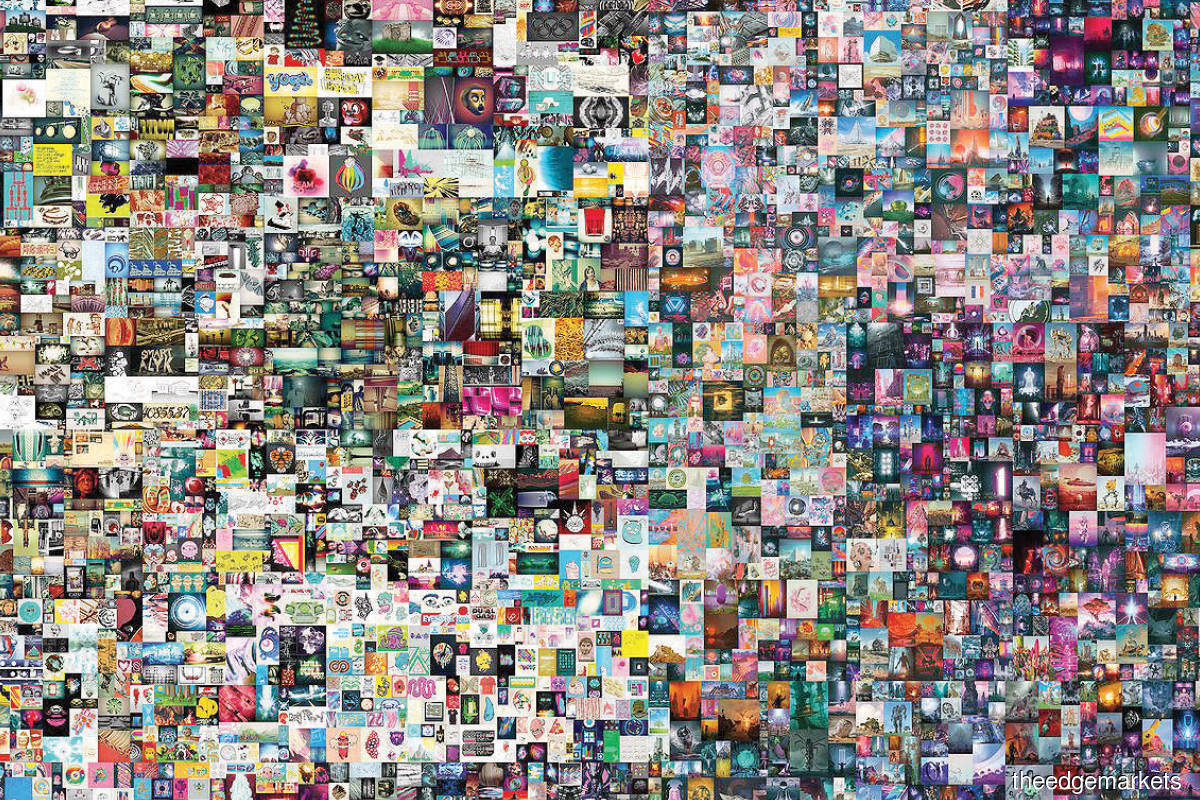 THIS can be considered a watershed year for cryptocurrencies as the entry of institutions into the space marked the beginning of a shift in perception of digital assets and currencies, which were previously labelled as tools for illicit activities.
Noticeably, there has been a marked increase in crypto-related headlines throughout the year as banks and companies announced crypto ventures, against the background of cryptocurrency prices reaching record highs.
Bitcoin (BTC) reached a peak of slightly more than US$68,000 (RM290,000) in November before seeing a correction. At the time of writing, the cryptocurrency was trading at US$48,764 — more than a 20% retracement from its all-time high.
The year saw the listing of the first BTC exchange-traded fund (ETF) in the US, ProShares' Bitcoin Strategy ETF, on the New York Stock Exchange, leading the way for several other BTC ETFs and providing institutions with a safer way to gain exposure to the segment.
Institutions such as Goldman Sachs, JP Morgan Chase, Visa, Mastercard and PayPal, which were critics of BTC, have seemingly reversed their stance.
In March, Goldman Sachs restarted its cryptocurrency desk as prices climbed, and began dealing in BTC futures and non-deliverable forwards for its clients, amid strong institutional demand. The bank said BTC can be considered an investable asset, although it acknowledged in a report that the cryptocurrency "has its own idiosyncratic risk, partly because it's still new and going through an adoption phase".
JPMorgan Chase soon followed suit and rolled out access to six cryptocurrency funds for clients in August.
While Apple Inc itself does not hold any digital assets on its balance sheet, CEO Tim Cook publicly disclosed that he personally owns cryptocurrency, adding that he had been interested in the segment "for a while".
Musk meddles with the market
One significant piece of news on the issue was Tesla Inc's US$1.5 billion BTC purchase, with the company citing the move as a diversification strategy and to "maximise returns on its cash". Further fuelling speculation on the digital currency, Tesla CEO Elon Musk tweeted that the electric vehicle company would soon accept the cryptocurrency as payment for its products.
The announcements by Tesla and Musk in February likely played a part in BTC's rally in the early part of the year — the cryptocurrency's price increased to more than US$60,000 in mid-April. It saw a sharp correction in the following months, coinciding with Musk's tweet in May that the company had "suspended vehicle purchases using BTC" due to environmental concerns, as BTC is known to consume significant amounts of energy to keep its network up and running.
Apart from BTC, the billionaire also has an influence on the dog-themed cryptocurrency Dogecoin (DOGE). While Musk has been jokingly tweeting about and poking fun at the cryptocurrency (which was created by its founders as a joke), the market seemed to take his reactions seriously.
For example, he recently announced on Twitter that Tesla could be accepting DOGE as payment for merchandise on a test basis, which subsequently sent the cryptocurrency rising over 20% following the announcement.
Reportedly, his tweets caught the eye of the US Securities and Exchange Commission (SEC), amid concerns about his influence on the markets.
Institutions beginning to look beyond BTC
Undoubtedly, BTC has maintained its dominance in the cryptocurrency space, and remains the No 1 digital asset by market capitalisation, although institutions have begun to take notice of other cryptocurrencies, dubbed altcoins — an umbrella term covering other digital assets that are not BTC.
According to CoinShares' Digital Asset Fund Flows Weekly report, BTC was the main cryptocurrency attracting institutional interest, recording US$6.36 billion of institutional inflows for the year to Dec 17, or 68% of the total inflows of US$9.35 billion for the period.
However, the data also indicated growing institutional interest in altcoins that provide utility, as the four top digital assets of choice after BTC are Ethereum, with US$1.46 billion in inflows, Solana (US$217 million), Polkadot (US$115 million) and Cardano (US$107 million).
These digital assets allow for the building of decentralised applications (dApps) on their platforms, extending their utility beyond a mere digital currency — vastly different from BTC's function.
While BTC is often compared with fiat currency or gold, it would be more suitable for Ethereum and its peers to be compared with the internet. The current version of the internet — a four-decade-old technology — has ushered in the digital age by enabling various applications, including e-commerce, digital payments, online banking, social media, and near real-time video and music streaming.
Many believe that blockchain networks such as Ethereum will usher in the next evolution of the internet or web 3.0 — where it is not controlled by mega corporations, but rather supported by a decentralised network of computers spread across the world, which makes it difficult to censor or shut down.
These networks are equipped with a built-in layer to support payments and complex financial transactions governed by code and smart contracts enabled by blockchain technology, and will see more so-called "layers" rolled out in the future, in relation to areas such as digital identity.
To date, this has given rise to decentralised finance (DeFi), as well as other crypto-derived crazes that have taken on a life of their own such as non-fungible tokens (NFTs).
The rise of NFTs
If you consider the BTC craze as a "tulip mania" of sorts, NFTs push the boundary even further to show that markets can be created for very much anything — from digital artworks to a JPEG image of a cartoon monkey.
This is enabled by the undisputable record keeping abilities of blockchain, which offers a way for users to verify the ownership of items, including digital files such as images, video, audio, code and algorithms, and potentially one day for physical assets.
This is a boon for the digital arts segment as artists can leverage these networks to put up their works for sale and receive payments directly, while collectors have a way to verify and prove their ownership of a particular digital artwork.
In March, digital artist Beeple sold a collection of his works entitled Everydays for US$69 million — which arguably catalysed the NFT craze in 2021.
Meanwhile, the Bored Ape Yacht Club (BAYC) — a collection of 10,000 NFTs launched on the Ethereum blockchain depicting apes with different traits — managed to attract celebrities onto the NFT bandwagon.
The price of each BAYC could be in the thousands to millions of dollars based on their appearance and rarity, denominated in ether (ETH), the currency of the Ethereum blockchain.
Earlier this month, sportswear manufacturer Adidas collaborated with BAYC for the brand's first NFT drop dubbed "Into The Metaverse", netting the company proceeds of more than US$23 million in ETH.
Meanwhile, rival Nike has acquired RTFKT Studios (it makes NFTs of digital sneakers) to extend the apparel maker's digital footprint and capabilities.
Visa has also opted in with its purchase of a CryptoPunk NFT for around 50 ETH or US$150,000 at the time of purchase in late August.
Visa head of crypto Cuy Sheffield said in a statement that the payments service provider believes that NFTs will play an important role in the future of retail, social media, entertainment and commerce. He added that Visa's venture into the space will provide the group with an understanding of the infrastructure requirements for a global brand to purchase, store and leverage an NFT.
The group has published a whitepaper dedicated entirely to NFTs to help its partners understand how they can integrate tokens into their ecosystem and Visa can be a part of their journey.
Mastercard has also dipped its toe in the NFT space, offering its UK cardholders the chance to win its first-ever NFT, created in partnership with global ambassador and soccer coach Jose Mourinho — an animated digital football with Mourinho's signature on it.
In Malaysia, Korean restaurant chain MyeongDong Topokki released 1,000 pieces of NFTs aimed at encouraging sustainable consumer engagement. It is also working on collaborating with NFT artists in Malaysia to roll out limited pieces of art.
Malaysian artists are also riding the NFT wave, including graffiti artist Abdul Hafiz Abdul Rahman, better known as Katun, who sold two of his NFT collections for 127.6 ETH (RM1.6 million) in 24 hours.
Calls for greater regulation
The rising institutional interest in cryptocurrencies has pushed regulators around the world to act, with many calling for greater monitoring and regulations.
In the US, President Joe Biden signed off on a US$1.2 trillion infrastructure bill in November that requires cryptocurrency exchanges to notify the Internal Revenue Service of cryptocurrency transactions, although there is still room for greater clarity on the regulations.
The Bank of England has called for regulatory and legal frameworks to be ramped up globally in order to manage risks, encourage sustainable innovation and maintain broader trust and integrity in the financial system, adding that "this is not something the UK can solve all on its own".
Closer to home, Monetary Authority of Singapore chairman Tharman Shanmugaratnam said "there may be a role for crypto in future finance that extends beyond pure speculation and illicit finance" at the Asia Financial Markets Forum in October. He added that the Singaporean central bank is keeping an open mind on cryptocurrencies to enable technologies and innovation to develop.
The city state had earlier this year granted cryptocurrency licences to offer digital payment token services to a brokerage arm of DBS Bank and an Australian cryptocurrency exchange.
The developments in Malaysia, on the other hand, have been rather stagnant. The last time regulators mentioned anything about regulations was in 2018, when the Securities Commission Malaysia (SC) said it would regulate the issuances of digital assets via initial coin offerings (ICO) and the trading of digital assets at exchanges in the country. It said ICO issuers and digital asset exchanges are subject to the SC's guidelines on prevention of money laundering and terrorism financing.
Bank Negara Malaysia, meanwhile, emphasised that digital assets are not legal tender in Malaysia.
More recently, Deputy Minister in the Prime Minister's Department Eddin Syazlee Shith said in parliament that the government has no plans to regulate cryptocurrencies for now, adding that it is difficult to regulate them given their decentralised nature.
While NFTs and DeFi applications have proliferated, there has yet to be any mention by the regulators of their stance on these areas of cryptocurrency and digital assets. There is an urgent need for Malaysia to step up its cryptocurrency regulations or risk getting left behind in this nascent space, as local institutions will be hesitant to make any moves without greater clarity. International digital asset players may also skip Malaysia entirely, given its neighbour Singapore's more open stance towards the blockchain space.