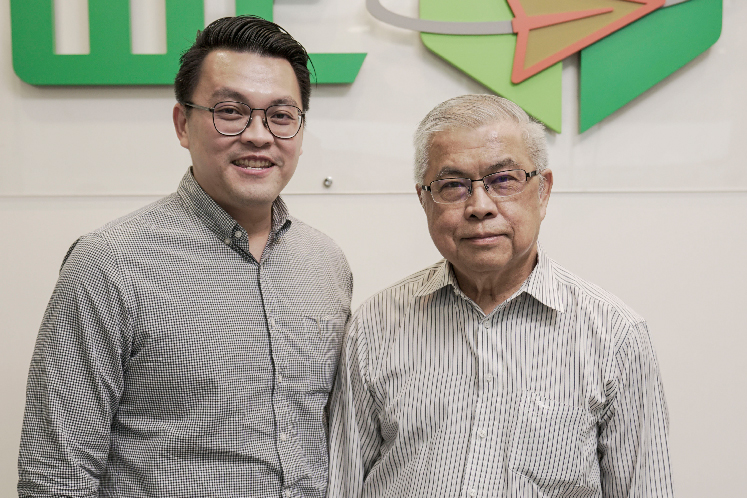 Ng Chet Chiang could have retired comfortably at 61, when he stepped down as deputy CEO of City-Link Express Group. Having served the company for two decades while running a tax consultancy on the side, he had built up a nest egg of a few million ringgit, not to mention several properties such as shoplots and houses earmarked for his daughters.
But Ng was not ready to retire. He poured almost all of his retirement money into a new venture — Logistics Worldwide Express (HK) Ltd (LWE) — which he started with his son, Ng Shern Yau.
"We started the business in Hong Kong because it is a free port. With its wide connectivity to the world, the place is a strategic gateway to export shipments to various parts of the world. On top of that, I had a lot of experience and a wide network there as I had travelled and worked there frequently during my time with City-Link," says Ng, adding that he registered LWE Sdn Bhd in Malaysia the following year, in 2011.
He started the logistics company without a single motorbike or truck. What is even stranger was that he did not hire a single driver. Yet five years into the venture, the company's revenue had shot up to HK$108 million from HK$8 million the previous year.
What happened was e-commerce giants Lazada and Shopee came a-calling. They engaged LWE to deliver hundreds of thousands of parcels to various countries in Southeast Asia. It was a major turning point because the company had nearly run out of money as it had run into trouble with the authorities for unwittingly delivering counterfeit products to the UK from China and had gone through a bout of customers buying things from China and under declaring what they paid to avoid taxes in the EU.
Recently, LWE invested a significant amount of money in Malaysia to set up branches, acquire vehicles and hire drivers to seize potential business opportunities provided by the Digital Free Trade Zone (DFTZ) — a project led by Alibaba Group Holding Ltd designed to make cross-region shipments more affordable for Malaysian small and medium enterprises (SMEs). This investment also allows LWE to have full control over the quality of services it provides customers and to better manage its business costs.
In 2018, the company was en route to a listing on the Hong Kong Stock Exchange. But the plan was derailed when it lost key clients, which led to a drastic fall in revenue and profit.
However, the plan was not called off. It was merely delayed, says Shern Yau, who is the company's chief operating officer (COO). "We are aiming to list the company in the next four to five years, when things have picked up."
In the meantime, LWE raised about RM1.865 million from 128 investors on equity crowdfunding platform MyStartr last month.
Asset-light business
Ng says some people are surprised to learn that LWE started without a single vehicle or driver. It could do this because at its core, it is a technology company that leverages the strength of its partnerships with various logistics companies with a regional or global network.
When Ng started the company, he invested in software development rather than asset acquisitions. The proprietary software was developed by Shern Yau, who has a master's degree in computer science and was instrumental in developing City-Link's IT system. The software he developed serves as a platform to connect various parties to facilitate cross-border logistics.
The software was the engine behind LWE's growth. It fuelled its business operations and enabled the company to grow by leaps and bounds.
When parcels reach LWE, the company uses its software to print out a shipping label that will allow customs officers to pull out vital information on those parcels. The software also allows the company, its partners and consumers to track the delivery status of the parcels and ensure that they are sent to the intended recipients. LWE's logistics partners do the actual picking up, dropping off and customs clearance, says Ng.
"All we had was an integrated system to process our shipment transactions and monitor the delivery status of shipments. We spent all our time and energy developing a good system that everybody could use," he says.
In short, the company operates a bit like Uber or Airbnb, says Ng. "We are asset-light, similar to those unicorn start-ups. Uber, a ride-hailing start-up, does not own vehicles. Likewise, Airbnb offers lodging and homestay services but does not own any property."
However, having an innovative idea was not enough. The company needed to have a unique selling point. Ng decided on cross-border logistics.
In 2010, not many companies were specialising in this area as the process was lengthy and complicated and could be less profitable. Some logistics companies also shied away from last-mile delivery. Delivering parcels right to the doorstep could be unprofitable because the buyer may not be home and the delivery personnel would be expected to try again.
But this was where LWE decided to carve its niche. Its software was designed to enable logistics companies to work together to facilitate cross-border and last-mile delivery.
However, Ng admits that there is always the luck factor in business. This included getting on Lazada's radar screen when LWE was still a little-known company. "They said they had never heard of us but wanted to try our service."
Ng agreed and asked which countries Lazada wanted the company to deliver parcels to. The e-commerce giant chose two rather difficult markets — Indonesia and the Philippines — and he answered confidently that it would be no problem. "But truth be told, we were a bit worried," he says.
Lazada gave LWE 100 to 200 parcels to deliver. A short while later, Lazada's COO visited the father-son duo and came away impressed. The small company had not failed a single delivery in three months.
"Lazada had tried several other companies before and there were many failed deliveries. Once, the Indonesian customs department gave them hell and hundreds of thousands of parcels were stuck at the customs and never got cleared," says Ng.
"Since all of our deliveries had been successful, the COO said he would give us all of the parcels headed to Indonesia. He presented us with an agreement and we had to sign it by the following day.
"I looked at the agreement and was very happy with it. I only added a clause to say that if there is anything we are unhappy about in the future, the agreement is subject to change. He agreed and I signed it without running it by a lawyer first."
That was the inflection point for LWE. Shortly after that, it received 20,000 parcels a day to be moved to Indonesia.
Ng was thrilled. "I had never done such huge work in my life. I called my partner in Indonesia and told him that I did not care about the cost, just make sure all the parcels were cleared and delivered. We grew significantly from 2015 to 2016," he says.
In 2017, Singaporean e-commerce platform Shopee expressed interest in engaging LWE's services. This was another coup for the company, sending its revenue to a new high.
Ng says the company made HK$8 million in 2015. But this shot up to HK$108 million and HK$180 million in 2016 and 2017 respectively.
Moment of truth
LWE's journey was far from plain sailing, however. It was beset with challenges, almost from the outset.
For starters, Ng had funded the company out of his own pocket and only started to make serious money five years into the business. At one point, he had exhausted almost all of his savings.
"That was in 2015. I told my son that we would either make it or break it. I had spent all of my savings on the company, but I had no regrets. I spent about RM8 million and we withdrew a lot of this money from the Employees Provident Fund," says Ng.
"I sold two five-storey shophouses. I sold three houses, including the two I had bought for my daughters. The only property I did not sell was the house we were living in."
The company had suffered such a hefty loss that it was impossible to borrow from banks. Investors also fought shy. "The company was still in its early stages and things were too premature for us to convince them," says Ng.
The losses stemmed from counterfeit products the company had unknowingly delivered to the UK from China. "Those days, you could buy anything you found in the market in China. But probably about half of them were counterfeit. Meanwhile, Western countries were taking stringent action against fake products," says Ng.
"When we started our business in the UK and the products we delivered were going through customs clearance, the country had people checking to ensure that all those products entering the country were not counterfeit. We were caught a few times, then banned from exporting to the UK. We had done so unwittingly, but it was still our mistake."
The father and son then shifted their business to the EU and suffered from another setback. "The challenge in the EU, like in the UK, was caused by the duty-free or tax-free threshold. It was very low at about €25. However, the renminbi was still weak at the time and many people were trying to under-declare the value of the goods [they bought from China]. So, you can imagine how much trouble we got into," says Ng.
LWE had just started back then and was relying on logistics agents in China to pick up shipments and pass them on. "We processed, labelled and exported the shipments to other countries as well. There was no way for us to stop them from under-declaring what they had bought. When things happened, the agents would run off and not come back. Then, they would try it with another company," says Ng.
While LWE experienced a dramatic turn in its fortunes from 2015, it was not plain sailing after that either. The profit it derived from the e-commerce giants fell each year as they were keen to retain their key customers.
Then in 2018, something unexpected happened. LWE's key clients pulled out some business, causing a drop in its revenue. It was a triple whammy because in addition to losing two key customers, this was the year Ng had invested HK$10 million to prepare for an initial public offering (IPO) in Hong Kong.
"The prospectus was already done. I decided to go for an IPO because my consultant told me that we were more than qualified. But I needed a solid three-year track record, which I did not have yet," says Ng.
On top of that, the father and son team had invested a significant amount of their profit in expanding LWE's business in Malaysia. "One of the reasons was we opened up branches, hired managers and bought trucks. I thought with the experience and resources we had, we should not depend entirely on other companies to do last-mile delivery," he says.
"The service quality of last-mile delivery companies locally was dropping because more people were using their services. If we did not do something, the quality of our service would drop and affect our reputation. We also wanted to reach out to local businesses more easily to build up exports to the countries we were serving."
Such a huge investment made a hole in LWE's FY2018 earnings.
Dealing with Covid-19 and the new strategies
Then, about a year later, there was the outbreak of Covid-19 in China, which quickly spread to other countries around the world. The logistics sector, together with many other businesses, was among those most severely impacted.
In general, Malaysia's logistics sector has experienced a 50% slump in its domestic delivery business and a 60% fall in its cross-border services since the implementation of the Movement Control Order (MCO) to contain the Covid-19 pandemic, says Shern Yau. "It was China that started the first lockdown. Many flights and shipments coming out of the country were halted. Now, China is recovering. But many other countries, including Malaysia, Indonesia and Thailand, have started shutting down their borders."
He had to convince some of his employees to take a temporary pay cut. "We had to put our heads together and let them know this was a way to help the company weather the storm. It would also help us to keep as many jobs as possible. If we struggle, we struggle together," he says.
Shern Yau suspended some of the company's non-performing branches in Malaysia and converted some of the employees of these branches into agents. These agents would provide various services, including LWE's cross-border deliveries to other businesses and take a cut from the services provided. "We are trying to convert a part of our fixed costs into variable costs," he explains.
Meanwhile, Shern Yau is expanding LWE's business from cross-border logistics to cross-border e-commerce. It means the company not only delivers parcels from one country to another but also has agents running around and visiting factories to source products for e-commerce marketplaces.
For instance, LWE tied up with Bukalapak, a unicorn and the largest e-commerce marketplace in Indonesia, to source various products such as face masks in China before they are sold online to Indonesian consumers. "They were looking for a million units of affordable face masks. We are working with them to source these products and charter a flight to Jakarta to deliver them," says Shern Yau.
The company is also engaging local marketplaces such as Youbeli.com and Lelong.my for potential collaboration. "These marketplaces need resources from overseas. They are looking for more merchants and products to be sold locally. We can offer them our presence in China," he says.
"We can also help them acquire merchants in China. We can help them consolidate their products in that country before packing and shipping them to consumers. This will help LWE to generate logistics revenue."
Shern Yau is approaching small and medium enterprises to see how LWE can work with them to provide more unique services to the market. A rather interesting case is a partnership between the company and a gym.
"The gym is closed during the MCO and its memberships are suspended. However, it still needs revenue to survive. So, it came up with a plan to rent out unused gym equipment to members for a fee. We are helping the gym to pick up the equipment and send it to the members and vice versa," he says.
The company is working with optical shops to deliver contact lenses and spectacles. It has also engaged Astro Go Shop and various retailers on delivering fresh groceries locally.
"We are discussing a few interesting projects such as working with charter flight operators in central China to facilitate cross-border deliveries," says Ng.
A charter flight is an unscheduled flight that is not part of a regular airline routing. Users of a charter flight rent the entire aircraft and can determine the time and locations for the flight.
"We are talking to several companies to establish partnerships and expand the reach of our cross-border delivery service. We will provide them, especially those from other continents, with a single-window access to countries in Asia," says Shern Yau.
Looking for long-term partners and investors
Ng Chet Chiang, co-founder of the Logistics Worldwide Express (LWE) group of companies, is looking for long-term partners and investors. "I started the company with my son when I was 61. I am 71 this year. I told my son that he must take the lead now and I will have to slowly go behind the scenes. It is time for me to date his mom and take her for holidays," he says.
"I hope he will fully take over the company in the next two to three years. My toughest job now is to find a long-term partner for him and the company."
This is one of the reasons LWE raised funds through equity crowdfunding platform MyStartr. Ng wanted to expose the company to the market and attract potential investors and partners. In the meantime, the father-and-son duo are reaching out to several potential investors.
Ng says he is looking forward to sharing his experience and knowledge with young entrepreneurs and helping them to be successful. He would like to be a mentor, trainer or consultant to start-ups that need guidance. "This is something I will enjoy doing."