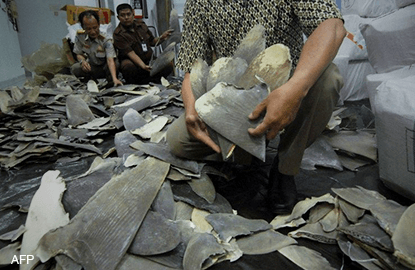 (Oct 9): A documentary crew has discovered that shark finning is big business in Sabah in the absence of laws to curb the cruel activity, despite Putrajaya's denial this week that there is no such industry in the country.
The crew filming the marine series, Borneo From Below, visited fish markets in Sabah and found out that sales of shark fins is common, fetching about RM75 for 100 grammes. (http://voices.nationalgeographic.com/2015/10/08/counting-catsharks-in-ma...)
That translates to hundreds of dollars a kilo, making it a lucrative trade and a big income earner for fishermen.
"Borneo has a shark problem; the sharks are disappearing, and with them a significant percentage of their tourism economy. No sharks, no divers, no seafood, no tourists," David McGuire, who is part of the crew, wrote in a blog hosted by the National Geographic website.
"Perhaps the economic study and survey results will convince government leaders to stop the denial and realise sharks are more valuable alive than dead."
On Monday, Agriculture and Agro-Based Industry Minister Datuk Seri Ahmad Shabery Cheek (pic, left) brushed aside calls for a ban on shark finning, saying sharks were "accidentally caught" by fishermen in Malaysian waters.
Shabery even denied that the shark finning industry existed in Malaysia.
In 2012, the Sabah state government proposed changes to the Fisheries Act to introduce a ban on shark finning.
For decades, environmentalists have considered shark finning cruel.
Shark finning refers to the removal of a shark's fin. The finless shark is then thrown back in the ocean, before it drowns and dies of suffocation.
The shark fin soup is an expensive delicacy in countries such as China, Japan and Korea, but many countries have banned all industries related to the hunting of shark fins.
Malaysia, however, has no such laws.
"Selling shark fins and shark meat is legal in Malaysia; even for an IUCN red listed endangered species like the scalloped hammerhead," said McGuire, referring to the International Union for Conservation of Nature.
Environmental groups say the shark population in Sabah fell by 80% over the past three decades.
The United Nations' Food and Agriculture Organization (FAO) recently ranked Malaysia at the ninth spot among the world's largest shark producers, and third among largest importers. – The Malaysian Insider