This article first appeared in Enterprise, The Edge Malaysia Weekly, on January 13, 2020 - January 19, 2020.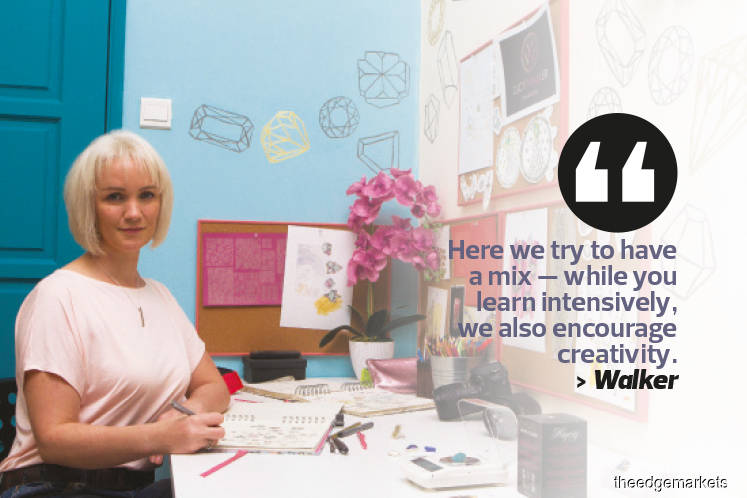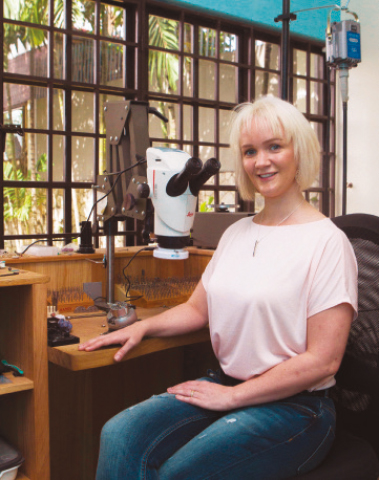 Walker believes in teaching the old-fashioned way — by sharing all she knows
There are good teachers and there are generous teachers. Lucy Walker, founder and creative director of Lucy Walker Jewellery PLT, is both.
She starts her classes at The Academy — the space in which she conducts lessons on jewellery making — by asking those present if they have had their morning coffee. A perky pick-me-up is essential, she says, not so much to counter sleepiness but because after the initial excitement of learning a new skill wears off, one will have to rely on caffeine to get through the seemingly endless and sometimes tedious, but all-in-all gratifying process of making jewellery.
Jokes apart, this insight into one of Walker's six-day intensive introductory courses in metalsmithing is enough of an indication of her accessibility and humility. This impression is only fortified as the course progresses.
Fondly known as Luce to her group of aspiring jewellers, she shares just about everything she learnt in the 12 years she worked as a professional jeweller. She tells her students the best haunts for supplies and tools that suit all budgets, demonstrates the many tips, tricks and shortcuts she has picked up along the way and humours them with her little anecdotes and occasional cusses.
"That is the only way to teach really — by sharing all we know, we can only get better. That is what teachers are supposed to do," says Walker.
But this was not what she found when she decided to start a jewellery business and subsequently expand it to teach others the skills. "When I started the studio here, it was very hard to get any information from the jewellers here. I asked people things like, 'I just want to know what tool you are using', and they would not tell me. That is not even proprietary information. It is just the basics," she says.
"I even reached out to the Federation of Goldsmiths and Jewellers Associations of Malaysia, but I never heard back from them."
The attitude was very different in the US and the UK, where she comes from, as most practitioners there are open and accommodating. "When I was living in the US, if you asked someone where they purchased a particular tool, they would tell you without any fuss. Here, there is nothing of the sort. I was really surprised," says Walker.
"When you share your knowledge, it helps bring people up. Then, they develop the knowledge and share it with you, and everybody grows. If you just keep things to yourself, you stay at a low level with everybody else. So, we share everything."
Humble beginnings
Walker, who hails from Birmingham, the UK, has been making jewellery since she was 10. "My parents gave me £15 in pocket money when I went on a school excursion to Scarborough, Yorkshire. I hardly spent any of it in the two days we were there. But just before we got back, I walked into a shop selling beads and bought £13 worth of beads to take home," she recalls.
"My dad encouraged me to get into it when he saw the haul. He gave me pliers and a few things to make a toolkit. I used to sell the ones I made in school. I started taking orders for customised pieces when I was about 14."
Walker kept at it, wiring beads until she was in her twenties. "I moved to Manila when I was 21, with my ex-husband who was given a position with a big company. As part of my benefits for giving up a job in the UK and moving with him, I received US$10,000 to spend on any kind of education I wanted," she says.
By then she was seriously contemplating a career as a jeweller, partly motivated by her job as a jewellery buyer for a fashion brand in the UK. "When I was in Manila, I tried to find someone or an institution to teach me how to make jewellery…proper methods matter when you are making the real stuff. It was a struggle to find such a place there," says Walker.
"I took up the Graduate Gemologist diploma programme offered by the Gemological Institute of America. I did distance learning and went to Bangkok to do the lab classes. That was when I first got serious about making jewellery."
Walker then moved to the US, where she took a course to learn stone setting, soldering, fabricating and repairing jewellery at the New Approach School for Jewellers in Virginia Beach, Virginia. "I was a bit flaky at the time. I had a lot of ideas, but not much substance. It was a year before I signed up for the course," she says.
She was only able to do so because her parents, who had received a payout from a civil suit, had gifted her and her sister £10,000 each. "The three-month course cost something like US$13,000 plus accommodation. My sister went out and bought a lot of fancy handbags. But there was no question as to how I would spend that money," says Walker.
At New Approach, she learnt how to be a bench jeweller — an artisan who carves and repairs jewellery. "I studied how to solder, repair and size rings and how to set stones on rings and other jewellery. It was a really good basic course," she says.
Learning the ropes
Walker moved to New York soon after that and secured an apprenticeship at Leon Megé Inc — which was owned by award-winning jeweller Megé, who specialised in platinum fabrication — in the Diamond District of New York.
"I had been a fan of Leon's work for a long time. I saw an opening at his studio on Craigslist and emailed him," she says.
"The next thing I knew, I got a message from Leon himself. I sat at my computer for two hours drafting a message saying that I was probably not anywhere near the skills he needed, but had been a massive fan of his for years. I wrote in that email that, 'I do not care if I have to come in and sweep your floors. I will do whatever it takes to work for you'. In other words, practically begging him to take me on. I went for the interview and he said, 'Your résumé sucks, but your letter was compelling'.
"I worked for him for free for two months as an apprentice. I did the boring jobs such as cutting circules and squares out of metals and filing them to exactly the right size. It was very low-level stuff, but I loved every second of it. That was really where my work with fancy fine jewellery started."
While Walker did not make anything for Megé, the steep learning curve prodded her towards earning a full-fledged degree in jewellery making.
Life then intervened. Her father was diagnosed with liver cancer and she decided to move back to the UK to be with him. He died within six months of the diagnosis and the myriad of challenges after that led to the end of her marriage.
"I left school when I was 16 and never got a degree. So at 27, I decided it was time to do so. I went to Birmingham City University's School of Jewellery, which is one of the top three schools in jewellery," says Walker.
While studying, she looked for a studio to work on her pieces. The one she found was large enough to accommodate a few more people, so she got her classmates to come in with her.
"I wanted to help the students over there because I already had a background. That was when I started to get into the teaching side of things — just from helping them out. You learn the most when you teach," says Walker.
After graduating, she got a job at the Paspaley Group — which is renowned for the rarest Australian South Sea pearls — in Darwin. "It was nice for a year, but there was not much to do there other than go drinking," she says.
In 2015, just as she was thinking of moving out of Darwin, a friend who was working for Raffles College of Higher Education in Kuala Lumpur proposed that she take up a teaching position at the institution. Although Walker had no teaching qualifications, she decided to give it a shot. And while she did not stay on with Raffles, the experience helped her recognise her desire to teach.
Creative edge
In 2017, she decided to run a side business while teaching at Raffles. "Initially, I found a little place in CraftCrowd and then went back to the UK to get all my tools shipped here. But when they arrived, I realised that I could not fit them into the room. So, I started looking for a bigger room, with a budget of RM1,000, and eventually found a space in Jalan Kurau," says Walker.
"A year later, I suddenly realised that it was not going how I thought it would be. This thing that I was doing in my free time was supposed to be a weekend fun sort of a thing. Then I was like, 'Enough of this. Let's start a school'.
"I planned to start slowly while still working at Raffles. My husband and I would work at night to figure out how to get the school off the ground and classes running. But I am not a sensible person and one day, the people at Raffles ticked me off. So, I resigned."
Reality came crashing down and she soon realised that she would have to make her newly established school work. "We started with four or five students a class. We were doing all the marketing ourselves. We printed flyers and did massive amounts of word-of-mouth marketing at every single coffee shop we passed. I did not know anything about social media or building a website. So, I got some books and got cracking," she says.
"We tried everything to get people in. We held one-day classes, wedding ring classes and private classes. It was just a hustle."
Once, she received 30 orders for sterling silver money clips. At the time, she could not afford to be picky, so she took whatever came along. Today, she has built her business to a place where she can afford to be more selective about the courses she curates and teaches.
Walker has continued to sustain herself by taking on commissions. Working on bespoke pieces showed her that the local jewellery industry was still very traditional and limited to producing designs with a mass appeal.
"I would say 97% of my clients were foreigners, so they did not want traditional Malaysian jewellery. They wanted something a little artier and more unique. And there is not that much of that in Malaysia. If you want something creative or well designed, it will be a struggle to get such jewellery on demand," she says.
"There are people who are willing to pay for design. But in Malaysia, jewellers are very traditional and base everything on how heavy the metal is or the carat of the stones."
Two years on, the jewellery school has expanded quite substantially. Apart from the regular curriculum of metalsmithing, stone setting and jewellery design, it also offers speciality classes such as enamelling, gemmology, wax carving and computer-aided design.
As most of the enrolments are from jewellery aficionados overseas, the structure of the courses has changed from cursory lessons or part-time training in jewellery making to intensive courses that run for at least six days straight. Walker also tries to inspire creativity while ensuring that her students get the basics right.
"There are really good schools out there that teach the basics very well, but many do not have the artistic value. So, here we try to have a mix — while you learn intensively, we also encourage creativity," she says.
"Most of the people who come to my classes are not necessarily looking for a job as a jeweller in a jewellery store because it is pretty soul-destroying, to be honest. They are looking to create their own brands. They want to be creative, but they also want to learn how to make nice jewellery. Most importantly, they want to learn how to do it the right way."