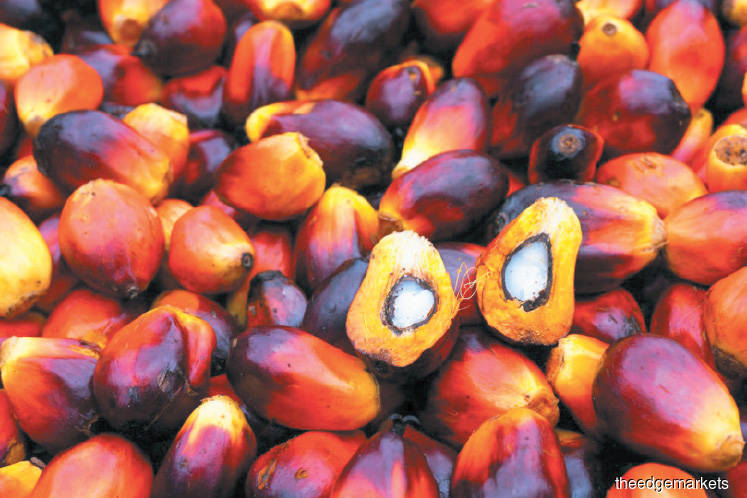 KUALA LUMPUR (Nov 14): The average crude palm oil (CPO) price is expected to hover around RM2,600 to RM2,700 in 2018, said Plantation Industries and Commodities Minister Datuk Seri Mah Siew Keong.
"On average, the average price would be maintained next year. The present price is RM2,600 to RM2,700. I forecast it to be around there in 2018.
"As for palm oil production this year, we expect it to be two million tonnes higher at 19.5 million tonnes. Last year, production was lower due to El Nino weather conditions," Mah said.
Speaking to reporters after opening the International Palm Oil Congress and Exhibition 2017, Mah reiterated palm oil and palm-based products exports would likely exceed RM70 billion, after hitting RM51 billion in export value between January and August this year, with European Union (EU) topping the list at RM7.5 billion, followed by China (RM5.4 billion) and India (RM5.2 billion).
On the EU resolution to ban palm oil biofuel by 2020 and develop a single certification for sustainable palm oil, and if that could impact palm oil exports in future, Mah said he remained confident with the discussion with the European Commission and Parliament.
"Europe will not implement (any) discriminatory policy, so it is not legislated yet. It is a resolution by the committee and we will want to discuss in the best way (with them) as a buyer and we, as the exporter," he said.
Mah said trade discussions work both ways whereby Malaysia and Indonesia — the other palm oil producing countries — are also importers of many European products.
Therefore, the ministry reaffirms if EU decides to carry on with the alleged 'unfair and discriminatory' treatment against Malaysian palm oil products, Malaysia would be forced to react against the bloc.
"We can take similar restrictions against their products, but I do not want to go into so much details. I am confident (as) we have had many rounds of talks so far, including a meeting with the European commissioners.
"I am confident that they will see our point of view. I will again impress our point of view to European ambassadors, when I meet all 16 of them again at the end of this month," he added.
Mah also noted Prime Minister Datuk Seri Najib Razak would be meeting with Indonesian President Joko Widodo next week, with the protection of the palm oil market as a main agenda, following a meeting by the council of palm oil producing countries, where the matter of EU resolution was brought up earlier this month.
Mah said Malaysia was exploring new markets to reduce the stress on the issue. He said the new comprehensive and progressive Trans-Pacific Partnership without United States would be a big market for Malaysian commodities.
"Without US, the 11-nation market is still very big with 500 million people. Last year, our palm oil and palm-based exports to the 11 countries, including Japan and New Zealand, was RM8.4 billion. Total exports for these products was RM67 billion," he said.
Mah believes the new trade agreement allows Malaysia to penetrate into new markets, including Chile, as well as raise commodity exports, once the agreement materialises.