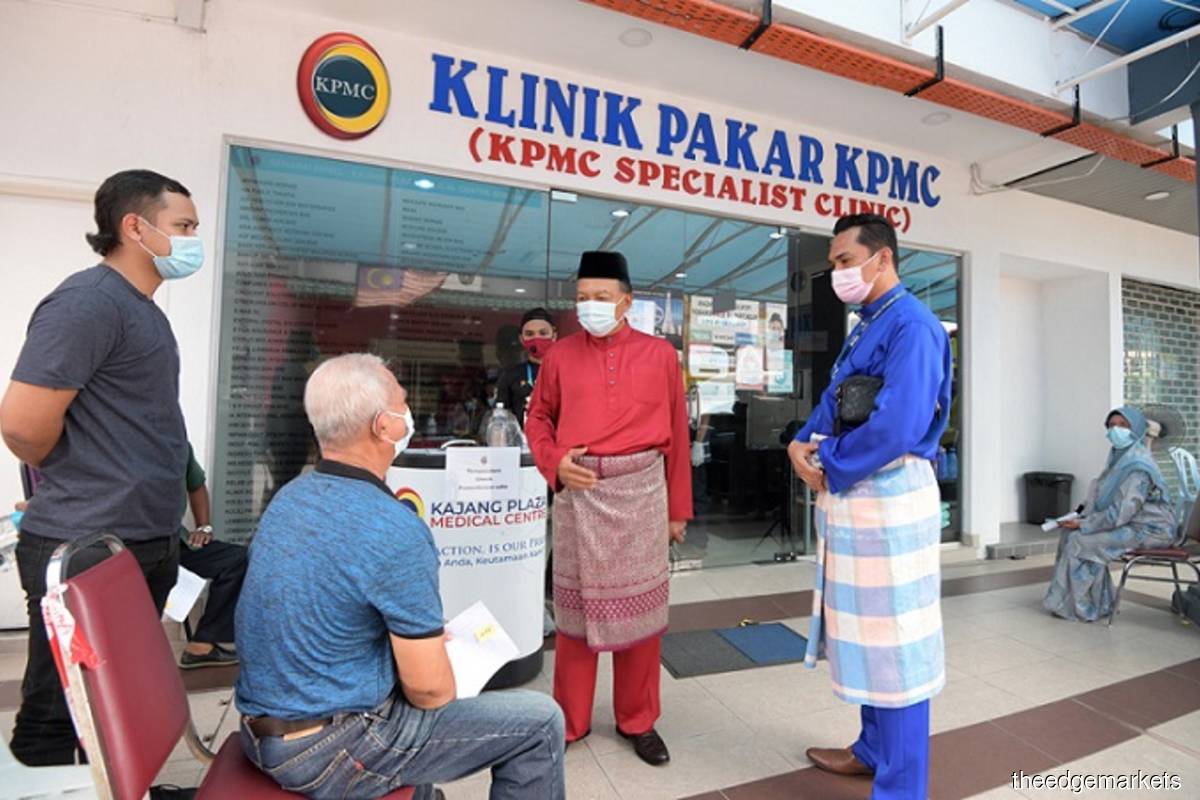 KUALA LUMPUR (June 13): Malaysia reported 5,304 new Covid-19 cases today — down from 5,793 yesterday (Saturday, June 12) — bringing the cumulative number of confirmed infections in the country to 657,508, according to Health director-general Tan Sri Dr Noor Hisham Abdullah.
This marks the second consecutive day new Covid-19 infections stayed below the 6,000-level, down from 6,849 cases on Friday (June 11).
As for the new infections, 5,299 were local transmissions, while five were imported cases. Of the domestic transmissions, 78.2% or 5,299 involved Malaysians, while 21.8% (1,153) involved foreign nationals. Among imported cases, two were Malaysians while three were foreign nationals.
Also reported were 8,163 new recoveries today, which further trimmed the number of active cases that carry transmission risks to 73,324, from 76,247 the day before. Total recoveries, meanwhile, stand at 580,276.
There were 64 more Covid-19 related deaths today, bringing the country's coronavirus death toll to 3,908. The fatalities were reported in Selangor (15), Kuala Lumpur (10), Johor (seven), Kedah (six),  Negeri Sembilan (five), Pahang (five), Sarawak (four), Labuan (four), Sabah (two), Kelantan (two) and Penang (one), Perak (one), Melaka (one) and Terengganu (one).
There are now 917 patients in the intensive care unit (ICU), of whom 452 require breathing assistance.
Selangor remains the state with the highest number of new Covid-19 infections, with 1,973 cases recorded. This is followed by Sarawak (544), Kuala Lumpur (462), Johor (363), Sabah (335), Negeri Sembilan (331), Kedah (301),  Penang (256), Kelantan (179), Labuan (158), Melaka (145), Perak (121), Pahang (78), Putrajaya (seven) and Perlis (five).
15 new clusters found
The Ministry of Health has also identified 15 new infection clusters: 11 from the workplace, with three community clusters and one higher education cluster.
Of the workplace clusters, three each were found in Selangor and Johor, followed by two in Sabah, and one each in Kuala Lumpur, Melaka and Kelantan.
The workplace clusters are:
- Industry Jalan Sijangkang Utama cluster in Kuala Langat and Klang, Selangor (24 infections),
- Industry Sungai Chandong Sembilan cluster in Klang and Petaling, Selangor (13 infections),
- Industry Jalan Anggerik Mokara cluster in Klang, Selangor (five infections),
- PLO Perindustrian 65 cluster in Tangkak, Johor (27 infections),
- Tembikar Jalan Johor cluster in Batu Pahat, Johor (20 infections),
- Kampung Cho cluster in Pontian, Johor (nine infections),
- Jalan Agaseh cluster in Lahad Datu, Sabah (15 infections),
- Lorong Satu A cluster in Kota Kinabalu Tuaran and Penampang, Sabah (10 infections),
- Desa Tun Razak 2 cluster in Cheras, Kuala Lumpur (23 infections),
- Industry Jalan Usaha Merlimau cluster in Jasin, Melaka (31 infections),
- Industry Jalan Sepuluh cluster in Kota Bahru and Bachok, Kelantan (18 infections)
Two out of three community clusters were detected in Sarawak, namely the Kampung Sebandi Hilir cluster in Lundu and Kampung Tabuan Haji Drahman cluster in Kuching, with 15 and 34 infections respectively.
The other community cluster was from Sabah, namely the Kebayau cluster in Kota Belud and Keningau, with 27 infections.
The sole higher education cluster is the Dah Sintok cluster in Kubang Pasu, Kedah, with 19 infections.
So far, a total of 2,477 clusters have been detected, of which 766 remain active.
Follow our Covid-19 vaccination tracker to see where we are in the race to herd immunity.