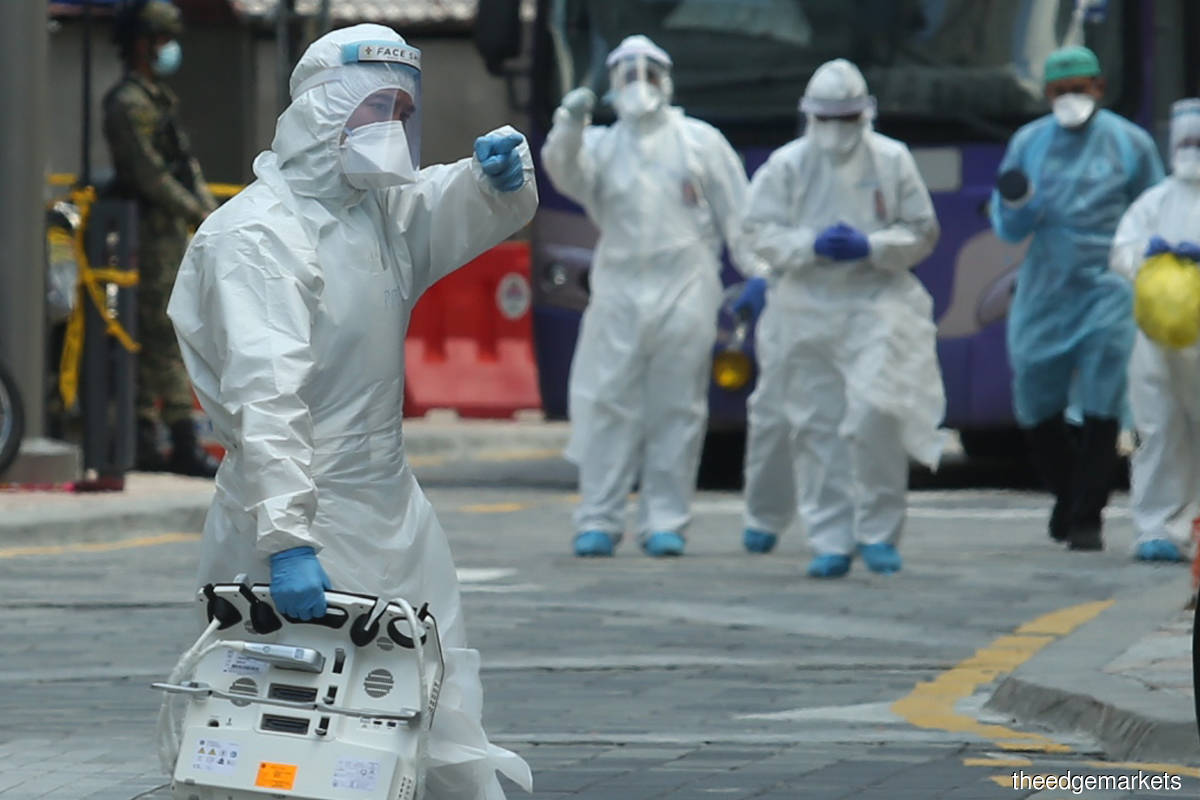 KUALA LUMPUR (March 5): Malaysia's new Covid-19 infections rose to 2,154 as of noon today, bringing total cases to 310,097.
This is the second consecutive day that new cases stayed above the 2,000 mark.
Another six people died from the virus, raising the country's Covid-19 death toll to 1,159, said Health Director-General Tan Sri Dr Noor Hisham Abdullah.
Five deaths were reported in Selangor and one in Kedah. All involved Malaysians, Dr Noor Hisham said in a statement.
Selangor continued to account for the highest portion of new cases at 794, as the state – along with Kuala Lumpur, Johor and Penang – saw the Conditional Movement Control Order (CMCO) being reinstated after having been placed under the stricter MCO since January.
This was followed by Johor with 463 cases, Sarawak (250), Penang (119), Perak (109), Kuala Lumpur (108), Sabah (97), Negeri Sembilan (77), Kelantan (57), Pahang (38), Terengganu (16), Melaka (10), Kedah (nine), Putrajaya (four), Labuan (two) and Perlis (one).
New recoveries continued to outpace fresh infections, with 3,275 patients discharged in the latest 24-hour reporting period, resulting in active cases falling to 22,034.
With this, Malaysia's total recoveries climbed to 286,904 compared with 91,171 as of Jan 1, giving a recovery rate of 92.5%.
Ten new Covid-19 clusters, eight linked to workplaces
Dr Noor Hisham said 10 more Covid-19 clusters were detected in the country, eight of which were linked to workplaces.
The eight workplace clusters are:
·         Kampung Nyatoh cluster involving Seremban in Negeri Sembilan and Gombak in Selangor (74 infections)
·         Tapak Bina Jalan Zamrud cluster in Hulu Langat, Selangor (21)
·         Jalan Dato Sellathevan cluster in Klang, Selangor (21)
·         Industri Cheras Jaya cluster in Hulu Langat, Selangor (14)
·         Meranti Utama cluster in Sepang, Selangor (11)
·         Perusahaan 10 cluster which spans Seberang Perai Utara and Seberang Perai Tengah in Penang (57)
·         Jalan Mutiara Barat cluster involving Cheras in Kuala Lumpur as well as Petaling and Hulu Langat in Selangor (17)
·         Persiaran Alam cluster in Cheras, Kuala Lumpur (17)
Of the remaining two clusters, one is linked to community infections (Kuala Punteh cluster in Keningau, Sabah with 25 infections), and the other to religious activity (Jalan Senu cluster which spans Larut-Matang-Selama in Perak with 10 infections). 
Malaysia has so far reported 1,187 clusters, of which 488 are still active, and 699 have been declared ended.