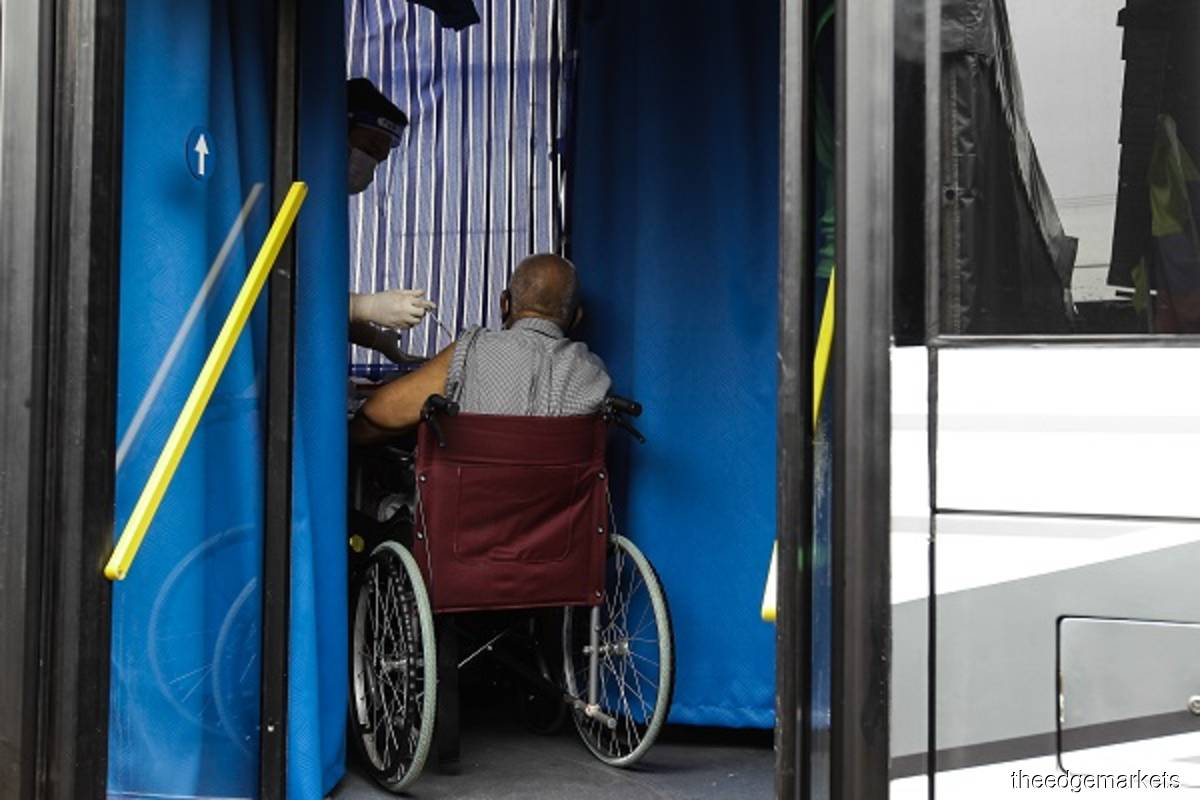 KUALA LUMPUR (June 11): Malaysia's vaccination plan picked up pace this week, with more than 150,000 daily shots administered for three consecutive days – compared to between 60,000 and 80,000 a day before that – while the country saw a decline in new Covid-19 infections.
This is in line with the daily target of 150,000 jabs by June that was set by Coordinating Minister of the National Covid-19 Immunisation Programme Khairy Jamaluddin previously.
Daily jabs administered breached the 150,000-level for the first time on Tuesday (June 8) with 151,309 shots given, followed by 154,866 shots on Wednesday and 157,949 on Thursday.
With these, 772,500 doses of Covid-19 vaccines were administered this week, up 25% from 618,060 the week before.
As of June 10, Malaysia's vaccination rate stood at 3.8%, representing 1.268 million individuals who are fully inoculated, according to latest data released by The Special Committee on Covid-19 Vaccine Supply Access Guarantee (JKJAV). Meanwhile, 2.835 million more individuals have received their first vaccine dose.
For those who had the first dose, Kuala Lumpur led the country with 483,363 people, followed by Selangor (418,048), Sarawak (267,248), Johor (265,985) and Perak (222,073).
Meanwhile, Selangor recorded 165,516 individuals who had completed their second dose of vaccination, which means they are fully inoculated, followed by Sarawak (130,641), Johor (117,725), Perak (115,298) and Sabah (102,699).
A look at the ASEAN region showed that Singapore recorded the highest vaccination rate at 33.1%, according to Financial Times Covid-19 Tracker. This was followed by Cambodia (13.6%), Indonesia (4.2%) – Malaysia comes in fourth at 3.8% – Brunei (2.6%), Myanmar (2.3%), Thailand (2.1%), the Philippines (1.5%) and Vietnam (0.04%).
Bernama reported on Tuesday that the government targets to have over 200,000 individuals receive their vaccination shots daily, starting July, and over 300,000 individuals daily from August onwards.
It plans to achieve this by opening more vaccination centres across the country, Khairy was quoted as saying.
Covid-19 infections fall to 43,289 this week from over 53,000 last week
Malaysia recorded a total of 43,289 new Covid-19 infections this week, based on data from June 5 until June 11, down 19.2% from the weekly record high of 53,608 reported last week.
Meanwhile, 48,208 individuals recovered from the illness during the week, up 16.4% from 41,432 in the previous week.
The seven day-moving average of daily new cases has also reversed its upward trend, as it trended down from 7,658 last Friday to 6,184 today. However, it is still too early to determine whether this trend will continue, moving forward.
With the fall in new infections, the number of active cases that carry high transmissions risks declined 6.5% to 78,864 from last Friday's 84,369. In addition, this week's total Covid-19 fatalities fell 7% to 586, from 630 previously.
The number of Covid-19 patients receiving treatments in intensive care units (ICUs) meanwhile, rose to a fresh high of 912 today, compared with last Friday's 883. The number of patients in ICUs is expected to remain elevated, as they typically stay for seven to 14 days.
According to the World Health Organization (WHO), Malaysia is now third in ASEAN for total coronavirus infections at 646,411, behind Indonesia (1.894 million) and the Philippines (1.3 million).
However, Malaysia has the second-highest number of active cases in ASEAN, after Indonesia (106,315).
Selangor still leads with the most Covid-19 cases
Selangor remains the worst Covid-19 hit state in terms of number of new infections recorded, as the state government continues its free mass testing in the populous state to curb the spread of the coronavirus.
This despite new cases from Selangor this week falling to 13,944 infections, from 17,937 cases in the prior week.
Selangor also leads with the most number of total Covid-19 infections, at 211,403, followed by Kuala Lumpur (66,195) and Sabah (65,330).
The basic reproduction number (R-naught or R0) for Covid-19 infections nationwide now stands at 0.91, according to health director-general Tan Sri Dr Noor Hisham Abdullah.
This R0 or Rt projects the average number of people that each new Covid-19 patient will infect, or what is termed the effective reproduction number. An R0 of less than 1.0 means the infection is not spreading.
Looking at June 10 data, Labuan has the highest R0, at 1.15, followed by Negeri Sembilan (1.13), Sabah (1.08), Kuala Lumpur (1.04), Melaka (1.01), Sarawak (1.00), Perak (0.98), Putrajaya (0.98), Johor (0.98), and Selangor (0.97).
Workplace clusters have the highest number of infections
Based on data provided by the Health Ministry, workplace clusters reported the highest number of infections so far, compared with the community, education, high-risk group, detention, religious, and imported clusters.
This year alone, the ministry detected 1,070 workplace clusters with 90,151 infections, followed by 454 community clusters (28,286 infections), 179 education clusters (12,234 infections), 115 religious clusters (9,232), 68 high-risk group clusters (2,479), 37 detention clusters (8,353), and four imported clusters (97).
To date, the country has reported 2,438 Covid-19-related clusters, while 755 remain active, as 1,683 clusters have been declared ended by the ministry.