This article first appeared in The Edge Malaysia Weekly, on November 18, 2019 - November 24, 2019.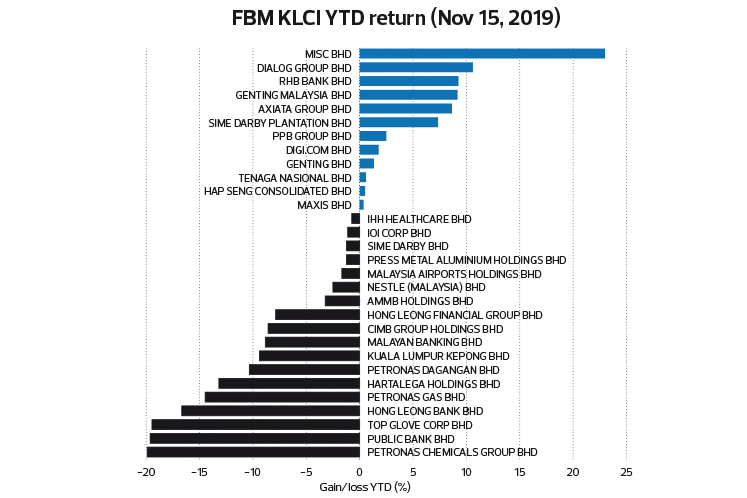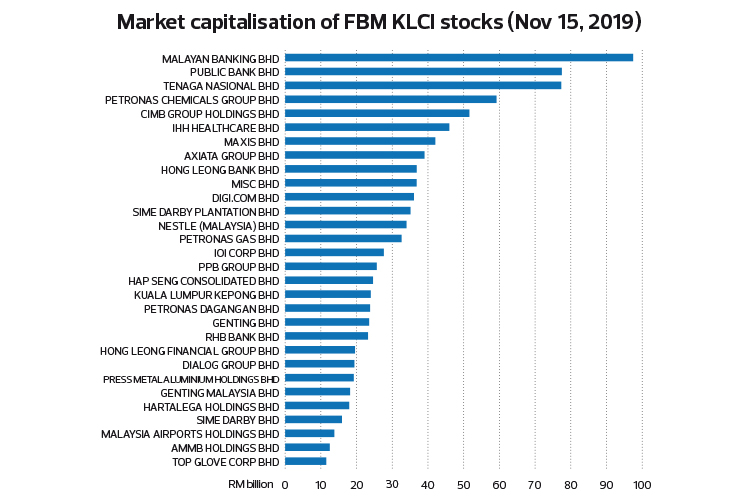 Click / Tap image to enlarge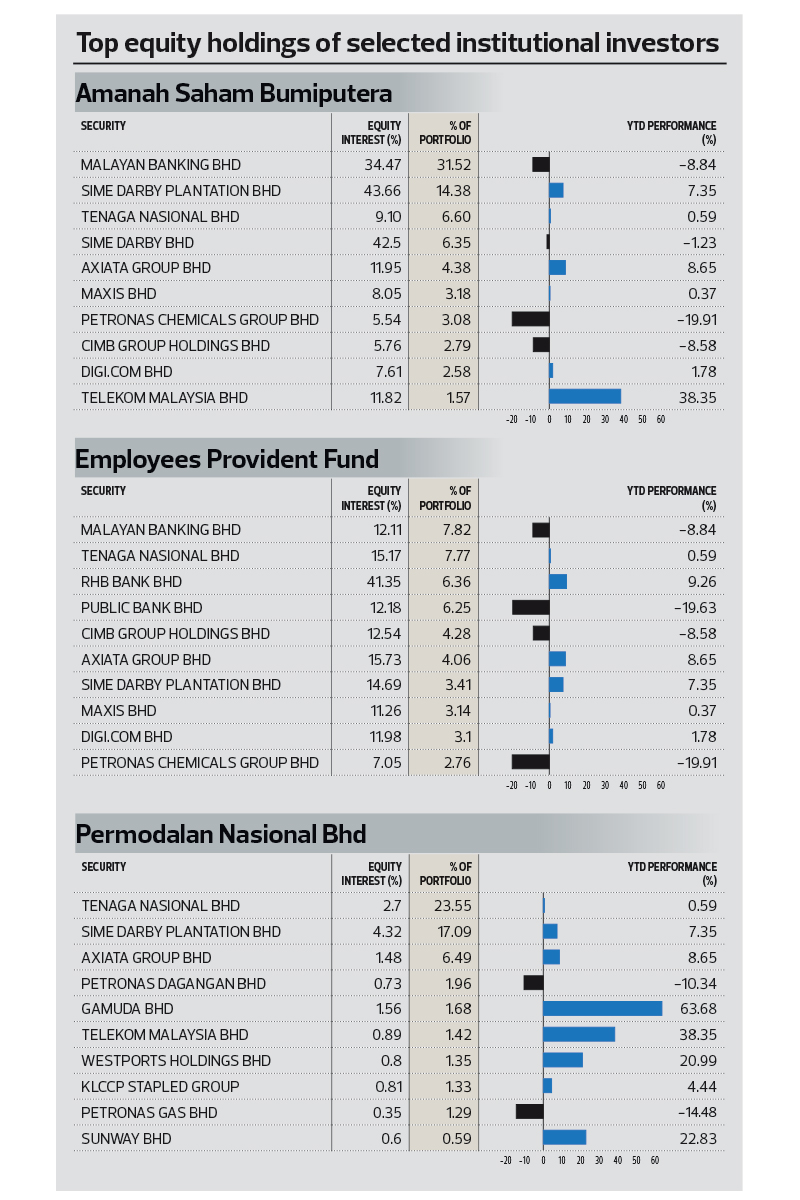 Click / Tap image to enlarge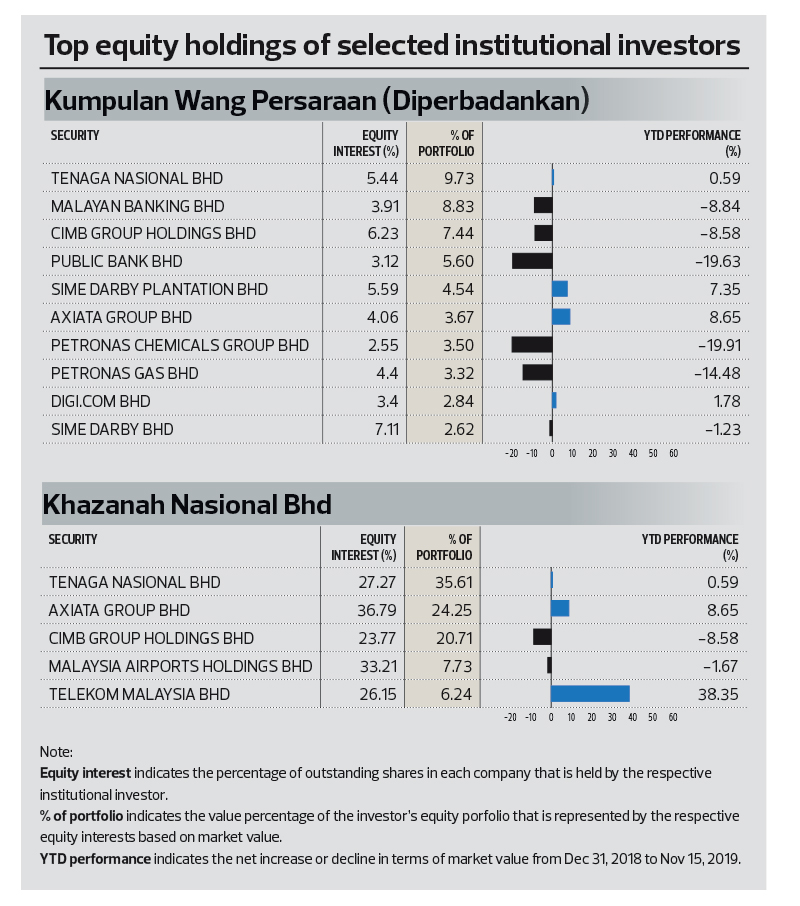 WITH just over six weeks left in 2019, the FBM KLCI is still hovering near multi-year lows. But historical trends suggest that a recovery spurt could be in the offing.
Some fund managers The Edge spoke to say there are positive signals recently that may boost market sentiment surrounding big-cap stocks. In turn, that may provide tactical opportunities to ride any window-dressing effect that may arise as the year comes to a close.
"Most of the time, we see year-end rallies between November and December depending on prevailing market sentiment," says one research head, adding that profit-taking in recent weeks could limit potential upside room in the market generally.
"That said, corporate earnings results and improved sentiment in some sectors could be price catalysts for individual stocks," he adds.
One fund manager who declines to be identified says it is "too soon" to tell with certainty whether it will happen significantly this year.
"If it happens, it may be in the weeks leading up to the Christmas break. It's a possibility to look at in terms of a potential short-term tactical play," he explains.
Historical data shows that during the 10-year period between 2009 and 2018, Bursa Malaysia's FBM KLCI Index rallied in the final quarter for 7 out of 10 years, rising between 2.35% and 10.35%.
In the three years that the index recorded a net decline in the final three months of each year, there was a noticeable rebound near the end.
For example, in 2014, the index fell by 4.61% in the final quarter. The decline would have been larger but for a 5.22% rebound in the final two weeks of the year.
Meanwhile, in 2016, the index regained 1.65% in the final week to reduce fourth-quarter losses to 0.65%. More recently, the index gained 3.38% in the final week of 2018 to cut its fourth-quarter decline to 5.72%.
Noticeably, some individual stocks have also exhibited cyclical upward movement near the year end in recent years, say fund managers. One interesting example is KLCCP Stapled Group, which comprises KLCC Real Estate Investment Trust and KLCC Property Holdings Bhd.
In 2017, KLCCP gained 80 sen from its RM7.84 close on Dec 22 to finish at RM8.64 on Dec 29 that year — a 10.2% gain in seven days. By Jan 5, 2018, the stock had fallen to RM7.82.
Similarly, in late 2016, KLCCP surged 9.1% between Dec 23 and Dec 30 before falling 5.9% in the first week of January 2017. Petroliam Nasional Bhd (Petronas) controls 64.68% of the stapled group, according to its latest annual report.
Last Friday, the FBM KLCI ended at 1,593.90 points, down 98.17 points or 5.8% year to date (ytd). It had dropped as low as 1,556.84 on Oct 11, a level unseen since August 2015. The index has not ended a year below the 1,600 threshold since 2011, when it finished at 1,530.73 points.
Spotlight on banks, planters
It is worth noting that banking stocks are among the key drags of the FMB KLCI at present. With signs of a sentiment uplift, blue chip banking stocks may be worth watching in the coming weeks, say fund managers.
As at Nov 15, RHB Bank Bhd was the only FBM KLCI constituent to record a ytd gain (9.26%). The others — AMMB Holdings Bhd, Malayan Banking Bhd (Maybank), CIMB Group Holdings Bhd, Hong Leong Financial Group Bhd, Hong Leong Bank Bhd and Public Bank Bhd —were all in the red.
Among the six banks, AMMB, Maybank and CIMB count at least three different local institutional investors among its top shareholders.
Notably, CIMB has Khazanah Nasional Bhd as a 23.77% shareholder, as well as the Employees Provident Fund (EPF) (12.49%), Kumpulan Wang Persaraan (Diperbadankan) (KWAP) (6.23%) and Amanah Saham Bumiputera (ASB) (5.76%). Amanah Saham Malaysia, another fund managed by ASB's fund manager, Permodalan Nasional Bhd, has 4.78%.
Khazanah's stake in CIMB accounts for about a fifth of the sovereign wealth fund's equity portfolio value, according to Bloomberg.
On Oct 31, Bank Negara Malaysia held the overnight policy rate (OPR) unchanged at 3% despite a rate cut by the US Federal Reserve.
Then on Nov 8, the central bank slashed the statutory reserve requirement (SRR) by 50 basis points to 3.0%, the first reduction since February 2016. The SRR cut is expected to release RM7.4 billion in liquidity into the system.
"With this [SRR cut], we may see more loan growth and lower cost of funding although asset quality is also something to watch out for. The major banks could be beneficiaries," says another fund manager who also requested anonymity.
The plantation sector may also be seeing a turnaround in sentiment, according to fund managers. Last week, crude palm oil prices breached RM2,500 per tonne for the first time since March 2018 amid the recent downward trajectory of Malaysian palm oil inventories.
"The weightage of plantation stocks is sizeable in the index, so a rally could boost the index as well," the second fund manager adds.
Two out of four plantation stocks in the FBM KLCI are sitting on ytd gains: Sime Darby Plantation Bhd (7.35%) and PPB Group Bhd (2.50%). IOI Corp Bhd had declined 1.12% and Kuala Lumpur Kepong Bhd (KLK) had declined 9.39% ytd up to Nov 15.
Substantial shareholders of Sime Darby Plantation include ASB (43.66%), EPF (14.6%), KWAP (5.61%) and PNB's parent, Yayasan Pelaburan Bumiputera (4.32%). EPF is also a major shareholder in PPB (12.25%), IOI (12.12%) and KLK (14.30%). ASB has 6.20% in KLK and 4.72% in IOI.
A glance at the 30 blue chips that make up the FBM KLCI show that other decliners ytd also include counters with multiple institutional investors.
These include Petronas-controlled counters, namely Petronas Chemicals Group Bhd (-19.91% ytd), Petronas Gas Bhd (-14.48% ytd) and Petronas Dagangan Bhd (-10.34% ytd).
Petronas has a majority stake of 60.66% to 64.35% in these three stocks. The EPF is also a substantial shareholder in all three with stakes of between 6.60% and 9.23% respectively, while ASB — the biggest fund managed by PNB — also has stakes in all three.
Big caps to watch
Big-cap stocks with multiple institutional shareholders are worth watching in the coming weeks as any potential upward rally would have a bigger impact on portfolio performance, according to the fund managers.
In addition, some big-cap stocks usually see less downward volatility after a rally as a large proportion of outstanding shares are held by large institutional investors, they add.
A look at the major equity holdings of major Malaysian institutional investors based on data tracked and compiled by Bloomberg yield some interesting observations.
For example, equity holdings in Maybank — the biggest Bursa Malaysia stock by market value at present — make up 31.5% of ASB's equity portfolio, 7.82% of EPF's and 8.83% of KWAP's (see table). YPB's 7.73% stake in Maybank makes up 45.01% of its portfolio value.
Similarly, electricity distributor Tenaga Nasional Bhd (TNB) figures near the top of many institutional equity porfolios as among the biggest blue chips on Bursa Malaysia.
Equity holdings in TNB represent 23.55% of PNB's equity portfolio, 7.77% of EPF's portfolio and 9.7% of KWAP's portfolio, based on Bloomberg data. Ytd, TNB has gained 0.59% but at RM13.68 last Friday, remains some way below its last peak of RM16.24 in March 2018.
Another interesting counter to watch could be Sime Darby Bhd, which has moved relatively sideways this year. Ytd, it is down 1.23%. Its institutional shareholders include ASB (41.76%), EPF (9.54%) and KWAP (7.11%).
Big-cap stocks generally comprise a significant portion of the equity portfolios of several key local institutional investors and are generally spread across a fewer number of stocks.
For example, 34.2% of EPF's equity portfolio value is held in seven large-cap stocks with another 44.6% spread across 29 mid-cap counters, according to Bloomberg data.
As for ASB, 48.5% of its equity portfolio value is spread across six large-cap stocks, with holdings in 19 mid-cap stocks making up another 37.8%.
KWAP counts 36.5% of its equity portfolio value from holdings across six large-cap stocks. Another 37.1% is represented by holdings in 22 stocks.
In terms of biggest sector exposures according to portfolio value, banking tops the list for several institutional funds. For example, banking stocks represent 38.4% of ASB's equity portfolio, 28.4% of EPF's, 26% of KWAP's and 20.8% of Khazanah's.