This article first appeared in The Edge Malaysia Weekly, on October 29, 2018 - November 04, 2018.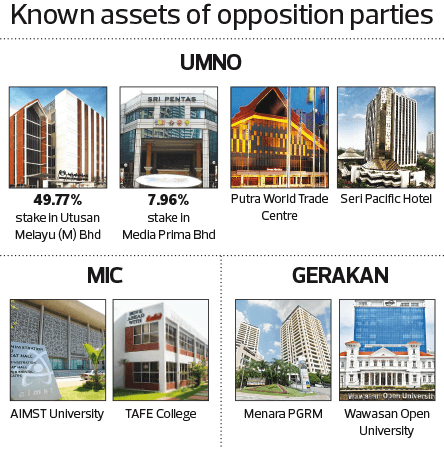 BARISAN Nasional component parties Umno, MCA and MIC as well as its former member, Gerakan, are alleged to have amassed major assets during their 61-year rule of Malaysia. Naturally, Umno, being the largest and most influential of the component parties, is believed to own the lion's share.
However, it is difficult to ascertain the value of assets owned by it as most of them are held through private companies — sometimes behind layers of companies — controlled by proxies or trustees, thus concealing the value of their assets and the beneficial owners.
According to Umno president Datuk Seri Dr Zahid Hamidi, after offsetting liabilities, the party's assets do not amount to billions of ringgit.
Even so, some estimates put the amount in the early 1990s at RM4 billion. Nearly three decades on, the value of those assets — if not sold — would have multipled.
Today, the most visible assets owned by the bumiputera party are the 49.77% stake in Utusan Melayu (M) Bhd and the 7.96% stake in Media Prima Bhd.
Located within Putra World Trade Centre (PWTC), Menara Dato Onn stands out as another of Umno's assets.
Other assets thought to belong to the party include a 11.1% stake in integrated media company Media Prima, but held through Gabungan Kesturi Sdn Bhd, and an 85.88% stake in Seri Pacific Corp Sdn Bhd, which owns the Seri Pacific Hotel Kuala Lumpur, via RHB Nominees Sdn Bhd.
The value of Umno's stake in Utusan Melayu is RM6.87 million and in Media Prima, RM33.99 million. However, in the case of Utusan Melayu, its investment assets are worth a lot more — RM89.97 million as at end-June.
In 2016, when Umno celebrated its 70th anniversary, it announced plans to redevelop the PWTC site and build a new PWTC on the adjacent Putra bus terminal locale. The new PWTC — tentatively called Kuala Lumpur PWTC — would feature a 70-storey tower, which would house Umno's headquarters.
The development would also comprise a 250-room six-star hotel, offices, a two-storey shopping podium and a 5,000-capacity mosque.
In May last year, during Umno's 71st anniversary, the groundbreaking ceremony was broadcast live from the site. However, last month, following the BN's shock defeat in the 14th general election in May, Zahid announced that the project would be put on hold owing to the "current economic situation".
Back in the 1980s and 1990s, Umno's assets were mostly held through privately held Hatibudi Sdn Bhd and Fleet Group Sdn Bhd.
Controlled in 1984 by Tan Sri Halim Saad — a businessman and one of Umno's well-known proxies  then — Hatibudi held substantial stakes in United Engineers (M) Bhd (UEM) and Hume Industries (M) Bhd as well as 60% of Seri Pacific Corp.
UEM was awarded contracts to build two mega infrastructure projects — the North-South Expressway and the Malaysia-Singapore Second Link — and, subsequently, became one of the biggest conglomerates in Southeast Asia.
Through Fleet Group, Umno held substantial stakes in Bursa Malaysia-listed companies The New Straits Times Press (M) Bhd, Time Engineering Bhd, Bank of Commerce Bhd, Commerce International Merchant Bankers Bhd (both banks later subsumed into CIMB Group) and Faber Group Bhd.
Many of the assets have since been sold to government investment companies and other investors. Khazanah Nasional Bhd now owns UEM Group Bhd and is the largest shareholder of CIMB Group while Hume's largest shareholder is Tan Sri Quek Leng Chan.
As for MIC, not many assets are known to have been owned by it, although the party — which represents Indian Malaysians — used to own Maika Holdings Bhd, an investment holding company set up in 1981 by Tun Samy Vellu, the party's then president.
MIC established Maika through monies raised from the Indian community — many from low-income households — and amassed RM108 million in initial investments.
But it failed to make the most of the funds raised, although assets were relatively cheap at the time because of the 1980s recession.
Its fortunes were made worse by somewhat inept management. One such example was during the privatisation and public share sale of state-owned Telekom Malaysia Bhd, which then had monopoly on telecommunications in the country. Given the opportunity to invest in the telco, Maika inexplicably chose to reject the offer.
In 2000, the floundering Maika was sold off to G Team Resources & Holding Sdn Bhd, a company owned by port tycoon Tan Sri G Gnanalingam, for RM106 million.
There was little joy for long-suffering Maika shareholders as 66,000 of the 66,400 shareholders only received a paltry 80 sen per share from the disposal. Needless to say, the Indian community has had little to show for their hard-earned money invested in Maika.
This is further underscored by its ownership of Oriental Capital Assurance Bhd (OCA).
When G Team acquired Maika, the latter's assets included a 79.85% stake in the insurer. In May 2012, some 12 years later, G Team sold OCA to Tune Insurance Holdings Sdn Bhd for RM156.91 million.
A year later, OCA became part of Tune Insurance Holdings Bhd (now known as Tune Protect Group Bhd), whose market capitalisation at the time of listing in February was RM1 billion.
One asset that MIC still owns is TAFE College, a small institution in Seremban that offers various courses, including bachelor's degrees in business and marketing, and finance and management, as well as various diploma, foundation, certificate and skills programmes.
A bigger asset affiliated to MIC is AIMST University, but the ownership status of the university is unclear.
In October 2015, Samy Vellu was reported as saying that the party and its affiliate foundation, Maju Institute of Educational Development (MIED), had nothing to do with the university. This pronouncement shocked the Indian community, which had thought that its establishment had only been made possible by their donations totalling RM188 million.
In fact, the government had also assisted in its construction via a grant and a "special draw" worth a total of RM318 million.
A check on MIED's website reveals that AIMST University is still listed as one of the foundation's subsidiaries, along with TAFE College, MIED Capital Sdn Bhd, MIED Property Management and MIED Training.
As for multiracial party Gerakan, its only known asset is Menara PGRM in Cheras, Kuala Lumpur, that houses its headquarters. However, the party also sponsored the establishment of Wawasan Open University (WOU), an open and distance learning private tertiary education institution.
The idea to set up the not-for-profit institution was put forward by the then Gerakan president Tun Dr Lim Keng Yaik at the 28th Gerakan National Delegates' Conference in 1999. In March 2000, the Gerakan Education Foundation (later renamed Wawasan Education Foundation) was set up and it received a substantial donation from the Yeap Chor Ee Endowment Trust.
In April 2005, Wawasan Open University College (WOUC) was established. In June 2006, it was formally registered under the Private Higher Educational Institutions Act 1996. A month later, WOUC was conferred university status to become WOU, with former long-serving chief minister of Penang Tun Dr Lim Chong Eu as its first chancellor. 
Save by subscribing to us for your print and/or digital copy.
P/S: The Edge is also available on Apple's AppStore and Androids' Google Play.