This article first appeared in City & Country, The Edge Malaysia Weekly, on October 7, 2019 - October 13, 2019.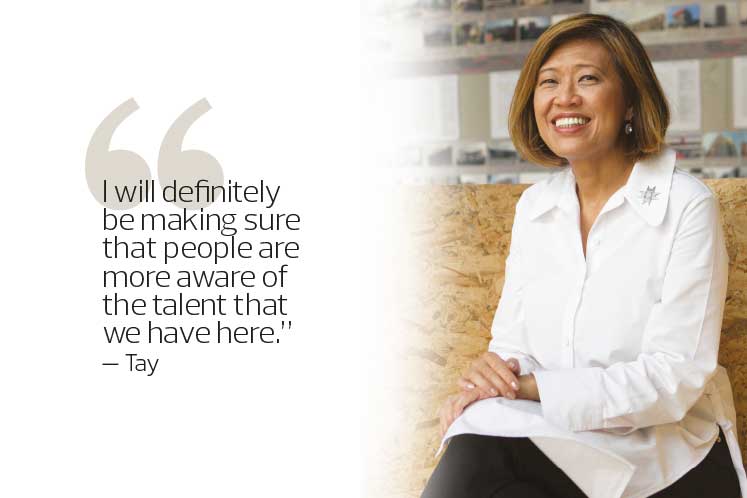 The PAM Council 2019-2020, officiated by Deputy Defence Minister Liew Chin Tong (seated, centre) at PAM's annual dinner at New World. Photo by PAM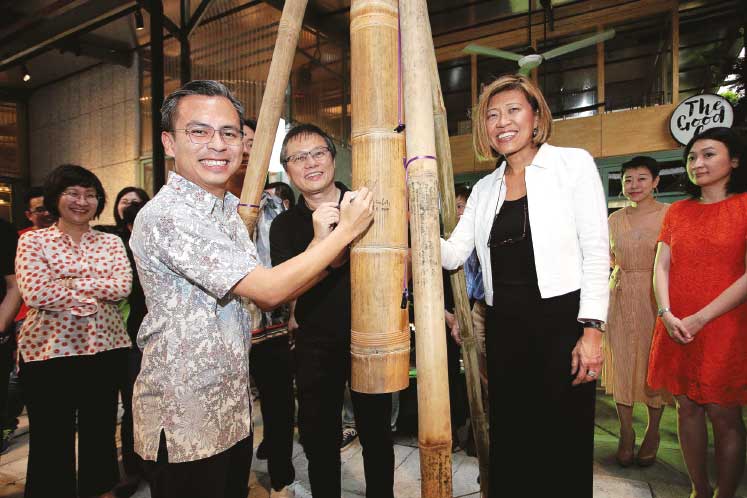 Lembah Pantai MP Fahmi Fadzil, KLAF 2019 director Dr Tan Loke Mun and Tay at the launch of KLAF 2019 at APW
It would be hard to miss the statuesque Lillian Tay Wai Fun, the 2019/2020 president of Pertubuhan Akitek Malaysia (PAM), at any function or meeting. She is only the second woman to take the helm of the institute since its inception in 1920. PAM was then known as the Institute of Architects Malaya. In 1948, the name was changed to the Federation of Malaya Society of Architects, which was allied to the Royal Institute of British Architects. It took on its current name on Jan 20, 1967, when it was registered with the Registrar of Societies.
According to Tay, the institute now has about 4,000 members, about 1,900 of whom are practising architects while the rest are architecture grad­uates and students.
Tay, who is also a director of Veritas Architects Sdn Bhd, has close to three decades of architectural experience and obtained her BSc in Engineering and Master of Architecture from Princeton University. She has worked in Italy, Germany and the US, where she worked for Kohn Pedersen Fox Associates in New York, before returning to Malaysia in 1991.
Since her return, she has been a strong advocate of sustainable urban design and planning in Kuala Lumpur. Some of her more recent projects are the W Hotel, Star Residences and mass rapid transit stations of Muzium Negara, Pasar Seni, Merdeka and Bukit Bintang. Her other noteworthy projects include the Putrajaya Western Transport Terminal, Digi.Com Bhd's headquarters, 1 Sentral tower and Menara Binjai. She is currently working on the Oxley Towers in the KL City Centre (KLCC).
Tay's smaller-scale projects include the conservation of Sinkeh Hotel in Penang as well as the Saloma Link, a footbridge that will link KLCC to Kampung Baru.
She sits down with City & Country at the PAM Centre in Jalan Tandok, Bangsar, to share her plans for the institute and the impact she hopes to make in the architectural industry.
Elevating awareness of local talent
Tay believes that architects in the country are undervalued and she wants this to change. She says the development of the nation and various projects in the country have given local architects a wide range of experience, from designing and meeting clients to being on site and seeing a project to completion.
"We are very lucky to be practising in Malaysia. Because of our extensive building experience, we are actually highly regarded.
"I will definitely be making sure that people are more aware of the talent that we have here. We need to place our confidence in the people that the country has built up over the last 20 to 30 years of intense development," remarks Tay.
In fact, due to the large number of development activities, the country is considered one of the top places for international architects to look for jobs.
"Malaysia is one of the top five or top 10 destinations for architects around the world. The UK has this list of the best places for British architects to look for work and in the latest list, Malaysia was ranked in the top 10," says Tay.
"I want to build more confidence in our profession, so that we can contribute more to the economy and be more productive. We are considered not so productive because our salaries are low but we actually do a lot of value creation.
"I want to make sure that people appreciate this, so that they would be willing to accept our regulated fees. We can demand but it's not something we can enforce. We must have buy-in by proving that we're good and that we are competent and capable. That is my mission."
While the issue of remuneration may seem a moot one, Tay believes that equitable pay is only fair, especially due to the heavy responsibility that architects have to bear.
"One of the things that I will have to deal with, as every president has had to, is ensure that we are more equitably remunerated. Even though we have a scale of fees, it is quite difficult to ensure that there is compliance," she says. "It (our remuneration) is not meant to be very high and make architects rich, but to ensure that we are able to resource projects properly with good-quality people because any mistake would compromise the safety of users.
"That is always something to bear in mind. Design is wonderful and inspiring but if you make a mistake, it can lead to loss of life. Architects take care of the investments of clients and everyone who buys into a project, which could be a lifetime investment for many."
Tay sees the need for small architectural practices to evolve into larger ones over time, so that they can compete for and win major projects.
"The reality is that we are 75% sole proprietors and small firms," she points out. "Very few firms are large enough to handle larger projects, and projects are very big in Malaysia. So we need to build larger companies and that is one of the things I will continue to advocate to my colleagues — that there is a lot of benefit to be gained from a collaborative type of framework."
New committees
Apart from setting out specific goals for herself, Tay recognises that data is needed to facilitate discussions on policy and other matters that impact the architectural fraternity.
"I have formed new committees to show that our work really has a larger impact. I started the Community and Social Responsibility committee to zoom in on communities because we feel that all architects create spaces for people to live, work and form communities in," she says.
Tay has noticed that in Malaysia, there tends to be a disconnect in the physical planning, resulting in spaces that are "islanded" by roads and green spaces that are "fenced", which means they cannot be enjoyed by the public.
"We've been encircling buildings with greenery thinking that it is a good thing when we should be creating integrated, usable green spaces and useful green areas that provide shade to walkways. This is one of the things that I will be advocating," Tay emphasises. Besides that, the committee will look at how design can be made more inclusive for all members of society.
She has also set up the Research and Futures committee, which will strive to understand the evolution of the architectural profession and the growth of the construction industry.
"This committee will rely on CIDB (Construction Industry Development Board) data to understand the evolving trends and growth patterns of our profession. For instance, one of the patterns that we have noticed is that projects are becoming larger but there has not been an increase in the number of big firms being created, thus we have a loss of work, resulting in a net outflow of fees," says Tay.
"Did you know that in 2016, there was a total net outflow of RM7 billion in fees for the architectural and engineering sectors? I think last year, it was RM2 billion plus. When we look at these numbers, it makes us realise how architects can contribute more and bring money back to the Malaysian economy."
To build public awareness of sustainable buildings, the Sustainability, Climate Change and New Urban Agenda committee has been set up. Meanwhile, the Gender Equity Special committee will ensure that female architects do not face pay disparity, which is happening today. Also, the committee will look at how to make the work environment more conducive, for instance, for returning mothers.
"The ultimate goal is to ensure that we grow and attract young people to the profession," says Tay. "You might not earn as much as entrepreneurs but there are intangible benefits that give you a lot of job satisfaction. I hope that I can help grow the profession, make it more attractive for the young and motivate them to stay the course," she reiterates.
Future plans
Tay plans to engage with the government, which she has found to be open to discussions with stakeholders. For instance, during the recently completed Kuala Lumpur Architecture Festival (KLAF), Housing and Local Government Minister Zuraida Kamaruddin spent time speaking with exhibitors and wanted to know more about the festival.
"I have been a practitioner for 28 years — I know the industry very well. And I understand the problems and the disconnect. Hopefully, through the institute, I will be able to close these gaps, so that we can become more effective," says Tay.
She shares that several meetings have been set up with various ministers to discuss how the institute and its members can contribute to the nation while at the same time promote the profession.
Tay relates how a conversation with Deputy Defence Minister Liew Chin Tong led to him talking about ways to improve some of the public buildings, including military housing.
PAM is also working with local authorities and in the pipeline are two competitions to improve the local market areas in two small towns in Johor. The focus will be on creating a safe and inclusive space for everyone, including the elderly and the young.
While there are many challenges faced by architects, an impending one that cannot be avoided is technology.
"[Technology] will certainly take over some of the manual work and that is a challenge for us — to ensure that the profession doesn't die. Although the scope of our work may change, whereby we may spend less time on production because some things can be done by AI (artificial intelligence) and all these enabled technologies, but the thinking work will always remain," remarks Tay.
"That's why we must ensure that we have confidence in this field. You cannot just give something to a robot to design. It can do the production work but when it comes to the design work, there are a lot of intuitive things that I think should come from a non-AI source. Every architect brings an understanding of the local culture and context, human relationships and sensitivities to the design."
As the interview draws to a close, we ask her what advice she would give students or anyone who is interested in the field of architecture.
"I would encourage everyone — male and female — to study architecture. Even though the course is long, it covers many disciplines. And it really gives you a very broad understanding of all artistic, scientific and mathematical things.
"We have to do maths and physics because of the building structure, then thermodynamics and statistics. And we also need to study history to understand the communities and societies. Even if you decide not to become an architect, the knowledge you gain will equip you for many other types of enterprises."
It may not be easy to become an architect but those brave enough to take this path would have the opportunity to build a better future for themselves and for the nation. Tay and her fellow architects would certainly put their best foot forward to bring Malaysia to a new architectural level.