This article first appeared in Personal Wealth, The Edge Malaysia Weekly, on July 27, 2017 - August 02, 2017.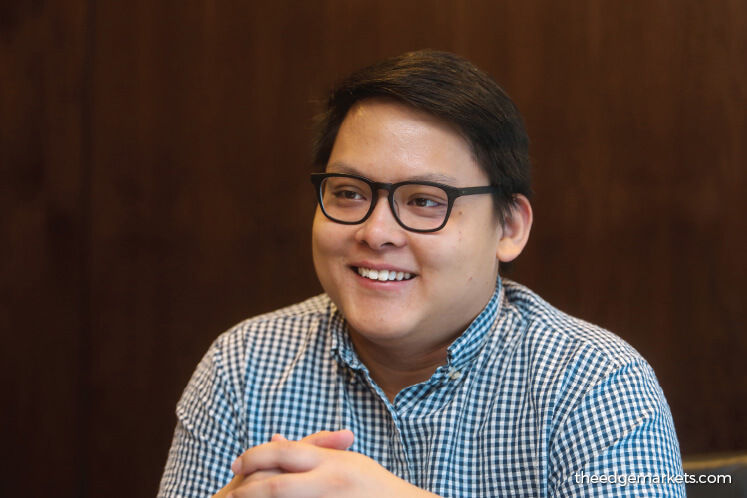 Like many of his peers, venture capitalist Victor Chua was a thrill-seeker in his younger days in trying to grow his wealth as quickly as possible. But his misadventures in foreign exchange (forex) and stock trading taught him a valuable lesson — only invest in assets that he truly understands and be patient when investing.
Chua was only 24 when took up forex trading, an unusual choice for a beginner investor. He had developed a passion for day trading and taking short positions while he was studying actuarial science at Australia's Macquarie University, where he was a member of a student society called the Investment Management and Banking Group.
"I liked trading currencies. I enjoyed the thrill of seeing the ups and downs of the market. I found it truly exciting," says Chua.
"I mainly invested in pairings that involved the US dollar — the euro, ringgit and Canadian dollar. But I lost a huge sum of money within six months.
"Those were my foolish days — when I lost some money, I put more in because I did not believe in bad luck and hoped that I could turn my fortunes around. I finally stopped when I realised that I did not have much money left."
Later, when he got a job as an investment consultant, he traded stocks in the local fast-moving consumer goods sector. However, that did not work out either as he did not have the time to do proper research.
"Part of my job then was doing due diligence for managers. Along the way, I was able to pick up their knowledge and interest. So, I decided to apply what I had learnt," says Chua.
"When investing in stocks, you have to rely heavily on research. Managing my own portfolio meant that I had to perform fundamental analysis on all these companies and understand the long-term trend to see if there was any upside potential.
"It required a lot of time and effort. I had long working hours, so it was hard to find the time to do my due diligence on the stocks. Although I got dividends, I was not earning as much returns as I wanted to."
That marked a turning point as Chua decided he no longer wanted to trade assets that he was not familiar with or required due diligence. He would leave that to the professionals — the fund managers. So, he allocated a portion of his investments to unit trusts.
"Thankfully, part of my job then was fund manager research, so I knew the good fund managers out there. That was when I signed up for an online unit trust distributor. The decision gave me more time to focus on and invest in what I truly liked — building businesses," says Chua.
Now 30, he is vice-president of investments at Gobi Partners — a venture capital firm with a focus on early-stage, digital media and IT businesses. His job scope includes looking for investee companies, running due diligence, helping the investees expand in multiple markets and verticals, and eventually finding an exit for the investments.
Chua, who was recently featured in Forbes magazine's "30 under 30 Asia" list, says if he could turn back time, he would focus on the fundamentals of investing and have a long-term strategy instead of looking to make short-term gains. "Back then, I did not take it slow. I was not patient enough.
"I knew it was a bad move to start with forex trading as it was really just gambling. I tried technical analysis, but it did not work out. Now that I am older and wiser, I believe that long term is the way to go. I want to put my money in something that I truly understand and believe in, and let it grow over time."
That is why he does not invest in alternative asset classes such as fine wine and art despite finding them interesting. "To invest in these assets, you not only need to know the basics but also the industry insights and appreciation evaluation. If not, you will be severely handicapped. I do not want to put myself in such a situation," says Chua.
He says young investors should pursue entrepreneurship to understand how businesses work and make better investing decisions. "Whether you are investing in a stock or a small business, you are essentially looking at the business and deciding whether it is a good and worthy investment. If you do not have prior experience in entrepreneurship, it will be a bit difficult for you to make that judgement and assess the risks. You will end up following what everyone else is investing in.
"Mass retail investors are probably the last to get insider information. So, whatever information they get is considered old news and they are probably investing at a high price. That is why I think young investors should learn the business aspects of companies first."
Chua says those who do not have the necessary skills or interest to run a business can read up on entrepreneurship or speak to entrepreneurs to gain insights and become better investors.
Failing and learning
Chua started his career at advisory services firm Towers Watson. As an investment consultant, he worked with clients such as the Employees Provident Fund, Kumpulan Wang Persaraan (Diperbadankan),
Citibank, and IBM Singapore. He assisted companies with their asset allocation and helped them look for fund managers.
"We did manager research and kept a database of fund managers. When I was doing that, I realised that I had a particular interest in private equity and building businesses. In fact, I had tried to build a small business when start-up was not even a
buzzword yet," says Chua.
His small business was called Hi-Distinction. It was an online tutoring platform aimed at helping students pass their exams via educational videos. The idea for this was an extension of his previous tutoring job.
"When I was studying in Australia, I started a crash course business with a few friends. We would tutor the other students and offer a 100% money-back guarantee if they failed their exams," says Chua.
"At university, there were a lot of students from China who had difficulty understanding their studies in English. With our ability to speak both Mandarin and English well, we charged A$100 a student to teach them how to pass rather than just understand the syllabus.
"We called ourselves QED, for quite easily done, derived from the Latin quod erat demonstrandum used at the end of a mathematical proof. Our capital was small. We rented a classroom for the weekend at A$100 and only handed out flyers around the university for marketing purposes. But the feedback was astounding."
He and his friends managed to make enough profit for a luxury holiday in Hong Kong. Chua believed that the tutoring model would be very profitable and decided to bring the business online with Hi-Distinction. Hosting videos was expensive, so the team spent a lot of money, time and effort building their website and writing their educational materials. The team even had plans to offer internship and fresh graduate placements. But the business never took off.
"We tried our best to make it work for almost two years. I even flew back to the university to work out a partnership, but it did not work out," says Chua.
"They were not interested in such a business model and the students were not ready for online education. Most of them said they still preferred face-to-face instruction.
"When I got back to Malaysia, I decided to shut it down. We were burning our own cash and there was no other funding support. There was no venture capitalist for us to approach either. But I have kept the domain because it has sentimental value to me."
Looking back, he says there are many things he would do differently if he could do them all over again. However, he is happy that he made the mistakes as he has learnt from them.
"One of the things I really regretted was not starting the crash course early enough. We only did it in our last year of studies. Although the business did not happen, I am glad that I took a shot. It was my first experience combining technology and business," says Chua, who is a member of Malaysian Mensa.
"Today, coupled with my previous experience in private equity when I was at the consulting firm, I believe that venture capital (VC) investing is definitely for me because I can still participate in making businesses happen and invest in technology. It is a marriage of the things I love."
After leaving Towers Watson, he worked as investment manager at Malaysia Venture Capital Management Bhd (MAVCAP), a wholly-owned company of the Ministry of Finance. During his time there, he was involved in launching the 500 Durians fund, headed by local venture capitalist Khailee Ng. He also made direct investments into companies such as location analytics solution provider Tapway and charitable fundraising platform SimplyGiving.
Chua joined Gobi Partners in early 2015. Today, he manages the Gobi MAVCAP Asean SuperSeed Fund, which invests in high-growth, early-stage start-ups in the region. He has made more than 30 investments in sectors such as travel, food and beverage and automotive.
One of the fund's investee companies, beauty product e-commerce platform Hermo, was recently acquired by Tokyo-listed istyle. With an investment capital of US$2 million, Gobi Partners has seen an internal rate of return of 91% in just 1½ years.
Adding value to the investments
Today, about 60% of Chua's portfolio is allocated to the Gobi MAVCAP Asean SuperSeed Fund. The rest of his portfolio is allocated to unit trusts and investment-linked insurance products. He says he is thankful that his father, a wealth planner, is able to guide him in his investment decisions.
"My father was a salesman in the 1990s, but he eventually got into insurance and wealth planning due to the bad economy in the early 2000s upon his retirement. He is now my number one source for all insurance products. I truly trust his recommendations and with his support, I am able to preserve whatever wealth I have created. He has taught me that it is not only about creating and increasing wealth but also preserving it and ensuring that I am able to do well even when the market is not," says Chua.
He adds that it was challenging at first to get his family to understand what VC investing was all about. His parents, although accommodating, were concerned about his decision to jump from a listed company to a VC firm.
"I like VC and I am too stubborn to be told not to do it. Every company is looking at corporate innovation and every brand is looking at how they can leverage technology to scale their business. Just look at how Amazon swallowed Whole Foods. No business is safe from innovation," says Chua.
"After a while, my family began to understand the trend of these disruptive companies and were more comfortable about my taking this route. Now, they are excited to see that I am part of this change."
For Chua, adding value to a company is important because each company has its flaws. Before making any investment decisions, he makes sure that he has determined what the company's flaws are and thinks of ways that he can help. For this to work, there must be chemistry with the team behind the company.
"It is important for me and the founders to have some sort of chemistry because we are effectively getting married — once you sign the term sheet of agreement, we are married for the next couple of years. Like it or not, they will keep seeing me and I will keep bugging them. If we cannot have that relationship, then it will not work," he says.
VC investing is a high-risk, high-return game. As someone who allocates a large portion of his assets to VC funds, Chua mitigates the risks by doing his part to increase the portfolio companies' chances of survival and success. That means he not only has to study the companies' business models diligently but also think of ways to help them sustain the business.
"The VC business is tough. We need to provide face time with the portfolio companies and meet the different partners. We also need to make connections to help the companies scale further. But there is only 24 hours in a day. Therefore, I thought it would be great if I could get these companies to support each other and create synergy. This way, I could help more than one company at the same time," he says.
"One example of doing this is in our investment with two food and beverage companies — Offpeak and Supplybunny. Offpeak is a platform that offers dining discounts while Supplybunny is a service that helps restaurants fill their grocery supply needs. What happens is that Offpeak act as a Trojan Horse to get into these restaurants and then it helps upsell Supplybunny with its client procurement. That is how the companies can create synergies."
Chua says travel is another key sector for Gobi Partners as flights and accommodation are becoming cheaper and more accessible. Meanwhile, the sectors that he avoids include fashion and general e-commerce (those without a niche).
"I want to look at sectors that have no clear winners yet, such as Hermo. You wouldn't find any other e-commerce concern that focuses on female beauty products. When we saw the opportunity, we decided to invest straight away," he says.
Chua is a strong believer of following through the life cycle of the business. He recalls the time when he was approached by e-commerce firm Nuren, which has created a high-growth wedding platform — wedding.com.my. Despite being successful in the wedding business, the company had not realised its full potential and could face future complications if it did not add value to its existing business, he says.
"I told them I wanted them to start another platform — motherhood.com.my — to penetrate the baby product market. It is a very lucrative market as motherhood is long term whereas weddings are one-off events. Everyone buys products and services for babies — moms, dads, aunts, uncles, friends. That is why I told them to launch it first before we talked about investments," says Chua.
"Luckily, it was already in the pipeline. They just had not started yet. I took a leap of faith and invested US$2 million in the company in May last year. I was thinking that if they launched the motherhood website, they could effectively lower their cost of customer acquisition and continue to monetise their existing customers. I am thankful that my thesis was proven right. About 50% of their wedding customers came back to motherhood.com.my to buy more products and services."
Gobi Partners works closely with equity crowdfunding (ECF) operator Crowdo for one of its funds, the Asean Growth Fund. Chua advises investors who are interested in ECF and peer-to-peer lending platforms to do their due diligence and not invest solely via these platforms as a means to participate in the technology sector.
"These platforms appeal to the younger generation because the entry barrier is low. However, investors — no matter how big or how small the amount of money they put in — must do their part to make sure these companies can actually sustain their business and deliver returns," he says.
"At the end of the day, investing is not only about putting your money into something and hoping that it makes money. It is about creating intangible value and making the most out of taking risks and thinking of the required countermeasures. That is why I believe in making mistakes — so that you know what not to do. If I had not made mistakes and learnt from them, I doubt I would be here now."