This article first appeared in The Edge Malaysia Weekly, on November 18, 2019 - November 24, 2019.
Click / Tap image to enlarge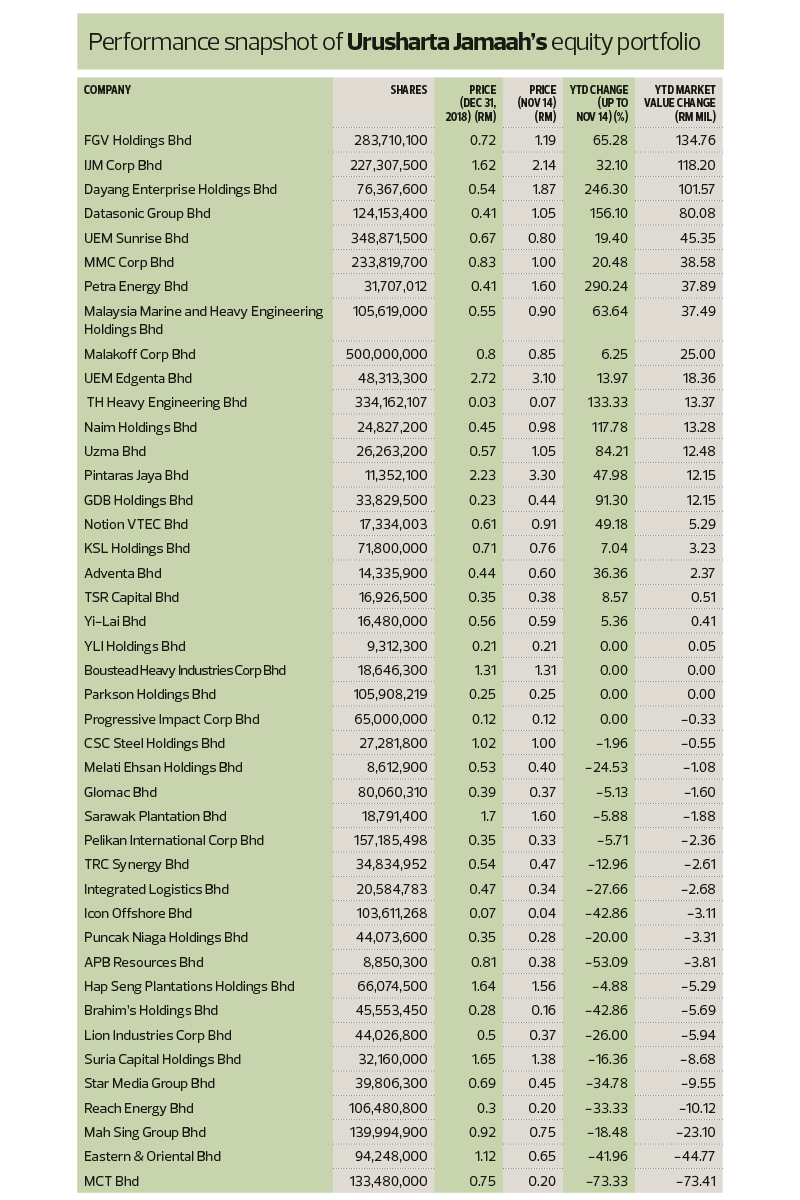 MINISTRY of Finance unit Urusharta Jamaah Sdn Bhd (UJSB) says it will actively manage its portfolio of investments as it seeks to recover value before its sukuk payments are due in seven years' time.
"Our overriding objective would be to grow our asset value and minimise the government's financial commitment as part of the rescue and restructuring plan of Lembaga Tabung Haji (TH)," UJSB tells The Edge in an email response to questions.
"This will involve active management of the portfolio of assets, which includes buying and selling activities, shareholder activism and potential partnerships to fulfil our mandate above," the company adds.
Ultimately, the strategy is to redeem all monetary instruments issued by UJSB and subscribed for by TH, it says.
UJSB says the transfer of non-performing assets from pilgrim fund TH on Dec 28, 2018, had involved 106 equities, one unlisted plantation company and 29 properties.
The total consideration for the assets was RM19.9 billion, which included RM300 million in cash paid to TH. The remaining RM19.6 billion was satisfied via the issuance of a two-tranche sukuk.
According to UJSB, it successfully issued a zero-coupon sukuk murabahah worth RM27.56 billion nominal value to TH on May 30, 2019. The nominal value includes the yield with two bullet payments due to TH in the 7th and 10h year respectively.
That said, market observers note that there has not been noticeable trading activity by UJSB in the market so far.
With the final weeks of the year looming on the horizon, it remains to be seen whether UJSB will begin to take profit in some equity holdings that have gained, particularly if there is a year-end rally on Bursa Malaysia.
A look at several of the 106 company stakes transferred from TH to UJSB shows that some of the counters have risen significantly this year.
Of the 43 stocks surveyed by The Edge as at Nov 14, 21 had gained year to date whereas 20 had declined. The other two remained relatively unchanged.
The biggest gainers in terms of total value included FGV Holdings Bhd, IJM Corp Bhd and Dayang Enterprise Holdings Bhd. From January to Nov 14, the market value of UJSB's stakes in these three counters increased by a collective RM354.53 million. The gain from these three stocks, in turn, accounted for more than half the increase in the value of 21 gainers in UJSB's portfolio, which came up to RM707.51 million (see table).
The biggest losers year to date among the 43 stocks surveyed included MCT Bhd, Eastern & Oriental Bhd and Mah Sing Group Bhd.
Overall, the 20 counters that declined saw UJSB's collective equity interest decrease by RM209.85 million in value year to date. This means a net value gain of RM497.66 million for the 43 stocks surveyed.
Interestingly, some of the stocks may create immediate problems for UJSB to tackle. An example is Icon Offshore Bhd, which is undertaking a rights issue to raise up to RM250 million amid high debt in a challenging operating environment.
The rights issue includes a proposed share consolidation by a factor of 50 to 1 while issuing rights on a 60-to-1 basis with free warrants. This means UJSB may have to fork out cash if it seeks to avoid dilution.
IJM Corp, meanwhile, is among that stocks that may offer UJSB some cash flow as it consistently pays dividends to shareholders. The company's inclusion in the asset transfer may be because its share price plunged more than 40% between May and December 2018 after the 14th general election.
To recap, the asset transfer from TH to UJSB — a special-purpose vehicle wholly-owned by the Minister of Finance Inc — was part of a restructuring effort at TH to rebalance its assets and liabilities.
In December 2018, the federal government revealed that TH had been illegally paying hibah (dividends) to its depositors since 2014 in contravention of the Tabung Haji Act 1995.
According to the Act, TH must have distributable profits and possess more assets than liabilities in order to pay hibah. However, its liabilities in 2017 stood at RM74.4 billion or RM4.1 billion higher than its assets of RM70.3 billion.
In a separate statement last week, UJSB said it will bear an estimated impairment charge exceeding RM10 billion for the assets acquired from TH.
Among others, the assets transferred included a 1.568-acre plot in the Tun Razak Exchange (TRX) development. UJSB paid RM400 million for it, which was at a 112.5% premium to TH's acquisition price of RM188.5 million in 2015.
Recall that TH had bought the land from controversial state-owned development company 1Malaysia Development Bhd (1MDB), which had originally purchased the land from the government for RM5.1 million.
"In a valuation exercise conducted in March this year, the market value of the said TRX land stood at only RM205 million. The huge difference between the market value and the purchase value of the land (at a 95% premium to market value), together with all the other assets acquired by UJSB, was needed to ensure the successful rescue and restructuring plan of TH," said UJSB.