This article first appeared in The Edge Malaysia Weekly, on March 16, 2020 - March 22, 2020.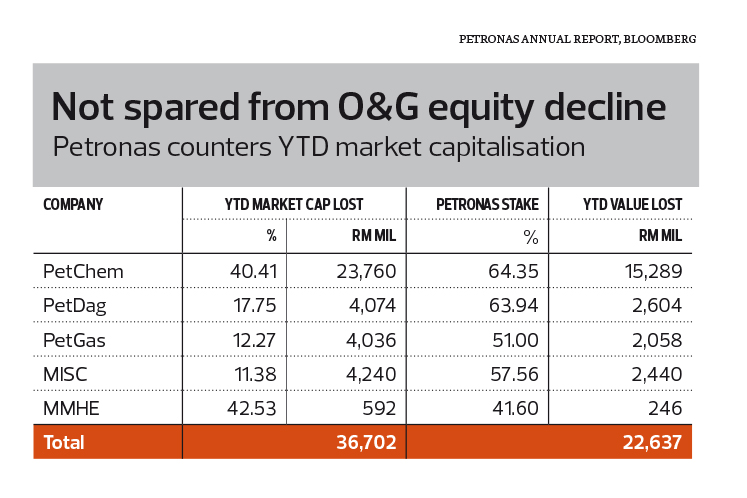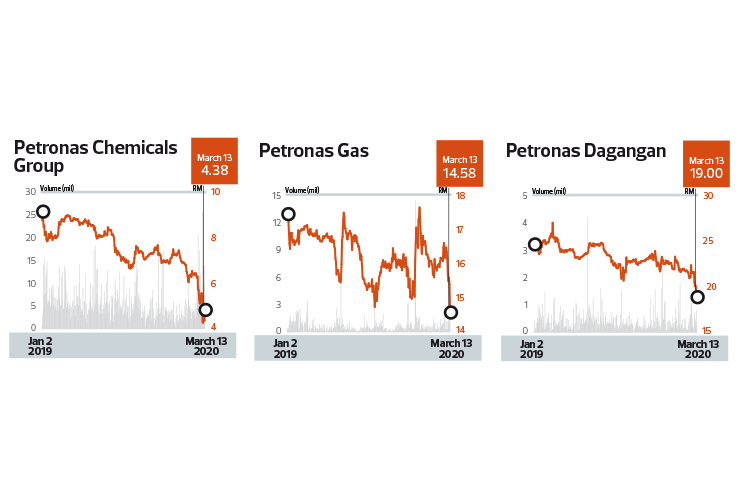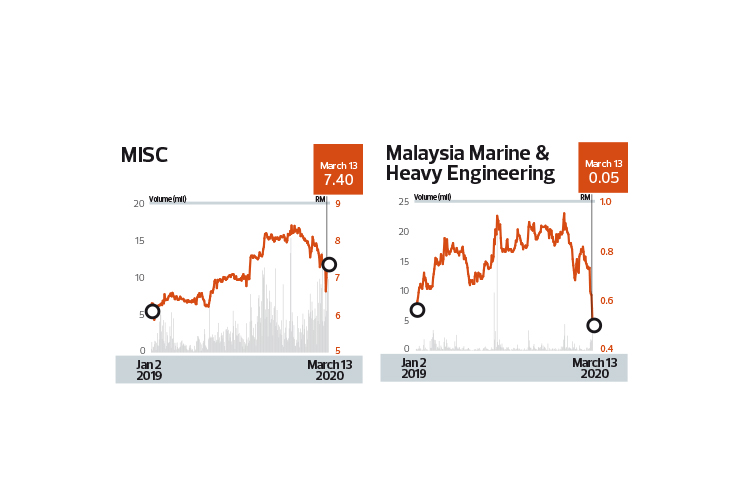 COUNTERS linked to Petroliam Nasional Bhd (Petronas) were the biggest movers among oil and gas (O&G) stocks last week, following the free fall in oil prices to 2016 lows of under US$35 per barrel.
They include Petronas Chemicals Group Bhd (PetChem), Petronas Dagangan Bhd (PetDag), Petronas Gas Bhd (PetGas), MISC Bhd and Malaysia Marine & Heavy Engineering Bhd (MMHE).
Year to date, the five companies have lost a combined RM36.7 billion in market capitalisation.
Each of these companies has exposure to different parts of the O&G value chain, as reflected by their recent share price movements. Is there room for further correction?
Triple whammy for PetChem
Since 2017, PetChem's share price has been directly correlated to crude oil prices, as its average selling price trails the commodity. Its input costs are largely fixed, however, unlike other refiners.
Year to date, Brent crude futures have fallen more than 45% while PetChem has lost more than 40% of its market value, although some analysts think it may be oversold.
It was the worst performer among Petronas-linked companies on Bursa Malaysia in the financial year ended Dec 31, 2019 (FY2019) on a year-on-year comparison. Full-year dividend also fell to 18 sen per share, from 32 sen in FY2018.
Margin pressure has persisted even when Brent averaged US$64 per barrel last year. The latest oil price plunge adds renewed margin pressure on top of persistent weak demand exacerbated by the Covid-19 pandemic.
Analysts estimate that PetChem's average selling price could fall 10% to 12% this year amid the headwinds.
In the short term, management has guided it could reroute its China exports if needed. Plant utilisation rate could exceed last year's 92% with no major turnaround planned this year, while its new capacity from the Pengerang Integrated Complex in Johor could help add volume.
The counter closed at RM4.38 last Thursday, giving it a market capitalisation of  RM35.04 billion — less than half its value from a year ago.
Of the 23 analysts covering PetChem, eight have given it a "buy" recommendation, seven a "hold" and eight a "sell". The analysts' stock price targets range from RM4 to RM8.50, with a median target estimate of RM5.83, representing a potential upside of 25.4%.
PetGas caught in the crossfire
The negative market sentiment is an unfortunate coincidence for PetGas, as low oil prices are actually neutral to the company.
Shares in PetGas closed at RM14.58 on Thursday, valuing it at RM28.85 billion. The counter lost nearly 10% of its value in the past week alone.
PetGas' earnings come from gas processing (accounting for 25.21% of FY2019's gross profit of RM2.39 billion), gas transport (40.14%), regasification (27.53%) and utilities (7.12%).
FY2019 performance was lifted by the gas processing segment and higher contribution from joint ventures — mainly from de-recognised deferred tax assets in Kimanis Power Sdn Bhd, and as its air separation unit in Pengerang commenced operations last year.
Amid lacklustre growth prospects, analysts are expecting a decline of 8% to 10% in gas transport gross profit with the newly available third-party access for its gas distribution network under the Regulatory Period 1 (2020 to 2023).
In FY2019, the group paid out 82 sen dividend per share (which included a 10 sen special dividend), up from 72 sen in FY2018 and 66 sen in FY2017. Assuming the  payout remains stable at 72 sen, the current share price represents a yield of 4.94%.
Of the 14 analysts covering the stock, 13 have a "hold" call and one a "sell", with an average target price of RM16.75, representing a potential gain of 14.88%.
Weaker sales ahead for PetDag, but risks more on upside
PetDag shares closed at RM19 on Thursday, giving it a market capitalisation of RM18.88 billion. The counter has lost about 14% in market value in the past week.
Based on historical performance during previous downturns, O&G product retailers such as PetDag are affected by inventory lag gains and losses whenever there is a big swing in oil prices.
This means that while PetDag's 1QFY2020 financial performance may be affected by a lag in inventory losses, a sharp upswing would result in a lag in inventory gains as well.
"Given how low oil prices are already, the risks are certainly on the upside," said CIMB Research analyst Raymond Yap in a report on March 12.
Yap pointed out, however, that after deducting averaging inventory costs and retail fuel costs for 1QFY2020, PetDag may report around breakeven retail earnings before interest, taxes, depreciation and amortisation for the period.
Separately, another earnings risk stems from its jet fuel business, considering slow offtake expected if fewer flights take off from Malaysia amid the Covid-19 outbreak.
Local airports saw a 9.1% year-on-year growth in aircraft traffic in January. The number was flattish in February, however, and is set for a decline, as airlines have slashed the number of flights from March, according to reports.
Jet fuel constitutes about 20% of PetDag's sales volume. The group controls about 70% of the local jet fuel market.
Of the 12 analysts covering the stock, three have a "buy" call, seven a "hold" and two a "sell", with a median target estimate of RM21.97, representing a potential upside of 15.6%.
Since 2014, the lowest dividend payout by PetDag has been 60 sen per share. At that level, the dividend yield was 3.16%. It paid 85 sen last year, inclusive of a 15 sen special dividend.
Short-term potential gains for MISC
MISC shares pared last week's earlier losses to close at RM7.40 on Friday, valuing the shipping group at RM33.03 billion.
Year to date, the counter is still down 11.38% — mainly on fears of lower shipping demand, owing to the Covid-19 outbreak previously and spot margins subsequently.
So, why did bargain hunting occur in MISC? In a price war, production rises and the higher output will need to be delivered.
Analysts have also likened it to a defensive stock, with a steady dividend of 30 sen per share over the years — representing a yield of 4%.
During the 2014 oil price crisis, MISC reported growth as its petroleum segment recorded better earnings from the spot market.
At present, 72% of the company's petroleum vessels and 87% of its liquefied natural gas vessels are tied to time-charter contracts. Of its entire fleet, 23% is on spot charter.
While Covid-19 serves as a demand shock, analysts noted that MISC has minimal exposure to the China market.
The group can also achieve better valuation if it wins the jobs under the offshore segment, worth around US$4 billion, which includes FPSO Mero 3 in Brazil and FPSO Limbayong in Sabah.
Of the 14 analysts covering MISC, nine have a "buy" recommendation, four a "hold" and one a "sell", with target prices ranging from RM5.60 to RM9.40, giving a median target estimate of RM8.26, which represents a potential upside of 11%.
MHHE's gradual recovery at risk of stalling
The price slump certainly put a pause on market optimism for the prospects of MMHE.
Over the last two years, the heavy engineering outfit walked the recovery path with a net cash position and narrowed losses — but losses, still — and there are concerns over contract replenishment in the current volatile market.
MMHE's selling point is its exposure to the massive Kasawari gas project in Sarawak, for which the investment decision was finalised last year. At this point, analysts remain on the lookout for project execution risks and margin concerns.
"Assuming no more order book replenishment, MMHE's order book may fall to its 2016 low of RM700 million," says UOB KayHian analyst Kong Ho Meng in a recent note.
On the bright side, MMHE has been selected for Saudi Aramco's long-term agreement programme, allowing it to bid for offshore projects in Saudi Arabia.
Of the 11 analysts covering MMHE, five have a "buy" call, five a "hold" and one a "sell", with target prices ranging from 40 sen to RM1.35 for an average of 82 sen.
This year's selloff on MMHE stocks has wiped out its impressive gains in 2019, when the sector outlook was rosy.
The counter closed at 50 sen on Thursday, giving it a market capitalisation of RM800 million. Year to date, MMHE's stock has lost more than 42% of its value.