This article first appeared in The Edge Malaysia Weekly, on June 10, 2019 - June 16, 2019.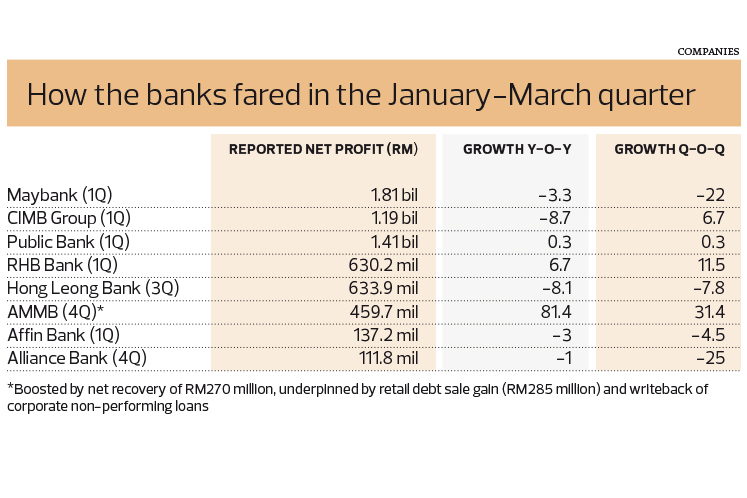 THE subdued first-quarter earnings of Malaysian banks portend a trend of weakening profitability, analysts say.
As difficult as it was for lenders to grow core earnings in 1Q2019, it will be even tougher to do so in the remaining quarters of the year, given uncertainties from deteriorating US-China relations and last month's cut in the overnight policy rate (OPR) by Bank Negara Malaysia as well as competitive funding costs, which will further weigh on margins. Weaker capital markets may also lead to softer non-interest incomes for the banks.
"We believe banks operating in the Malaysian market will see visible margin compression, accompanied by slower loan growth and higher non-interest income volatility for the rest of 2019. Asset quality will likely hold, despite downward pressure," S&P Global Ratings says in a May 31 report.
The January-to-March period saw all eight domestic banking groups, except Alliance Bank Malaysia Bhd, register a year-on-year decline in net interest margin (NIM), an indicator of profitability.
Alliance Bank saw a seven-basis point (bp) increase in NIM to 2.57%, the highest margin among the eight banking groups, thanks to its strong focus on higher risk-adjusted return loans such as personal and small and medium enterprise loans.
Affin Bank Bhd experienced the biggest dip in margin (-37 bps to 1.61%), followed by AMMB Holdings Bhd (-26 bps to 1.78%).
NIMs fell mainly because of higher funding costs, fuelled by stronger accumulation of fixed deposits and weaker current account and savings account deposits. It should also be noted that there was a 25 bps hike in the OPR in the same quarter a year ago.
On a quarter-on-quarter basis, five of the eight banks saw a decline in NIM. The only three that saw improvement were CIMB Group Holdings Bhd (three bps to 2.48%), Public Bank Bhd (one bp to 2.19%) and Alliance Bank (one bp to 2.57%).
"However, these improvements are either unsustainable or masked by their overseas operations' NIM recovery (in the case of Indonesia for CIMB)," opines S&P Global. S&P Global tracks the five big banks, namely Malayan Banking Bhd (Maybank), CIMB, Public Bank, RHB Bank Bhd and AMMB.
Given Bank Negara's 25 bps cut in the OPR last month, there will continue to be downside pressure on NIM.
"[The cut] means there will be further downside ahead until end-2019, of which we typically assume a six-to-nine-month lag for the repricing of these banks' assets and liabilities. Continuous tight liquidity in the market — amid persistent deposit competition — clearly does not help and is increasing the cost of funding. Heightened capital market volatility amid escalating trade tensions between the US and China — while not a risk factor unique to Malaysia — is dampening the outlook for local banks' non-interest revenues," says S&P Global credit analyst Nancy Duan.
"All these factors contribute to our negative view on Malaysian banks' profitability trend this year — especially when we believe there is limited room for further cost-cutting. All in all, we are likely to see a disappointing 2019 in terms of bottom-line earnings."
Loans are not growing as robustly either. Bank Negara's latest monthly banking data shows that the industry's loan growth eased in April for the fourth consecutive month, to 4.5% y-o-y from 4.9% in March.
However, given that there was positive growth that month in loan applications and approvals, there is optimism that things could pick up in 2Q and 3Q. Hence, analysts are sticking to their full-year loan growth projections of about 5% for the year.
Meanwhile, all eyes will continue to be on banks' asset quality, which has stayed resilient so far despite the pressures. The industry's gross impaired loan (GIL) ratio stood at 1.51% as at end-April, having inched up five bps from end-March.
Affin Bank's asset quality, in particular, will be watched. Its GIL ratio inched up six bps q-o-q to 3.31%, far higher than the industry average, partly due to two problematic accounts. The bank has told analysts that it expects to resolve the two accounts — one in the oil and gas sector and the other in property — by year end.
Most of the banks reported subdued first-quarter core earnings, albeit within analysts' consensus forecasts.
BIMB Holdings Bhd, which owns Bank Islam Malaysia Bhd, was the only financial institution that surpassed expectations. Its 1QFY2019 net profit stood at RM202.5 million, up 17.6% y-o-y and 25.5% q-o-q, boosted by strong takaful income, net financing income and benign loan loss provisions (LLPs).
Maybank Investment Bank Research deems the banking sector to have performed below expectations in the first quarter. The total core net profit of the banks under its coverage fell 0.9% y-o-y and 7.3% q-o-q.
"We put the banks through quite a fair bit of earnings downgrades," it says in a June 4 report. It now expects banks' core earnings to grow a smaller 3.8% this year compared with earlier expectations of 6.1%. Last year, earnings grew 7.1%.
Maybank's 1QFY2019 net profit, at RM1.81 billion — down 3.3% y-o-y and 22.2% q-o-q — came in below expectations, making up just 22% of consensus estimates for the full year.
This was mainly because of higher LLPs due to a top-up in provisioning for its exposure to financially distressed Singapore water treatment firm Hyflux. The bank also reported lower net interest and non-interest incomes.
"The bank did not disclose the quantum of the additional provision for Hyflux, but we think that this could form the bulk of the total provision of RM596.4 million for its group corporate banking and global markets in 1Q2019," says CIMB-CGS Research.
The research house notes that Maybank is, nevertheless, sticking to its guidance of a credit charge-off rate of 40 bps for FY2019, despite the 48 bps in 1QFY2019, suggesting that the bank is expecting lower average LLP per quarter in the next three quarters.
Maybank's exposure to Hyflux stands at about S$602.4 million (RM1.83 billion), which it is working to recover.
"We understand that Maybank is working with all the parties involved for the recovery of the amount owed by Hyflux. However, the bank has not given any indication of the expected completion timeline for the process nor the possible outcome," says CIMB-CGS Research.
Maybank has guided for a potential negative impact of one bp on its NIM this year from the OPR cut. RHB Bank is maintaining its return on equity target of 10.5% for the year, but has guided analysts that it expects a further five bps compression in NIM, from an earlier guidance of three to five bps.
Most analysts continue to have a "neutral" call on the banking sector.
"We continue to rate Malaysian banks at 'neutral', given the concerns over margin erosion and an expected uptick in credit costs. On a positive note, the sector's dividend yield is attractive at a projected 4% for 2019, " says CIMB-CGS Research.
The stocks with the most "buy" calls by analysts currently include RHB, CIMB, Alliance Bank and Maybank. The Financial Services Index on Bursa Malaysia has shed 2.7% year to date, similar to the fall in the key benchmark index FBM KLCI as at last Thursday.