This article first appeared in City & Country, The Edge Malaysia Weekly, on September 7, 2020 - September 13, 2020.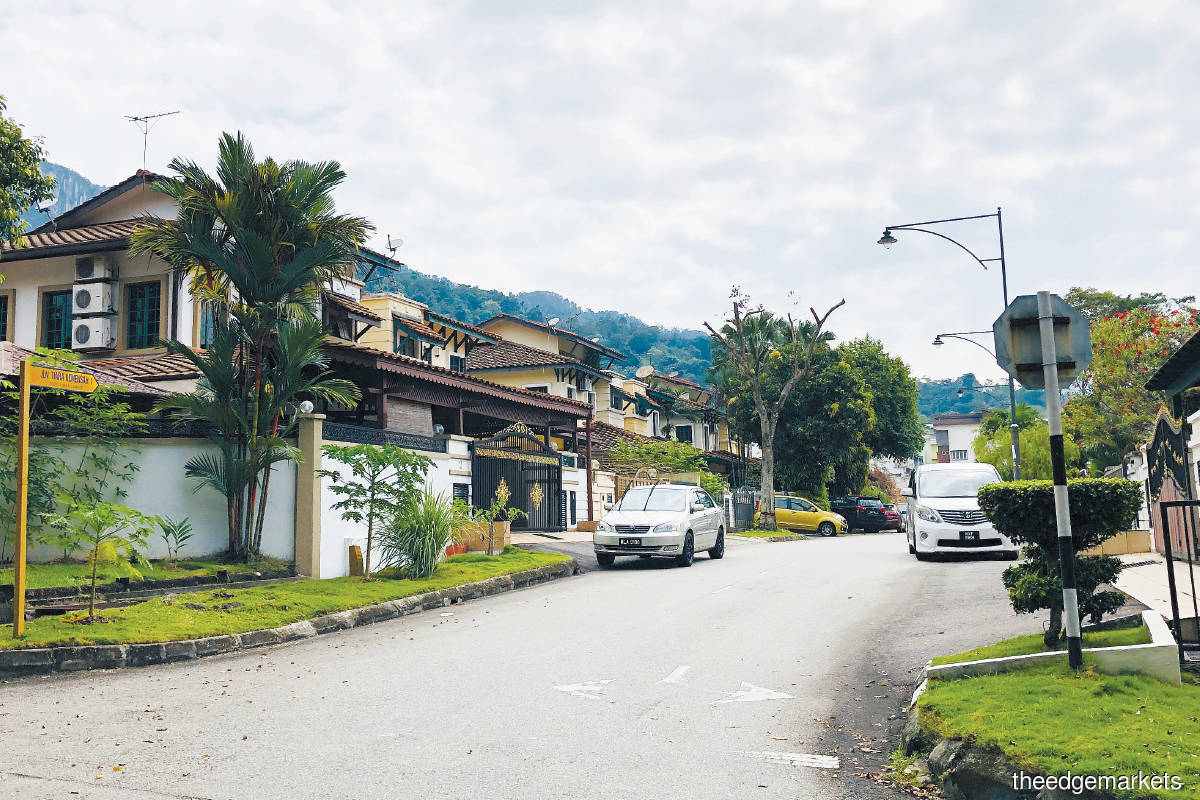 As one takes a leisurely neighbourhood stroll in Kemensah, it is impossible not to admire the beauty of nature in the surrounding area: lush hills enveloped in mist; trees swaying gently in the warm breeze; birds chirping and flying. Sometimes, one can also see monkeys making their way across power lines.
Developed in the 1980s, Kemensah is an exclusive residential enclave located on a small hill with lush greenery and undulating terrain in Ulu Kelang, Gombak. "The area is bordered by the Klang River to the west, Melawati Heights and Taman Zooview to the north, Taman Melawati to the east and Klang Gates Dam to the south," says PPC International Sdn Bhd managing director Datuk Siders Sittampalam.
According to Metro Homes Realty Bhd executive director See Kok Loong, "Kemensah" is derived from the name of the river that flows through the area.
"The origins of Kemensah started with Kampung Kemensah, an unplanned village with 48 wooden houses occupied mainly by the orang asli — descendants of the earliest-known inhabitants of Peninsular Malaysia — from the nearby Kemensah forest. The village currently comprises more than 100 wooden houses," explains See.
VPC Alliance (KL) Sdn Bhd managing director James Wong reckons that the greenery, beautiful scenery and tranquillity of the area are the main draw for property developers to build high-end landed residential projects there. These developments have become a natural extension of the exclusive residential areas of Ampang and Ulu Kelang.
"The earliest developments in Kemensah were Hamton Realty Sdn Bhd's Kemensah Heights and Benéton Properties Sdn Bhd's Prima Villa, both completed in 2006. Subsequent developments of semi-detached houses and bungalows were Tropika Kemensah and Kemensah Mewah, developed by Merit Star Sdn Bhd and Kemensah Mewah Sdn Bhd in 2007 and 2008 respectively," says Wong.
The serene residential area is just a 22-minute drive from the Kuala Lumpur city centre and easily accessible via Middle Ring Road 2, Ampang-Kuala Lumpur Elevated Highway, Kuala Lumpur-Karak Highway, Duta-Ulu Kelang Expressway as well as the Sungai Besi-Ulu Kelang Elevated Expressway, which is under construction.
The 24.4km three-lane dual carriage SUKE Expressway — which runs from Sri Petaling to Ulu Kelang — is due to be fully operational this year.
The area is near supermarkets and malls such as Giant Hypermarket, Melawati Mall, Wangsa Walk Mall; educational institutions such as SK Taman Melawati 2, SJK (Tamil) Taman Melawati, SMK Taman Melawati and Consist College; healthcare and recreational facilities such as Damai Service Hospital (Melawati) and Zoo Negara Malaysia; and government agencies such as the National Film Development Corporation Malaysia (Finas) and National Registration Department (Melawati).
Nearby transport hubs include the Sri Rampai, Taman Melati, Jelatek and Wangsa Maju LRT stations, all of which are part of the Kelana Jaya Line.
Residential segment sees steady demand
According to Wong, Kemensah comprises mainly high-end landed residential properties, with the exception of the Malay kampung houses in Kampung Kemensah. Therefore, the demographics in the area are mainly upper middle- and higher-income families.
He notes that residential properties in neighbouring areas such as Taman Melawati, Taman Melati, Setapak, Setiawangsa, Sri Rampai and Wangsa Maju are in higher demand, as most of the residential properties in these areas are more affordable and cater for the lower- and middle-income groups.
PPC International's Siders says the current landed residential properties in Kemensah are mainly 2-storey townhouses, 2-storey terraced houses, 2 to 3-storey semi-detached houses, as well as 2 to 3-storey bungalows.
According to data from PPC International, the townhouses, with a built-up of 861 sq ft, were sold at RM160,000 and RM255,000 in 2014 and 2017 res­pectively. Monthly rent is RM1,400, giving annual yields of 5.9%.
"The terraced houses, which have a built-up of 1,546 sq ft, were transacted at RM715,000 and RM770,000 in 2015 and 2019 respectively. These units can fetch a monthly rent of RM1,700, or yields of 2.6% a year," says Siders.
"The semi-detached houses, with built-ups of 3,083 to 4,203 sq ft, were transacted at RM1.65 million to RM2.7 million from 2014 to 2019. Rental rates are RM5,000 and RM6,500 a month, with yields of 2.9% to 3% a year.
"The bungalows have built-ups of 3,122, 4,148 and 4,470 sq ft and were sold at RM2.38 million in 2018, RM2.6 million in 2019 and RM3.8 million in 2017 respectively. Monthly rents are RM9,000 and RM15,000, yielding 4% to 4.7% a year."
VPC Alliance's Wong says the prices of these high-end residential properties in Kemensah have shown an upward trend over the last decade. The price differential of these properties is due to size and design, with some very high-end units equipped with a private swimming pool.
"The bungalows in Kemensah are in demand compared with the other properties in the secondary market. For instance, the 2 and 3-storey bungalows in Twin Palms with transaction prices of RM1.76 million to RM3.55 million are in demand because of their modern design," he adds.
Wong notes that there is limited supply of high-rise residential properties in Kemensah, with Kemensah Villa being the only low-density and low-rise residential project. "These condominiums have built-ups of 1,044 to 1,227 sq ft, and were transacted at RM360,000 to RM475,000, or RM344 to RM401 psf, last year. Rental rates are RM1,500 a month, giving yields of 3% to 4% a year."
Developments in the area
According to Siders, notable completed residential projects in Kemensah include Strawberry South Sdn Bhd's Kemensah Residency (completed in 2008), Delta Elegance Sdn Bhd's Bayu Kemensah (completed in 2012), Kenoza Sdn Bhd's Rimba @ Tiara Kemensah (completed in 2013), Titijaya Land Bhd's Embun Kemensah (completed in 2016) and CAG Group's Astana Kemensah (completed in 2018).
"Kemensah Residency comprises 23 two-storey bungalows with built-ups of 3,312 to 6,000 sq ft and prices starting at RM2.7 million. Bayu Kemensah's 33 three-storey bungalows have built-ups of 5,432 to 5,844 sq ft and are priced at RM2.7 million. Rimba @ Tiara Kemensah has 16 two-storey bungalows with built-ups of 7,000 to 13,000 sq ft and prices starting at RM4.7 million," says Siders.
"Embun Kemensah consists of 51 three-storey semi-detached and 4-storey courtyard villas, with built-ups of 4,522 to 5,502 sq ft, and priced at RM2.1 million. Astana Kemensah comprises 12 three-storey semi-detached houses and 13 two-storey superlink terraced houses. Priced from RM1.6 million, these units have built-ups of 2,003 to 3,649 sq ft."
Meanwhile, Wong notes that an upcoming development in the vicinity is The Hill by Binastra Land Sdn Bhd. "This project will comprise 72 luxury condominium units on a 2.84-acre parcel, and is pending planning approval."
Wong says Serenity Heights is an abandoned project by Acmar International Group. Located near Kampung Kemensah, it was originally planned to have 90 three- and 4-storey terraced houses, with built-ups of 4,491 to 5,600 sq ft. He adds that a reason the project was abandoned could be that the land is located next to a steep slope and near the Kemensah River.
Stable outlook
Wong notes that Kemensah will continue to be popular with those who are looking for a peaceful environment to live in and to upgrade their houses. "Property values in the area are expected to appreciate gradually in the long term, as the residential properties there tend to be high-end developments and owner-occupied. As such, they are non-speculative in nature."
Siders concurs, and adds that Kemensah comprises low-density landed residential developments and is well served by amenities. As such, the area has good potential for capital appreciation.
Metro Homes' See also notes that the outlook for Kemensah appears stable. Owing to the limitation of products offered, however, the area will remain an exclusive locality.