This article first appeared in The Edge Malaysia Weekly, on February 11, 2019 - February 17, 2019.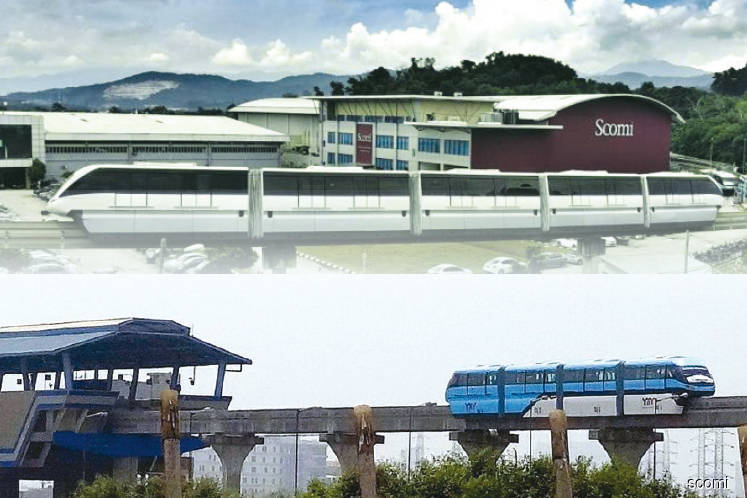 IT was early May 2003 and Scomi Group Bhd (SGB) was on its way to becoming a publicly traded counter in a couple of weeks. Things were looking up, with the public spread of its initial public offering of three million shares oversubscribed by 9.16 times.
To recap, SGB issued 12.3 million shares at RM1.38, and was listed on May 13, 2003. Besides the three million shares for public subscription, 2.5 million shares were allocated to eligible directors, employees, suppliers and individuals, and 6.8 million were sold via private placement.
For its financial year ended December 2002, SGB raked in an after-tax profit of RM14.64 million from RM158.51 million in revenue, which was not really sizeable.
But SGB's financials were not its selling point.
Businessman Tan Sri Kamaludin Abdullah and his partner Shah Hakim @ Shahzanim Zain controlled 44.32% of the company via their vehicles Kaspadu Sdn Bhd and Onstream Marine Sdn Bhd. Kamaluddin's father, Tun Abdullah Ahmad Badawi, became Malaysia's fifth prime minister at end-October 2003, a few months after SGB's listing.
Just a few years before that, the company had been known as Subang Commercial Omnibus & Motor Industries Sdn Bhd and was largely in the business of buses, but the emergence of Kamaluddin and Shah Hakim as shareholders in 2000 paved the way for much bigger things, specifically, forays into the oil and gas sector.
At the time, a head of research of a Singapore-based group said, "It (SGB) can't go wrong, future PM's son's company, oil and gas some more ... can close eyes and buy."
Sharing the same view as him was a well-known businessman, known for his knack of being able to pick stocks just before they soar.
SGB's journey as a publicly traded company could not have started off on a better note.
In July 2003, two months after its flotation exercise, SGB's stock hit a record high of RM16 per share and it was trading at a price-earnings multiple of almost 70 times in anticipation of stronger oil prices. This, in turn, spurred demand for SGB's services, which included supplying drilling fluids, a substance used to reduce friction in exploring for oil.
In 2003, the price of crude oil averaged a little more than US$30 a barrel, but shot up to about US$56 in 2005 and more than US$100 in 2008, which augured well for the oil and gas industry.
In late 2003, SGB announced its plan to buy a 70.9% stake in Oiltools International Ltd for US$77.3 million (RM293.74 million back then) to expand its business footprint.
SGB also got into a put and call option for the remaining 29.1% of Oiltools, exercisable over five years. Oiltools' mainstay was drilling waste management equipment, machine shop services and distribution.
In its annual report for FY2003, SGB said, "Oiltools has its presence in 29 countries and 47 locations worldwide. With Oiltools' ready infrastructure and network, the costs, time and risks of penetrating into new markets could substantially be reduced."
But the first of many dampeners came in February 2004. Scomi Precision Engineering Sdn Bhd or SCOPE, a 100% unit of SGB, was alleged to have supplied nuclear components to Libya in a deal involving Pakistani atomic weapons expert AQ Khan.
The negative news was carried worldwide, including by the likes of Time magazine, and Kamaluddin's presence as a substantial shareholder made things worse.
While SGB denied any wrongdoing, the US imposed sanctions in 2009 on CEO Shah Hakim, who fought them for two years before they were lifted.
Nevertheless, SGB proceeded on on its growth trajectory.
 
Corporate play
In 2005, jeweller Habib Corp Bhd, in a RM1.3 billion cash and share deal, acquired vessels, a 29.07% stake in Singapore-listed CH Offshore Ltd and 87% of PT Rig Tenders Indonesia — all from Chuan Hup Holdings Ltd. As part of the fund-raising for the acquisition, it placed out shares to SGB. Habib Corp morphed into Scomi Marine Bhd, which has now become Scomi Energy Services Bhd (SESB).
Interestingly, in April 2010, SESB, which was still Scomi Marine, sold its 29.07% stake in CH Offshore to Falcon Energy Group Ltd for S$143.5 million (RM348.7 million). Scomi Marine's original investment in CH Offshore was S$82 million back in 2005.
SGB was also briefly in the spotlight in 2012. Three years after Abdullah Badawi stepped down as prime minister, Kamaluddin apparently sought an executive position at SGB, but was turned down.
This led to several parties aligned to Kamaluddin accumulating SGB's stock, seemingly in preparation for things to get hostile. Among them were Maju Group executive chairman Tan Sri Abu Sahid Mohamed and his close associate, businessman Datuk Philip Siew Mun Chuang, who had accumulated about 15% in SGB.
Shah Hakim and Kamaluddin collectively controlled 13% of SGB, although it is not clear if the two had accumulated a bigger shareholding via proxies but held in smaller quantities to avoid triggering the 5% substantial shareholder limit.
In support of Shah Hakim, construction giant IJM Corp Bhd acquired a 10% block in SGB at 33 sen per share for RM39.31 million, and subscribed for redeemable convertible secured preference shares of an aggregate nominal value of RM110 million in cash, which would give it about 25% in SGB. In total, IJM invested RM149.31 million.
IJM was looking at riding the oil and gas wave, but its move into SGB is unlikely to have borne fruit. SGB had not paid out any dividends since 2009 and its fortunes were already faltering.
The exuberance over the SGB stake wore off quickly, as the stock succumbed to the pressures piling up against the oil and gas industry.
At SGB's close of 4.5 sen last Thursday IJM's stake of 24.37%, or 233.99 million shares, is only worth RM10.53 million, compared to the RM149.31 million it had invested on it.
While the downfall of SESB and even SGB can be attributed to the downturn in the oil and gas industry, other parts of SGB's business faced different issues.
 
Scomi Engineering's misses 
On January 2005, Bell & Order Bhd, a company involved in sound and communication systems, announced a plan to acquire Oiltools Holdings (Malaysia) Sdn Bhd, Oiltools Pte Ltd, Scomi Transportation Solutions Sdn Bhd and Scomi Sdn Bhd for RM285 million. Bell & Order issued 192.57 million shares at RM1.48 and gave SGB a 71.5% stake and Bell & Order was renamed Scomi Engineering Bhd (SEB).
SEB made the headlines in 2008, partnering India's Larsen & Toubro and winning a RM1.84 billion project to build a monorail system in Mumbai. SEB's portion of the contract was worth more than RM700 million.
It is worth noting that in May 2010, SEB hived off its machine shop business to Sumitomo's OMS Holdings Pte Ltd for RM327.68 million and paid out 29.5 sen in a special cash dividend, which works out to almost RM80 million.
Back then, it seemed SEB would be a big player in the monorail space, which only had a handful of players.
SEB partnered Indian company Geodesic and proposed to build a 60km monorail in Bangalore, Karnataka. According to SEB's 2011 annual report, they were "awaiting final guidelines from the Karnataka Government before proceeding in this endeavour".
In its FY2011 annual report, the company mentioned plans for a 300km monorail system in Chennai as well as being pre-qualified for a monorail project proposed by the Thane Municipal Corp of Maharashtra. Apart from that, it highlighted its interest in the Kerala state government's plans to develop monorail systems in Thiruvananthapuram and Kozhikode, and that it was also eyeing large-scale projects in the Indian capital Delhi, where the government had approved in principle an 11.5km-long elevated monorail corridor with 12 stations.
But none of those plans came to fruition.
Thus far, only Phase 1 of the Mumbai Monorail, which was delayed for various reasons, has taken off. It was first launched on Feb 2, 2014, but faced many issues, culminating in the termination last December of the Larsen & Toubro and SEB joint venture for the operations and maintenance of the monorail system by the Mumbai Metropolitan Region Development Authority.
In Brazil, SEB was awarded two significant monorail projects in Sao Paolo and Manaus and roped in CR Almeida S.A. Engenharia de Obras as the local partner. Construction of the 18km monorail line in São Paulo commenced in September 2012.
In SEB's FY2013 annual report, it said it had secured RM5.16 billion worth of monorail projects with partners. In it FY2015 annual report, SEB said it had been awarded a third monorail contract in Brazil, for São Paulo Line 18.
Many of the monorail projects were tied to Brazil hosting the FIFA World Cup in 2014, but were delayed.
Now, SEB has been delisted and its shares merged with SGB. It was initially supposed to be a three-way merger between SGB, SEB and SESB, but SESB's shareholders had opposed the deal.
The question is, is SEB a viable business? If so, what went wrong in Mumbai and in Brazil?
In a nutshell, there seem to be so many promises left undelivered.
 
Save by subscribing to us for your print and/or digital copy.
P/S: The Edge is also available on Apple's AppStore and Androids' Google Play.