This article first appeared in Personal Wealth, The Edge Malaysia Weekly, on April 15, 2019 - April 21, 2019.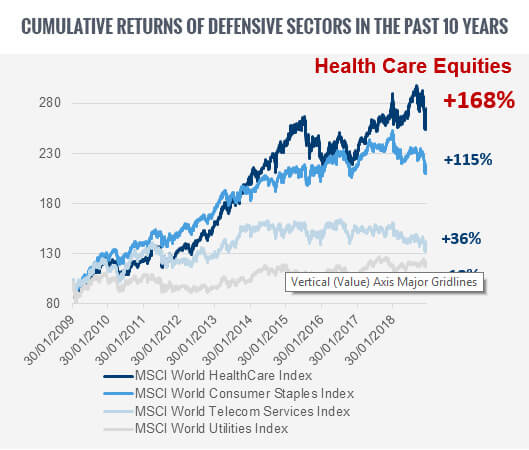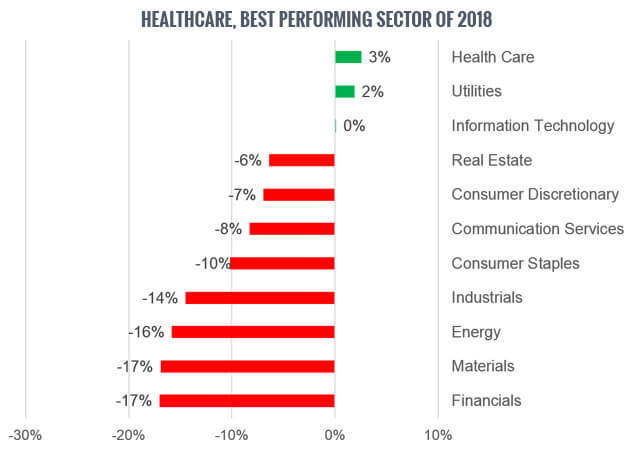 The healthcare sector has demonstrated significant resilience over the years compared with other sectors that are influenced the peaks and troughs of global macroeconomic cycles. The current late-cycle environment, in particular, presents an attractive entry point for investors, according to Erin Xie, head of health sciences at BlackRock Inc.
"Looking at a historical analysis of sector performance through market cycles in the past 25 years [BlackRock and Bloomberg from January 1989 to December 2018], healthcare has consistently outperformed other sectors during late-cycle and recessionary periods. For example, healthcare has outperformed 7% on average during late-cycle periods relative to broad equity markets," says Xie.
While global equity markets saw more volatility last year than in the past decade, the healthcare sector was one of the bright spots of 2018, she adds. Healthcare was one of only two sectors that delivered positive returns over the full year and displayed relative stability in a volatile market (as evidenced the total return of the MSCI World Index).
"We continue to hold conviction on healthcare, not solely based on the current market cycle outlook but also the secular growth and product innovation underpinning the sector," says Xie.
The sector's growth is underpinned a structural trend of changing global demographics. The proportion of older people is increasing and life expectancy is rising while fertility is declining.
"Population ageing is poised to be one of the most significant social transformations of the 21st century, with implications for nearly all sectors of society. The UN estimates that 2050, more than one-fifth of the world's population will be aged 60 or above. This is up from just 13% in 2017," says Xie.
"Globally, the number of persons aged 80 or over is projected to triple 2050, from 137 million in 2017 to 425 million in 2050, according to the UN's Department of Economic and Social Affairs."
As the population ages, their healthcare needs increase in tandem. This drives long-term secular growth for the healthcare sector, says Xie. It is estimated that healthcare costs triple when people are 65 and older.
"This will have a powerful impact on the proportion of global GDP allocated to healthcare, and therefore the growth of the sector from an investment perspective. This secular trend is continuing regardless of what is happening in the markets, macroeconomics or politics," she says.
According to Deloitte, global absolute spending on healthcare is expected to reach US$9 trillion 2020, a 23% jump from 2015. While large markets may maintain a stable growth rate of more than 20%, Asia-Pacific is expected to grow 28%.
Xie manages the BlackRock Global Funds — World Healthscience Fund, which seeks to take advantage of the opportunities in the sector. It invests at least 70% of its total assets in the equities of companies whose main business is in healthcare, pharmaceuticals, medical technology and supplies or biotechnology development.
As at Feb 28, the fund had recorded a cumulative return of 11.4% over one year and annualised returns of 12.49% over three years, 8.36% over five years and 8.74% since its inception in April 2001.
The Affin Hwang World Series — Global Healthscience Fund, which feeds into the BlackRock fund, is the first wholesale fund in Malaysia to focus on the healthcare sector (see accompanying story, "AHAM's global healthscience fund").
It is important to note that on a valuation basis, the healthcare sector continues to look attractive versus the broad equity markets, as well as relative to the sector's long-term average on a forward price-earnings ratio basis, says Xie. "We have divided healthcare into two broad themes — innovation and value-based.
"Innovation across the sector remains a secular growth driver as companies continue to develop new therapies or products that are either meeting unmet medical needs or improving current treatments. This encompasses not only biotechnology but also the pharmaceutical and medical devices and supplies sub-sectors.
"As for value-based healthcare, we favour the healthcare providers and services sub-sector. It is largely due to the sizeable overweight on the managed-care industry, which we believe will continue to execute on their underlying businesses and is well positioned to leverage their scale and analytical capabilities to lower healthcare costs."
Value-based healthcare is defined The New England Journal of Medicine as a delivery model in which providers, such as physicians and hospitals, are paid based on patient health outcomes. "Under value-based care agreements, providers are rewarded for helping patients improve their health, reduce the effects and incidence of chronic disease and live healthier lives in an evidence-based way," says an article on its website.
"Value-based care differs from a fee-for-service or capitation approach, in which providers are paid based on the amount of healthcare services they deliver. The 'value' in value-based healthcare is derived from measuring health outcomes against the cost of delivering the outcomes."
UnitedHealth Group Inc, one of the top three holdings of the World Healthscience Fund, offers a value-based care programme. With about US$256 billion in market capitalisation and one billion processed prescription claims annually, the company is one of the largest managed-care organisations and pharmacy-benefit manager companies in the US (see accompanying story, "Companies at the forefront of health sciences").
Xie is manager of the health sciences equity portfolios. She is supported four research analysts, all of whom have extensive sector experience. The team is part of BlackRock's fundamental active equity group.
Xie's service with the firm dates back to 2001, which includes her years with State Street Research & Management Co (SSRM), which merged with BlackRock in 2005. At SSRM, she was a senior vice-president and portfolio manager. Prior to joining the company in 2001, she was a research associate at Sanford C Bernstein & Co, covering the pharmaceutical industry from 1999.
Product innovation steering investments
As the drivers of a particular sub-sector are uncorrelated with the returns of another, the fund house mitigates risk investing across four sub-sectors as there are often "stock-specific high-conviction opportunities in each", says Xie.
BlackRock's World Healthscience Fund is most invested in pharmaceuticals (37.29%), followed medical devices and supplies (25.99%), healthcare providers and services (14.98%), biotechnology (11.01%) and life science tools and services (5.32%).
The fund house has a favourable outlook for the medical devices and supplies sub-sector due to the product innovation in the space. According to The New York Times, this industry produces things like surgical knives, forceps, gloves, bandages and dressings, syringes, stethoscopes, medical laboratory equipment, x-ray film, dental drills, veterinary instruments and other related supplies.
One area where BlackRock has seen considerable development is in robot-assisted surgery, "where surgeons are utilising robotic components to improve the precision of, among other things, joint replacements", says Xie.
According to research company Gartner, more than 20% of adults in the US have been diagnosed with arthritis and more than 3% have joint replacement surgery each year.
In robot-assisted joint replacement surgeries, the surgeon first uses the robotic system to generate a 3D virtual model of the joint based on a computed tomography scan. The surgeon then uses the system to come up with a detailed pre-operative plan for the surgery based on the 3D model.
"This pre-surgery planning allows the surgeon to achieve more precision than traditional methods, and often results in less bone removal and tissue damage than it would with traditional surgery. The use of robotic-arm technology allows for a more customised joint replacement surgery, which is unique to the patient's anatomy, and ensures that the replacement joint fits more precisely," says Xie.
"This technology has resulted in fewer procedural failures, better alignment and less impingement [damage to the components of the artificial hip joint, caused when they rub together during movement]."
Medical technology firm Stryker is one of the companies in this sub-segment. It is the developer of the Mako System, a robotic-arm technology that helps surgeons offer more personalised surgical procedures, leading to more precision.
The system also provides surgeons with patient-specific 3D models to pre-plan a procedure, helping them focus on removing the diseased bone while preserving the healthy bones. It also assists them in positioning implants based on the patient's anatomy.
Xie notes that strong drug innovation is taking place in both the pharmaceutical and biotechnology sub-sectors. The US Food and Drug Administration (FDA) approved more molecular entities (pharmaceutical drugs) and biologics licence applications (biotech treatments) in 2018 than in the previous 12 years, according to the FDA's Center for Drug Evaluation and Research.
"Over the past year, we have seen the benefit of investing in a drug company that exerts drug innovation, thanks to the positive clinical programme progress with the FDA. We initiated this position due to the company's strong pipeline in a niche but under-resourced therapy," says Xie.
She adds that there are broad opportunities in the healthcare industry with numerous companies developing innovative products to improve their growth profile. She cites the development of pioneering surgical methods that lessen the invasive nature of surgery and reduce recovery time, thus improving the overall patient experience.
"One example is the introduction of a new technology that enables a less invasive heart valve surgical method, which shortens the recovery period and lower costs related to hospital stay. It is this kind of innovation, at a reasonable valuation, that we are seeking in the medical device and health equipment space today. Given the demographics and statistics of heart valve disease, even just within the US, we expect to see continued growth in innovation," says Xie.
According to Gartner and US-based medical equipment company Edwards Lifesciences, about five million Americans are diagnosed with heart valve disease each year and 180,000 heart valve operations are carried out annually. The market size is projected to jump from US$2.6 billion in 2016 to US$5 billion 2021.
AHAM's global healthscience fund
The Affin Hwang World Series — Global Healthscience Fund is a newly launched wholesale fund that feeds into the BlackRock Global Funds — World Healthscience Fund. It invests a minimum of 80% of its net asset value in the target fund and a maximum of 20% in money market instruments, deposits and/or liquid assets.
Affin Hwang Asset Management Bhd (AHAM) chief marketing and distribution officer Chai Ai Mei says the fund house decided to team up with BlackRock for several reasons. "For our feeder fund strategy, we seek to capitalise on our investment partner's capabilities or expertise that we may not necessarily have in-house to help our clients diversify. This is especially where there are gaps in our product suite. We have a due diligence process that considers factors such as performance, track record and servicing levels before selecting strategies to bring onshore what we think will do well in the local market.
"After going through these steps, we decided to tie up with Blackrock for our Affin Hwang World Series — Global Healthscience Fund. Having demonstrated a solid track record as one of the world's largest asset managers, the healthcare team at Blackrock has strong expertise in this area, with skillsets that are not limited to investing but also include scientific knowledge in the areas of research and medicine."
According to its brochure, the target fund manager has about 22 years of experience in scientific research, medicine and investing. It also has 16 analysts across the global platform dedicated to healthcare and related themes.
The Affin Hwang World Series — Global Healthscience Fund is available to sophisticated investors with a long-term investment horizon and high risk tolerance. While the base currency is the US dollar, there are five currency classes on offer — US dollar, ringgit, ringgit-hedged, Singapore dollar-hedged and Australian dollar-hedged. The minimum investment amount is US$5,000 for all currency classes.
Companies at the forefront of health sciences
Abbott Laboratories, Pfizer Inc and UnitedHealth Group Inc were three of the stocks held the BlackRock Global Funds — World Healthscience Fund at end-February. All three companies saw double-digit growth in their share price over a one-year period, according to Bloomberg.
US-based Pfizer is one of the world's largest research-based pharmaceutical firms and perhaps the most well-known name among consumers. It produces medicines for ailments in areas such as cardiovascular health, metabolism, oncology and inflammation and immunology, according to Bloomberg. Its top prescription products include cholesterol-lowering Lipitor, pain management drugs Celebrex and Lyrica, pneumonia vaccine Prevnar, erectile dysfunction treatment Viagra, arthritis drug Enbrel, antibiotic Zyvox and high-blood-pressure therapy Norvasc.
According to Pfizer's 2018 annual review, the principal market for its common stock is the New York Stock Exchange (NYSE), but it is also traded on various US regional exchanges. The share price had risen 25.94% year on year to US$43.14 as at April 8.
Bloomberg Intelligence (BI) analysts Sam Fazeli and Cinney Zhang pointed out in a January report that new Pfizer CEO Albert Bourla was faced with "a very anaemic 2018 to 2022 sales growth. So, new drugs must positively surprise to exceed this".
"Most of its line extensions, such as cancer drug Bavencio, have formidable competition from arguably better products. This leaves Pfizer dependent on higher-risk new drugs such as Tanezumab [for chronic pain. The Pfizer-GlaxoSmithKline consumer joint venture will improve operating margin and any cash from its potential initial price offering would add to Pfizer's already formidable purchasing power]," they wrote.
According to Bloomberg, UnitedHealth Group owns and manages organised health systems in the US and other parts of the world, providing employer products and resources to plan and administer employee benefit programmes. It also provides specialised care services and information and research to healthcare providers and payers.
The company provides health insurance in every major market — individual, group and government-sponsored. It describes the approach as "a healthcare system that puts the patient at the centre and pays for quality and results".
In a fact sheet titled "How value-based care is improving quality and health", the company cites the example of value-based relationships or programmes such as performance-based, episode-based and bundled accountable care programmes. It explains that accountable care involve a group of physicians that works with an insurer to manage the overall health of a population or community. The group earns more when care is delivered efficiently with higher quality results.
"For performance-based programmes, a portion of the care provider's pay — and sometimes future pay increases — are contingent upon meeting quality measures, such as ensuring patients receive recommended health screenings. In a bundled or episode-based programme, a physician is paid a lump sum in advance for the overall course of treatment for a specific condition or illness. The physician can then focus attention on the patient's total care plan instead of how each piece of care will be paid for."
UnitedHealth Group's 2018 annual report notes that its common stock is traded on the NYSE. Its share price had increased 13.25% year on year to US$248.75 as at April 8.
BI's Jason McGorman and Holly Tyler pointed out in a report that the company had a multi-year lead on its competitors as an integrated payer with its Optum health services division, offering a sustainable cost edge with its predictive data and analytics. "The company's growth is likely to slow after outpacing rivals the past few years as competitors improve Medicare plans and Medicaid demand slows due to high managed-care penetration. The company is on pace to generate more than US$17 billion cash in 2019, part of which will be used for mergers and acquisitions to drive its long-term goal of 13% to 16% earnings per share growth," they wrote.
American healthcare product manufacturer Abbott Laboratories operates in four reportable segments — cardiovascular and neuromodulation, nutritional products, diagnostic products and established pharmaceutical products, according to Bloomberg.
According to Mount Sinai Hospital, neuromodulation is a series of techniques that acts directly on one's nervous system. changing the way nerves carry information to and from the brain, a patient's pain can be decreased and mobility increased.
In Abbott Laboratories' 2018 annual report, it stated that the principal market for its common shares is the NYSE. "Shares are also listed on the Chicago Stock Exchange and traded on various regional and electronic exchanges. Outside the US, the shares are listed on the Swiss Stock Exchange."
Its share price had surged 37.32% year on year to US$78.52 as at April 8.
McGorman said in a January report that the company's device business should continue to drive growth this year, led its FreeStyle Libre glucose monitor. "Its diabetes products are likely to be its biggest growth driver in 2019 due to low penetration and new approvals, which should continue to drive adoption. The company's FreeStyle Libre has been increasing US prescriptions at a 30% to 40% pace recently, with total US glucose-monitor penetration likely below 30%."