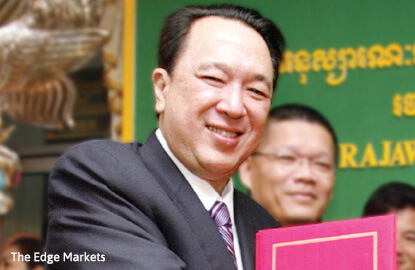 This article first appeared in
The Edge Malaysia Weekly
, on January 2 - 8, 2017.
INDONESIAN-born Tan Sri Peter Sondakh took over his father's oil palm business at the age of 20, when the latter passed away. Two years later, he started PT Rajawali Corp, which is now the business tycoon's flagship company.
Rajawali — a conglomerate in Indonesia — has interests in plantations, telecommunications, hotels, cement, consumer goods, retailing, department stores and transport, among others.
Sondakh is ranked by Forbes at No 14 on Indonesia's rich list with a net worth of US$1.69 billion.
He made a name for himslef by turning around ailing state-controlled businesses into profitable enterprises, and launching Indonesia's first private television company in 1986. Other feathers in his cap include rolling out Asia's first prepaid telecommunication services in 1997, and rescuing cigarette maker PT Bentoel Internasional Investama Tbk, and cement company Semen Gresik, before hiving them off for a good profit.
Sondakh is no stranger to Malaysia and has had several large-scale dealings here.
In 2004, Rajawali Group hived off its 23% stake in PT Excelcomindo Pratama, Indonesia's third-largest mobile phone operator, to Telekom Malaysia for US$314 million.
Rajawali started investing in Langkawi in 2005 when he set up the Sheraton (since renamed the Westin) on the island, and a few years later invested RM400 million in building the St Regis Langkawi in partnership with Starwood Hotels & Resorts Worldwide and the Langkawi International Convention Centre.
Some quarters say Sondakh is an adviser to Prime Minister Datuk Seri Najib Razak, and a close friend of Indonesian President Joko Widodo.
Perhaps a coup for Sondakh was his takeover of PT Eagle High Plantations Tbk in 2014 through a related-party transaction (RPT).
Chain Reaction Research does not paint a positive picture of the whole deal.
In November 2014, the shareholders of public-listed PT BW Plantation Tbk agreed to a rights issue to finance the takeover of Green Eagle Holdings for IDR10.5 trillion to IDR11.1 trillion or US$861 million to US$880 million, which would transform BW Plantation into the third-largest oil palm plantation company listed on the Indonesian exchange in terms of planted area.
The rights issue — on a six-for-one basis — was offered to the existing shareholders of BW Plantation, priced from IDR390 to IDR411 per rights share, but there were standby purchasers if the shareholders refused to take up the rights, namely Indonesian securities traders PT Rajawali Capital International, PT Danareksa Sekuritas, PT Mandiri Sekuritas, PT BNI Securities and PT Valbury Asia Securities.
Initially, BW Plantation's two dominant shareholders were the Widodo family and Rajawali Group. The acquisition was an RPT as Rajawali Group was also a shareholder of Green Eagle.
Rajawali Group emerged as the majority owner of the newly expanded BW Plantation and Green Eagle, which was renamed Eagle High.
BW Plantation initially had a land bank of 94,000ha in Indonesia, of which 70,000ha were planted with oil palm. Green Eagle initially had 196,000ha of plantation land in Indonesia, but just prior to BW Plantation announcing its intended takeover of Green Eagle in September 2014, the latter bought nine plantations totalling 129,000ha from Rajawali Group.Thus, the merged entity, Eagle High, expanded its land bank to 419,006ha.
Interestingly in July 2014, Louis Dreyfus Commodities, a French multinational, withdrew from Green Eagle after a three-year joint venture with Rajawali Corp.
Selling 37% of Eagle High now for US$505.4 million to Felda would mean Sondakh and Rajawali have made substantial gains from the RPTs in plantation assets.
Reports have it that there were issues with Green Eagle clearing primary rainforests for oil palm plantations with more than 6,000ha secondary forests razed in Papua New Guinea. The destruction of the forests resulted in the endangered orang utan losing their habitat in Central Kalimantan.
There were also issues as BW Plantation did not have a clear policy to exclude the development of peat areas, and some 17,000ha were highlighted as cultivated peatland.
There is market talk that the business tycoon is financially stressed, hence his need to divest some assets to raise cash.
While some market watchers suggest that Sondakh may reinvest in Malaysia — from the gains obtained from the sale of the Eagle High stake — or more accurately in the Tun Razak Exchange, this remains a conjecture. But one thing is for sure — Sondakh will soon have US$505.4 million more in his pocket.