This article first appeared in City & Country, The Edge Malaysia Weekly, on January 28, 2019 - February 03, 2019.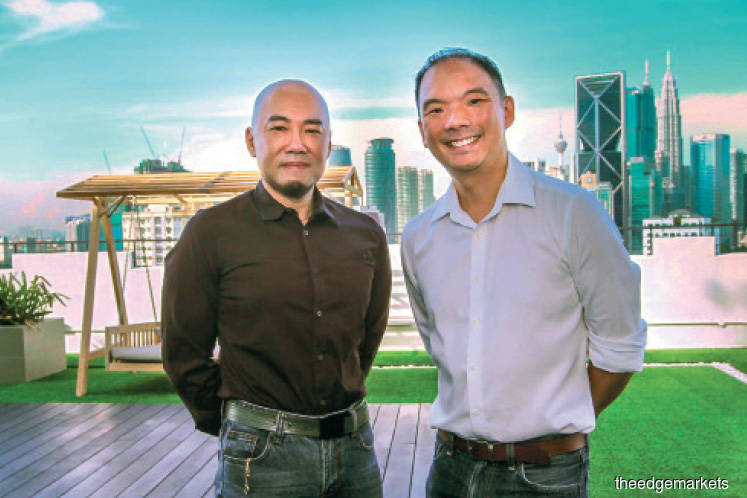 Ng (left) and Tan at the sky deck, which offers splendid views of the KL city skyline
Co-Coon Coliving @ Damai Residence was completed last year
The growth of a transient millennial population is seeing the development of co-living accommodation that meets their needs. Co-living basically refers to living spaces with shared communal areas, which helps reduce costs and leads to new friendships and meaningful connections.
While co-living seems innovative, it is not new. Tribal longhouses in Sarawak have many families living under one roof with communal spaces for meals, work and play. In the Fujian province in China, there are the tulou buildings — ancient circular structures that are hundreds of years old and can house numerous families with shared facilities and social spaces.
The only difference in today's co-living environment is that the people living together are not related. However, a community is developed by connecting like-minded individuals, which in some ways creates a "tribe".
In Malaysia, the modern concept of co-living has assumed several forms. There are houses that have been converted into co-living accommodation and there are developers who are incorporating co-living spaces into their integrated developments.
Tan & Tan Developments Bhd, for instance, decided to convert an existing project off Jalan Ampang (behind The Ampwalk building) into a full-fledged co-living space called Co-Coon Coliving @ Damai Residence.
"Damai Residence was designed for apartments to be sold. We stopped the selling of the units and started working on plans for Co-Coon — on creating the penthouse level, the workspaces, the room designs and all that," says Tan & Tan chief marketing officer Colin Ng.
The 20-storey tower sits on a 0.514-acre freehold plot and was completed last year. The fitting-out of the interiors cost about RM4 million, according to Ng, while the gross development cost of the entire building amounted to RM60 million.
Ng recalls how, in 2017, he and CEO Tan Yee Seng met for drinks and started talking about co-living and the trends they had noticed on their travels and from speaking to friends.
"A lot of my peers and those younger were hesitant to buy apartments," says 38-year-old Tan. "They said they couldn't even plan what they would be doing the following year, let alone take on a 30-year loan to buy a home. They were also undecided on which country they wanted to settle in. And we thought [Co-Coon] would be a place for them to figure things out. They want the fun, the perks and a lot of 'toys'."
Ng concurs. "They want to fly the nest and find their own space. But they might not want a long-term tenancy agreement for an apartment. [Co-Coon] would allow them to be in a nurturing environment, in which they could think about the next steps to take. I know millennial friends who, even after getting their apartments, live in them for a year and then want to sell them. Co-Coon is a hassle-free space for them to find their feet, strengthen their wings and fly away.
"The name Co-Coon, which took a lot of brainstorming, is a protective environment for a caterpillar to be nurtured before it turns into a butterfly. For young people, this could be a place where they can be nurtured before they move on to 'adulting'."
Tan adds, "This is something we take seriously because it is about building an ecosystem where everybody gains from each other. That is why we have a community manager for the building. The soft side is very important for the concept to work."
A stepping stone
Co-Coon targets local and international students and young professionals aged 18 to 35. Its team expects about 50% to 60% of the tenants to be young professionals; 30%, students; 10%, early career professionals; and 10%, young couples.
Apart from being close to the Kuala Lumpur city centre where many corporate offices are located, Co-Coon is a 30-minute drive away from several schools and universities, namely Raffles College of Higher Education, Sayfol International School, Sheffield Academy, HELP College of Arts and Technology, Berjaya University College, Open University, UCSI University and SEGi College.
Its location is ideal for newcomers to the city who may not know what to do and where to go. "If someone lands in KL and needs a place to establish himself, find his way around and then move to another place, this place will suit him. What we provide is very central," says Ng.
Co-Coon is within walking distance of Ampwalk Mall, which is directly in front of the building and offers many conveniences and F&B outlets, while across the road is Hock Choon supermarket. The Ampang Park LRT station is just a 15-minute walk away while the HSC Medical Centre and Gleneagles Hospital are a five-minute drive away. Nearby shopping centres include Suria KLCC, Avenue K and The Intermark Mall.
The building's security system uses a mobile app that is easily downloaded to a smartphone and allows access to the main building, the communal spaces and facilities, and living spaces.
Furthermore, Co-Coon has a "plug and play" model, where residents pay just one amount for room rent, utilities and WiFi. The rooms are move-in ready, that is they come with a bed, wardrobe, desk and chair, while the duration of the rental contract is flexible, ranging from three months up to a year. The contract is also renewable.
Potential tenants have to fill out a questionnaire and fix an appointment to tour the building. All details are shared, including Co-Coon's objective, to ensure that potential tenants are aware of what Co-Coon is all about, thus ensuring the growth of the project's ecosystem.
What happens when the tenants became difficult? Ng explains that the tenancy agreement contains all the house rules and provides the company with legal protection.
"There will be difficult tenants. But at least we have some form of filtering. It is hard to profile someone but we make it very clear that Co-Coon is about community building," he says.
The building is divided into different sections with the ground level housing the guardhouse, the coin-operated laundry room and the lounge. The mezzanine floor has a small gym for tenants to use.
On Level 4, there is an outdoor gym and garden for people to work out and relax. The living spaces called Living Pods — 30 apartments divided evenly between two wings — are on Levels 4 to 18. This allows the segregation of women and men if necessary. Each apartment has a built-up of about 2,000 sq ft and has six bedrooms that are 91 to 403 sq ft in size. In total, there are 174 bedrooms and the one-fee payment starts at RM800 per month. Some bedrooms come with attached bathrooms and for those that do not, the tenants have to share a bathroom. Each apartment comes with a kitchen, a communal area and a balcony.
Level 19 is where the communal spaces with a fully fitted-out kitchen, co-working spaces, play area and dining area are located. Level 20 is the sky deck where there is a yoga/meditation deck, barbecue area and outdoor lounge.
"The facilities are created to encourage interaction," says Ng. "We kept the bedrooms minimal because we want to encourage people to come up to the Co-Coon Hub on Level 19."
The Hub has various spaces for tenants to congregate at. It has a hip and happening vibe coupled with modern furnishings and colours. The social spaces include the lounge area with a pool table, dining area with tables for people to have their meals, the kitchen for cooking and the Chill Zone where people can binge-watch their favourite series or play computer games.
Attached to the social spaces is a co-working area for tenants to run their businesses, hold meetings, print out documents and brainstorm their latest projects.
While the communal facilities are open to all the tenants without any charge, there are some components that they need to pay to use. These include a linen starter pack, the coin-operated laundry machines, the barbecue area which the management office will help clean up for you for RM100, and the printing of documents. For those who drive, there are 39 parking bays available with season parking fees of RM100 per month for cars and RM30 per month for motorcycles. There is no visitors' parking in the building but visitors can park their cars at The Ampwalk.
All the facilities and common areas within the apartments, like the kitchen and shared bathroom, except for the individual bedrooms, will be cleaned by an appointed cleaner.
Ng and Tan want to see how Co-Coon fares before expanding the business. "We decided to try this as a pilot project by Tan & Tan and fine-tune the concept with Co-Coon. It is the first one and it will not be perfect. But it is a start," says Ng.
Tan adds, "The good thing about owning the asset is that we can continue to adapt the product. People might not want to do what they are doing now in five years' time. It gives us that control."
Also, with a community manager in place, community-building events can be arranged, depending on the interests of the tenants, Tan notes. There are also plans to liaise with companies for networking and possible business engagement events.
"First off, we will collaborate with the nearest businesses to try to build a community in the local environment. There are a lot of food places around here," says Tan. "Other things we are thinking of doing include organising tours and road trips for the foreigners living in Co-Coon."
Although Co-Coon has not been officially launched — this is slated for March this year — the team at Co-Coon has received many enquiries via social media, which is the main platform for pitching Co-Coon and what it offers. Judging from the enquiries, the team is confident the project will do well.
"People have found us through Facebook and Instagram, and there are enquiries from embassies and individuals abroad," says Tan.
Ng adds, "You have urban millennials, global millennials, early career professionals, people doing internships and overseas interns looking for places like Co-Coon. As it happens, you don't have a building here that offers flexible contracts for as short as three months, which is the general internship period."
In fact, one of the challenges of building Co-Coon was the lack of benchmarks. "There is no product here that you can compare with and be certain that yours will work. It took some research, testing and a bit of trial and error. Some of it was trusting the feeling that we had to just make some calls and go with it. And now that we are live, we can fine-tune it further," Ng explains.
To promote Co-Coon, there is an early-bird incentive from now until the end of February, in which those who book rooms for six months or more will get one month rent free.
According to Metro Homes Realty Bhd executive director See Kok Loong, the co-living concept is a potentially viable product to be introduced in Kuala Lumpur. "It is for the individual for whom the cost of city living is too high, which will be reduced by sharing facilities. Kuala Lumpur is becoming too expensive to live in and we notice several parties already starting co-living spaces here," he says.
For the concept to work, says See, several factors are necessary: good security, proper screening of tenants and good management of the building and facilities.
Furthermore, he sees co-living offering an alternative to the current rental market.
"This gives the landlord another option, provided he is willing to handle more than one tenant. It also offers young professionals from other cities an alternative instead of the traditional renting of an entire apartment. This concept is not new as it is like students renting an apartment near a university and sharing the rooms and so on. The only difference is that this co-living product comes with a management and is much better."
At the time of writing, two tenants had already started living in Co-Coon and its future does look promising. Only time will tell how this new old concept transforms the rental property market in Malaysia.