This article first appeared in City & Country, The Edge Malaysia Weekly, on September 23, 2019 - September 29, 2019.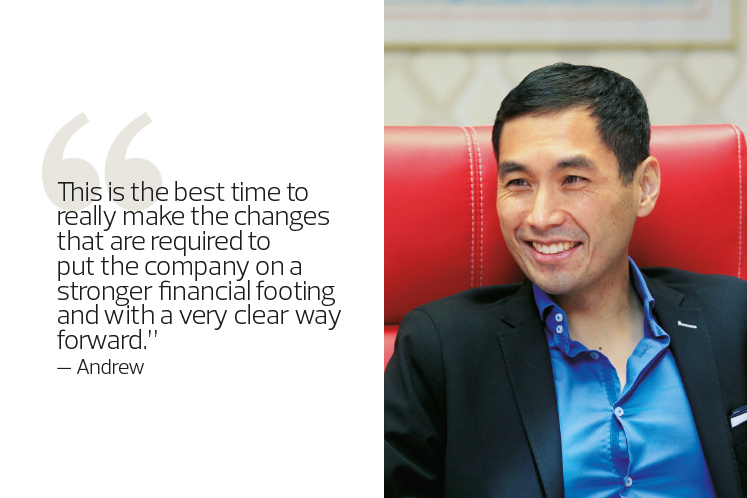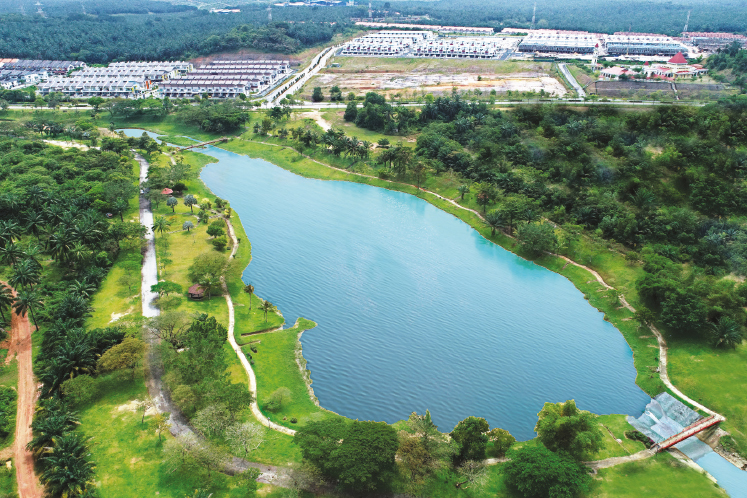 The 20-acre Lake Park in Bandar Springhill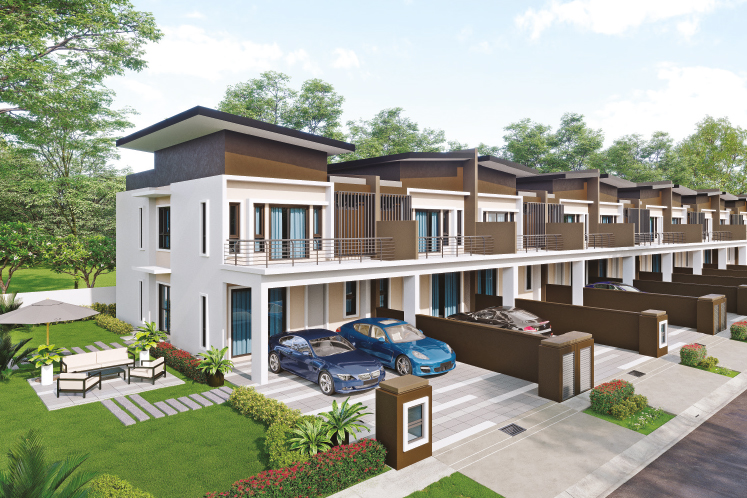 An artist's impression of the new 2-storey terraced houses in Bandar Springhill
It has been almost a year since Andrew Khoo Boo Yeow took over the Malayan United Industries Bhd (MUI) empire of his father, Tan Sri Khoo Kay Peng.
"I saw my father yesterday and I try to make it a point to see him once a week. Sometimes we talk about work but he is really more hands off these days," Andrew tells City & Country in an exclusive interview.
He took over as CEO of MUI after Kay Peng announced his retirement at his 79th birthday party in late December 2017, but the tycoon remained as executive chairman. Then, shortly before his 80th birthday last year, Kay Peng relinquished his chairmanship to Andrew — the only one among his five children who is involved in the family business.
MUI was established in 1960 and listed in 1971. For over four decades, Kay Peng built and transformed the company from a small manufacturer of toothbrushes and carton boxes to a large multinational corporation with businesses spanning hotels, department stores, food and confectionery manufacturing, financial services and property development, with a presence in the UK, Europe, the US and Asia-Pacific.
With no time to waste, Andrew got down to business after taking up the reins. "The company is very diverse as we have many businesses, so I've been getting my hands dirty getting involved with all facets of the business," he quips.
"In a way, we're in the middle of a transformation journey. It takes a lot of focus, energy and clear thinking to be able to see this plan through. Most importantly, it needs the right people in place and it is about the transformation of the people we have in our business.
"From there, we can put a plan in place with a very clear vision, which is to take our brands and assets and reposition them in a way that makes them more meaningful for today's marketplace," says Andrew, who is not new to the business.
At the start of his career, he interned at the group's hotels in the US and the UK, gaining exposure to its operations. "After graduating, I cut my teeth on the hotel side, rose [through the ranks] and became a general manager in the UK. I've also worked in Laura Ashley, heading up the licensing business back then."
Andrew later left the company for Canada where he started a family and his own business, but returned in 2009. "My father asked me to come back as he needed someone to head up the food group. I was based in Singapore as that was where the head office for Network Foods was based then. I did that for a few years and left, stayed in Singapore and worked with a listed company.
"In 2018, he asked me to come back again and this was when he finally decided to really retire and wanted me to take the company on full time."
Though challenging, Andrew believes it is an opportune time to return to the business. "We need to take a long hard look at the business and take it in a different direction to make it more relevant.
"A lot of businesses are facing disruption with changes in consumer behaviour, so this is the best time to really make the changes that are required to put the company on a stronger financial footing and with a very clear way forward."
While the biggest contributor to MUI is its hotel operations, followed by retail, the fastest growing and the one with the most profitable growth potential is its property business, says Andrew. "Going forward, we will put more focus on our property business."
Apart from new launches at its Bandar Springhill township in Port Dickson, Negeri Sembilan, the group will also be launching a new project in Seremban town and in Kota Kinabalu, Sabah.
Building on a solid market
In Seremban town centre, MUI plans to build an integrated development with a gross development value (GDV) of RM410 million. It will comprise 865 serviced apartments and 68 shopoffices over two 32-storey blocks on a site of about four acres that was acquired in 2005. The apartments, which will include dual-key units, will have built-ups of 550 to 1,050 sq ft and prices will range from RM250,000 to RM480,000.
"This project is right in the middle of the town centre and very close to transport links. There has been a lot of interest in Seremban lately and we feel that it may be the right time to put in a landmark development," says Andrew.
The group plans to launch the project as early as next year, depending on approvals from the authorities. "We envision it like a city square, so it will have lifestyle elements with the residential component on top of a town square complex, with retail spaces and a lot of greenery," he adds.
"Once again, our approach is to bring in quality living at affordable prices. Our market is very clear — we are targeting domestic buyers and we want to make it accessible to the younger generation with dual income. For Seremban, we think the sweet spot is properties priced around RM300,000.
"With dual-key layouts, buyers will have the flexibility of living there and renting out a portion of the unit to help with the mortgage. We try and think of ways to make it affordable," explains Andrew.
In Kota Kinabalu, MUI plans to launch a condominium project with a GDV of RM280 million next year. Comprising 700 units over two 32-storey blocks, the condos will have built-ups of 650 to 1,050 sq ft and will be priced from RM350,000 to RM630,000 each. "Again, we're talking about affordable pricing," Andrew remarks.
"I feel that [the affordable] segment of the market is much more stable and not subject to externalities. We are targeting the core market that has a need for housing, so it is a very bread-and-butter business.
"The only thing is that we have to be prepared for slightly lower margins and compete a bit more on volume. That's why we have to make sure we are very sharp on our pricing and costs to deliver a product that is up to date, modern and that can sell well.
"It's a very different business model. We are not going for large margins but safe and comfortable margins with attractive price points. I think in this type of market, even if there is a downturn and recession, there is always [demand]. I think it's much safer that we build our property business based on this and branch out from here," says Andrew.
New launches at Bandar Springhill
On Sept 28, MUI Properties Bhd's 60%-owned subsidiary, West Synergy Sdn Bhd, will be launching Phase 1 of a residential development at the 2,000-acre freehold Bandar Springhill. Incorporated in 1965, MUI Properties is a 74.32%-owned subsidiary of the group.
Phase 1, named Amarilis, will comprise 73 two-storey terraced houses. Meanwhile, Phase 2 — named Viola & Celosia — will tentatively be launched in 2Q2020 and comprise 272 two-storey terraced houses.
With a total GDV of RM125 million, Phases 1 and 2 span a combined 14.38 acres. Unit built-ups will range from 1,782 to 1,982 sq ft, with prices starting from RM331,000.
The terraced houses will have a contemporary design and come with a double-volume dining area. The residential enclave will have a green open field with a community playground while in its surroundings within the township are amenities such as the 20-acre Lake Park, the UCSI International School Springhill and a mosque. The developer is offering two years of free security maintenance.
Just like MUI's other businesses, its property business is being reinvigorated and seeing the results. "We are injecting lifestyle elements into Bandar Springhill and we are seeing a pick-up in take-ups and sales," says Andrew.
The group launches 250 to 300 residential units each year, and sales have been well over the 80% mark, he continues. "It was much slower before. [Sales have improved] due to a mix of different factors such as the right price points, very well-designed homes, quality living with added amenities and facilities — our products are very sellable.
"The designs have become more contemporary with fully utilised built-ups, so no major renovation is needed. We are also offering better streetscapes and landscapes in a gated-and-guarded community."
A new lifestyle element in Bandar Springhill comes in the form of a clubhouse, with construction set to begin this year. To be ready by 2020, it will be open to all residents of the township and offer a badminton court, swimming pool, children's pool, gymnasium, reading room, children's playground and indoor games room, multipurpose hall and function room. Membership fees will tentatively start from RM100 a month.
Andrew believes that the lifestyle factor is what customers want these days. "Apart from the clubhouse, we are going to have lakeside walking and cycling trails, children play zones as well as petrol stations, fast food outlets, restaurants, banks and ATMs. Bandar Springhill will be a complete community and township development."
Located towards the south of Seremban, Bandar Springhill has a total GDV of RM4 billion to RM5 billion. About 50% completed, the township has about 1,000 acres left to be developed, which translates into a GDV of RM3.5 billion to RM4 billion.
"We want to focus on affordable homes that are in the proximity of Kuala Lumpur and are still quality homes. People today want to see value. We want to make sure that we get the fundamentals and the design features right and build around that. Once we do all that, we will start to strengthen our marketing," says Andrew.
He adds that Negeri Sembilan is a growth corridor that is only 45 minutes away from Kuala Lumpur International Airport. "The whole area has a lot of growth potential and the state reportedly has the most number of affordable homes compared with Melaka, Johor, Penang and KL."
Crafting experiences in retail and hospitality
MUI is focused on expanding its offerings, namely tea rooms and hotels, under the Laura Ashley brand — a UK-based apparel and home furnishing retail chain with 236 stores worldwide. MUI holds a 35.17% stake in Laura Ashley Holdings PLC, which is listed on the London Stock Exchange.
"We have nine tea rooms to date in the UK and another few more confirmed. Normally, we would tie up with hotels for the tea rooms," says Andrew. "In fact, I'm looking at a Central London property for another Laura Ashley tea room."
Closer to home, the group is planning to launch its first tea room in Singapore and considering opening two in Malaysia — one at its headquarters in 189 Jalan Ampang, Kuala Lumpur, and another in its Metrojaya department store in Mid Valley Megamall that has been undergoing refurbishment works in phases since last year and is slated to be  completed in 2020.
"The retail market is a bit soft and by all accounts, it is challenging. People's shopping behaviours have changed and we need to stay ahead of that. We need to understand what consumers want and today, a lot of it is about experience," says Andrew.
MUI currently operates five Metrojaya department stores in Malaysia, with its flagship at Mid Valley Megamall. The rest are also located in shopping malls — The Curve in Mutiara Damansara, Selangor; Brem Mall in Kepong, KL; Plaza Pelangi in Johor Baru, Johor; and Suria Sabah in Kota Kinabalu. Meanwhile, its Metrojaya department store at CityOne Megamall in Kuching, Sarawak, was closed this year.
At its Mid Valley Megamall store, half of the Living Quarters segment has been refurbished and it now has new retail concepts. The company recently launched Korean furniture brand iloom and Australian-founded menswear label Benjamin Barker, which are available exclusively at Metrojaya Mid Valley.
"In the next few months, we are going to launch an illy café and a Gryphon tea bar in Metrojaya. The café will sell coffee, beans and pods and you can have tasting sessions.
"Gryphon is quite an established Singaporean brand and this will be the very first Gryphon tea bar concept. It's not just about selling teas but about giving people an experience of sampling tea paired with food," explains Andrew.
He also plans to establish a flagship Laura Ashley store in Malaysia. "If possible, we want to twin our Laura Ashley stores with our tea room concept, so we can have a tea room, retail and design service that can help Malaysians fit out their homes in Laura Ashley designs."
Outside the country, Andrew is expanding the brand's presence in Australia, which will see a Laura Ashley store opening at Chadstone Shopping Centre in Melbourne in the second quarter of next year.
"The retail climate is similar everywhere and facing similar challenges. [Nonetheless], retail spending here is holding up because people still go to malls — it is part of the lifestyle, and e-commerce is not such a big segment of the market yet," says Andrew.
On the hotel front, MUI is divesting its Corus Hotel Hyde Park, London — its prized asset. In April, the group appointed international investment bank NM Rothschild & Sons Ltd as its financial adviser for the sale, which has a reported price tag of slightly more than £200 million (about RM1 billion).
"We intend to realise the asset and deleverage, which will enable us to transform the group's business in a faster way and then we can look into investing in more hotels.
"I'd still like to stay in the hotel business and to be in Central London. It may not be a Corus hotel, but maybe something a bit smaller and more boutique," reveals Andrew.
Meanwhile, MUI is designing a Laura Ashley boutique hotel and spa in Hobart, Tasmania, located 10 minutes from the city. It plans to have these premises operational within three years.
In the UK, it has just opened a Laura Ashley hotel, named The Iliffe, in Coventry and is in the midst of completing Burnham Beeches — about 30 minutes from Windsor Castle and Heathrow Airport — which will be ready as a Laura Ashley hotel in three months. It is also looking at Solihull in Birmingham for another hotel under the brand, says Andrew.
The group currently owns and operates two Corus hotels in Malaysia and seven hotels in the UK under the Corus and Laura Ashley brands.
Core values
Moving forward, Andrew hopes to reposition the group's brands to be purpose and lifestyle-driven. "There must be a sense of purpose for doing it … there must be a story. People want things that are authentic in today's market. Purposeful also means it can contribute back to the community, so there needs to be a social conscience. I think by doing that, it makes our brands more meaningful. We can make an economic and social impact."
While Andrew is on a path to reposition the group and its businesses to stay ahead of time, he holds firm to the core values on which the company's foundation was built. "Although how we position our brand and the approach we take may be a bit different, what my father started — the values and principles of strength, efficiency and trustworthiness — is still very much relevant today," he stresses.