This article first appeared in The Edge Malaysia Weekly, on June 18, 2018 - June 24, 2018.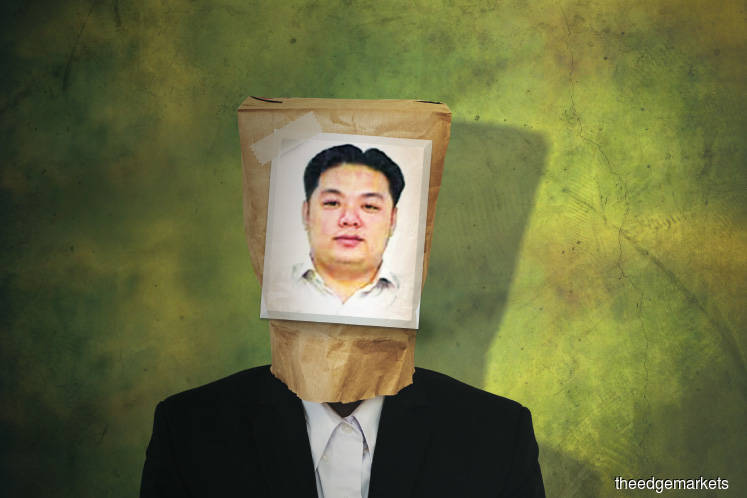 LOW Taek Jho or Jho Low was undoubtedly the puppet master behind the world's biggest-ever financial fraud. But he needed people he could trust absolutely to pull it off, including operating bank accounts in Singapore and Switzerland where much of the billions of 1Malaysia Development Bhd money was laundered. The key person appears to have been Eric Tan Kim Loong. At one stage, it was thought that Tan, who was not an employee of 1MDB, was Jho Low using a fake name.
Last week, the Malaysian Anti-Corruption Commission (MACC) produced a photograph of Tan, who is now wanted not just by Malaysia but also Singapore.
We pieced together information from the US Department of Justice and the Malaysian Auditor-General's Report to explain what Tan did, as well as the role played by two 1MDB executives wanted by MACC — Casey Tang Keng Chee and Jasmine Loo Ai Swan.
The US Department of Justice (DoJ) described Eric Tan Kim Loong, 40, as an associate of Low Taek Jho or Jho Low. He served as a proxy for Jho Low in numerous financial transactions. He was the stated beneficial owner of several bank accounts, including in Singapore, into which misappropriated 1MDB funds were transferred.
It was literally through Tan's hands (bank accounts) that US$2.36 billion that originated in 1MDB was moved to the accounts of various people, including Datuk Seri Najib Razak — always at the instruction of Jho Low.
Here are some examples of the role played by Tan, which explains why he is now wanted by authorities in both Malaysia and Singapore.
Blackstone Asia Real Estate Partners
One of the accounts held by Tan was that of Blackstone Asia Real Estate Partners Ltd at Standard Chartered Bank in Singapore. Tan was both the beneficial owner and signatory of the account.
The account was originally opened in the name of Foreign FX Trading Ltd, which was later changed to Blackstone Asia Real Estate Partners.
It was typical of Jho Low to form companies whose names sounded similar to those of established firms. Indeed, there is a major real estate private equity firm called Blackstone Real Estate in the US that is an affiliate of the well-known private investment firm Blackstone Group.
The DoJ states that the practice of utilising a bank account held by an entity with a name that is identical to that of a well-known commercial enterprise is a technique commonly employed to lend legitimacy to transactions that might otherwise be subject to close scrutiny by the financial institutions involved because of, for example, the size of the transactions or the role of politically exposed persons or entities.
It says a total of about US$1.1 billion was transferred, either directly or indirectly, via overseas investment funds into the Blackstone account in Singapore, which was used as a transit account to improperly distribute funds to individuals affiliated with 1MDB, International Petroleum Investment Company (IPIC) and Aabar Investments PJS Ltd (Aabar BVI).
Between May 25, 2012, and Dec 14, 2012, five wire transfers totalling US$636 million were sent from the Aabar BVI Swiss account to the Blackstone Asia Real Estate Partners account in Singapore. These wire transfers were processed through correspondent bank accounts at Standard Chartered Bank and Citibank in the US.
Another US$455 million was transferred from the Aabar BVI account to Blackstone Asia Real Estate Partners through a layering process in which the money was first invested in two so-called funds — Enterprise Emerging Market Fund and Cistensque Investment Fund.
Aabar BVI is the fake Aabar that is alleged to have received US$1.367 billion from the two US$1.75 billion bonds that Goldman Sachs raised for 1MDB to buy power assets from Tanjong PLC and the Genting group in May and October 2012.
Acting on the instruction of Jho Low, Tan would, within days of receiving the money, arrange for hundreds of millions of dollars from the Blackstone account to be transferred to the following:
1.      US$473 million to Khademi Quabaasy — the managing director of IPIC and chairman of the real and fake Aabar — via an account at Bank Rothschild in Luxembourg in the name of Vasco Investment Services;
2.      US$66.6 million to Mohamed Badawy Al Husseiny — the CEO of both the fake and real Aabar — via bank accounts in Frankfurt (BHF Bank) and Texas (Bank of America) in the names of Rayan Inc and MB Consulting respectively;
3.      US$30 million to the bank account of Malaysian Official 1 (Najib) at AmPrivate Bank in Malaysia; and
4.      US$5.0 million to the Swiss account of Jasmine Loo, legal counsel for 1MDB, at Falcon bank in Zurich in the name of River Dee International.
Tanore Finance Corp
1MDB, via 1MDB Global Investments Ltd, issued US$3.0 billion of bonds underwritten by Goldman Sachs in March 2013. The money was for the development of Tun Razak Exchange (TRX) in Kuala Lumpur.
However, more than US$1.26 billion of the proceeds was diverted to a bank account held in the name of Tanore Finance Corp at Falcon Bank in Singapore.
Tan was the beneficial owner of record for the Tanore account. Although the account had no legitimate affiliation with 1MDB, Loo was an authorised signatory for the account along with Tan. According to DoJ, Husseiny was chairman of the Aabar-owned Falcon Bank and he was the referee for Tan to open an account with the bank.
Funds that originated in the 1MDB bonds issue that were deposited with the Bank of New York Mellon were transferred to the account of 1MDB Global Investments at BSI Bank in Lugano. From there, US$835 million was sent to the Tanore account in Singapore via three investment funds. Another US$430 million was sent to the Falcon Bank account of Granton Property Holdings in Singapore, from where the whole sum was sent to the Tanore account.
In total, the Tanore account managed by Tan received US$1.26 billion of money that originated in 1MDB. It is, however, not clear if Tan was the sole signatory and beneficial owner of the account or if Jho Low was also a party. Observers say Jho Low must have trusted Tan completely for him to have allowed the latter 100% control over billions of dollars.
According to the DoJ, Tan functioned as a proxy for Jho Low with regard to the Tanore account and Jho Low routinely communicated with the bankers on the account using Tan's email. It is not clear if the Falcon bankers knew that Jho Low was using Tan's email to communicate with them and if so, whether this was appropriate.
What is clear is that on March 21, 2013, Tan gave instructions to transfer US$620 million from the Tanore account to an account at AmPrivate Bank in Malaysia. The wire transfer was processed through correspondent bank accounts at JP Morgan Chase and Well Fargo in the US.
On March 25, an additional US$61 million was wired from the Tanore account to the same account at AmPrivate Bank, for a total of US$681 million.
That account belonged to Najib (Malaysian Official 1).
Bank records show that Tan signed the wire instructions to transfer the US$681 million and the Falcon bankers confirmed it with Tan in a phone call on March 21, 2013.
The DoJ says that an email sent from Tan's account falsely represented to Falcon Bank that the AmBank account was owned by SRC International, a former 1MDB subsidiary that was transferred to the direct control of the Ministry of Finance in 2012. The email also falsely represented that the transfer of US$681 million to that account was pursuant to a shariah-compliant financing agreement, known as a mudharabah agreement, between Tanore and SRC International.
A supposed copy of that financing agreement was submitted to Falcon Bank to conceal the true nature of the payment to Malaysian Official 1, which, if disclosed to the bank, would have required the bank to engage in additional compliance enquiries to verify the legitimacy of such a large transfer of funds to a high-ranking public official, the DoJ says.
On Aug 26, 2013, US$620 million was wired from a different account at AmBank to the Tanore account. This AmBank account also belonged to Malaysian Official 1 and the transfer represented funds from the US$681 million of payments that were being returned to the Tanore account.
A portion of the US$620 million that Malaysian Official 1 "returned" to the Tanore account was passed through various additional accounts controlled by Tan and Jho Low and was ultimately used to purchase a 22-carat pink diamond pendant and necklace for Najib's wife.
The necklace was commissioned in July 2013 after the jeweller met Jho Low, Husseiny and the wife of Malaysian Official 1 in Monaco. The purchase price of US$27 million was paid on Sept 10, 2013, using funds traceable to the US$620 million payment from Malaysian Official 1 to the Tanore account.
The 1MDB funds diverted to the Tanore account were also used by Tan to purchase artwork as well as the Park Lane Hotel in New York, the DoJ says.
Between May and June 2013, Tan, using the Tanore account, bought more than US$137 million worth of paintings from auction house Christie's in New York.
He later "gifted" them to Jho Low in "consideration of your friendship, your charitable contribution to the world, and passion in promoting the understanding and appreciation of art".
Save by subscribing to us for your print and/or digital copy.
P/S: The Edge is also available on Apple's AppStore and Androids' Google Play.