This article first appeared in The Edge Malaysia Weekly, on November 29, 2021 - December 05, 2021.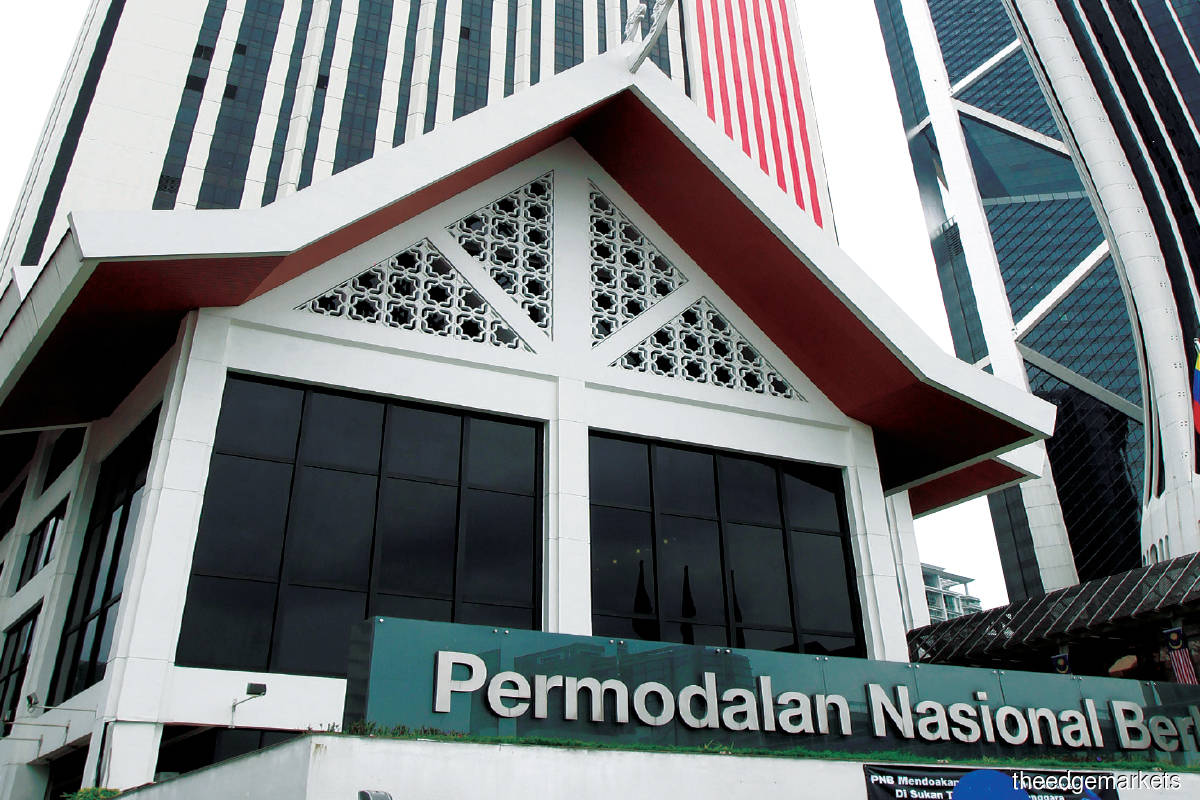 IN December, Ahmad Zulqarnain Onn will have been president and group chief executive of state-controlled unit trust company Permodalan Nasional Bhd (PNB) for 17 months.
Having taken the helm at one of the country's largest institutional funds during the pandemic, he seems to have hit the ground running. PNB's assets under management as at end-October stood at RM337 billion, up 4.46% from RM322.6 billion at end-2020.
For Ahmad Zulqarnain and others before him, the pressure must come from having to ensure sustainable returns for its unitholders, which now average two out of every five Malaysians. "It's a different set of challenges," says the economist by training, who previously served as deputy managing director of Khazanah Nasional Bhd and CEO of Danajamin Nasional Bhd.
In his first exclusive interview with The Edge, Ahmad Zulqarnain reminisces, "What was apparent from day one was the strong sense of purpose of the people in this organisation, which I'm very proud to be associated with. It's actually one of the strongest feelings that I've experienced, and I've been in a few other organisations."
He is leading PNB through its 2020-2022 strategic plan dubbed Focus 4, which was formulated under the watch of his predecessor Jalil Rasheed. The strategy of Focus 4 is diversification by asset class and geography, value creation, risk management and organisational transformation.
"Having had a look at it [Focus 4], I took the view that it was actually fine. It made a lot of sense, and we should just continue with this strategy. My job and that of my colleagues is to make sure we execute the strategy the best way we can."
Strategic asset allocation is 'paramount'
Looking back, PNB's high exposure to the Malaysian equity market has been a boon for the institutional fund, providing unitholders with double-digit returns over the years.
PNB remains a cornerstone investor in the local bourse. It also participated in CTOS Digital Bhd's RM1.2 billion initial public offering this year — the only IPO to exceed RM1 billion in 2021. The credit reporting agency's share price debuted at RM1.10 in mid-July and had gained more than 66% to close at RM1.83 last Thursday.
The institutional fund's 10 strategic companies, in which it has more than 40% equity interest, are mostly giants in their fields. Malayan Banking Bhd (Maybank) is the largest banking group in the country, Sime Darby Property Bhd is the largest developer in Malaysia in terms of land bank and Sime Darby Plantation Bhd is one of the largest plantation companies in the world. Both Sime Darby Bhd and UMW Holdings Bhd are huge players in the automotive sector, with the former having a strong presence in China as well.
While PNB's funds typically outperform their respective benchmarks, the average total return of its main bumiputera fund Amanah Saham Bumiputera (ASB) has been 5.83% per unit for the last three years. This compares with its all-time average of 9.81% over its 30-year history.
Meanwhile, PNB's variable price unit trust funds, which are open to all, have at times generated negative annual returns, although dividends were consistently paid out.
There have also been investments that had challenges of their own, such as oil and gas giant Sapura Energy Bhd, which was adversely affected by fluctuating oil prices and contractual headwinds, resulting in a further delay in providing returns to PNB's capital injection in 2018 (see "PNB's investment in ailing Sapura Energy").
"Achieving the right strategic asset allocation is paramount for us. We call it an all-weather portfolio, where during ups and downs, things are going to cancel out each other. But, generally, there are positive returns on assets, which then deliver dividends to our unitholders," says Ahmad Zulqarnain.
All in all, PNB has 16 unit trust funds under its belt (see table), with the last two launched — ASN Imbang 3 Global and ASN Equity Global — being global funds. The former, which was launched in mid-September 2020, has seen sales of about RM1.8 billion while the latter, introduced in September this year, already has about RM750 million in sales.
"It's a demonstration of both our ability to deploy capital in many ways today and the level of trust people have in us in managing that money … One thing is that we are not seeing any adverse happenings from Covid-19 in terms of our funds under management, which grew in 2020 and have continued to grow in 2021. That's a question we get quite a lot — do we see any redemptions? Actually, we don't," says Ahmad Zulqarnain.
Diversification and strategic asset allocation is now a key pillar of PNB's strategy. At end-2020, about 12% of its assets under management (AUM), or RM38.71 billion, was invested globally in multiple asset classes. This year, its overseas investments are likely to grow to 16% of its AUM, or RM53.92 billion.
"The international equities team today operates across 50 stock markets, and our guys really do work from Asia open to almost New York close … It's a strategy that has really borne fruit," says Ahmad Zulqarnain.
PNB has been actively building up strong teams in the fields of international equity, private equity and real estate, he adds. It also works with high-quality managers and partners to speed up execution while gaining the necessary knowledge and technology transfer in the process.
The institutional fund has also moved further into private equity, tapping into the trillion-dollar market through large buyouts and growth investments, as well as the secondary market. "If you look at the returns for private equity in general, say, from 2018, it has provided an internal rate of return in the mid-teens," says Ahmad Zulqarnain.
Property play
In its real estate division, PNB has shifted away from investing directly in individual buildings to working with other property managers and expanding its investment horizon from office and retail spaces into warehousing and logistics, multi-family homes, apartment buildings where renting is the norm and healthcare assets, among others.
For instance, the institutional fund is co-investing with its investee company Sime Darby Property and an international partner to develop warehousing and logistics facilities in Bukit Raja, Selangor, for e-commerce firms.
PNB's wholly-owned Pelaburan Hartanah Nasional Bhd (PHNB) acts as asset manager for the properties owned by the institutional fund. A check with the Companies Commission of Malaysia shows that as at end-December 2020, PHNB had total assets of RM13.67 billion and total liabilities of RM8.69 billion.
For FY2020, PHNB suffered an after-tax loss of RM727.73 million from RM350.78 million in revenue. Retained earnings stood at almost RM3 billion. The company manages more than 20 properties with a total net lettable area of more than four million sq ft, according to PNB's website.
The jewel in its crown, however, is the Merdeka 118. The 118-storey, or 644m, tower will be the world's second-highest building when it is completed. Including its spire, the actual height of Merdeka 118 is likely to be closer to 700m.
"We are at 83% completion [for Merdeka 118]. PNB is looking to move [there] in about 11 months' time — Oct 1 is when we will move in next year. The fit-out of the offices will start in late 1Q2022 and the building will be completed and ready for occupation by then," says Ahmad Zulqarnain.
Merdeka 118, which occupies a 19-acre site and will overlook Stadium Merdeka and Stadium Negara, has a gross development value of RM5.6 billion for Phase 1 alone. It will comprise offices, an observation deck, restaurants, a hotel and residential towers, which are slated to be built in the second and third phases of development, expected to be completed in 2026. PNB plans to build a retail mall by 2023 as well.
Ahmad Zulqarnian is confident that Merdeka 118 will have an occupancy rate of more than 70% once it is operational. "The offices are doing fine," he says, when asked about the project and the glut in the office space.
Force to be reckoned with
All in all, Malaysia will remain PNB's largest market in terms of equities and real estate in the years to come. To be sure, the combined market capitalisation of its 10 strategic companies in Malaysia stands at a whopping RM157.14 billion,  with Maybank making up a chunk of more than RM96 billion.
The list of companies also includes Velesto Energy Bhd, S P Setia Bhd, MNRB Holdings Bhd and Duopharma Biotech Bhd.
PNB has a category of core companies in which it has more than 10% shareholding or a stake above RM1 billion in value (see table). The institutional fund also has equity interest in other listed companies.
There have been questions raised as to the overlap in businesses such as Sapura Energy and Velesto Energy in the oil and gas sector, which have rigs; Sime Darby and UMW Holdings, which are in the auto business; and Sime Darby Property and S P Setia, which are huge property players. Some market observers also ask why the companies do not work together to bag government contracts such as those for fleet management services.
Ahmad Zulqarnain explains: "We are a large enough fund, where inevitably we will be investing in more than one company in a particular industry, and sometimes in competitors. That's fine, because we are not business owners per se, where our business must win against the others. We are an asset manager — we are looking for the best returns for our unitholders.
"Sometimes, the best strategy is to invest in an industry as a whole that is rising and diversifying your bets that way … They are different companies with different board representation."
Besides PNB's strategic and core companies, as well as the many stocks that it trades in, there is another asset class in which it seems to have investments. These are large private companies, including wholly-owned financial services company Malaysian Industrial Development Finance Bhd; wholly-owned highway operator Projek Lintasan Kota Holdings Sdn Bhd (Prolintas); a 25% stake in Boh Plantations Sdn Bhd; 49% in tyre manufacturer Goodyear Malaysia Bhd; 33% in KAF Investment Bank Bhd; a direct interest of 10% in Perusahaan Otomobil Kedua Sdn Bhd (Perodua); and an indirect stake of 38% via UMW Holdings.
With such choice assets and investments, PNB is well placed to ensure sustainable net income and payouts for its unitholders.
"The whole point of having a strategic asset allocation is to ensure that you are investing in a portfolio that generates sustainable returns — the all-weather portfolio that we talk about. The belief is that if you have the right asset allocation and if you're spreading it out and reducing concentration risks, then you should be able to get the returns that are projected by that modelling," says Ahmad Zulqarnain.