This article first appeared in Personal Wealth, The Edge Malaysia Weekly, on December 11, 2017 - December 17, 2017.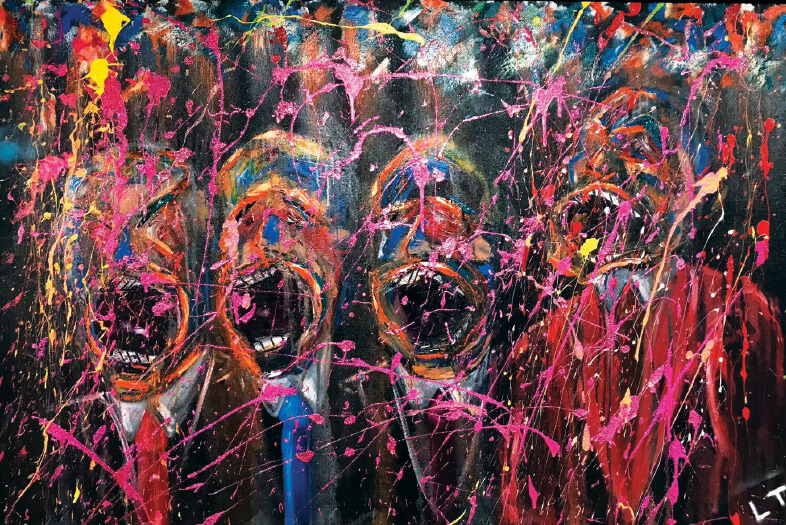 Townley's The Directors' Night Out

Ada Bird and Gloria Petyarre's Black Abstract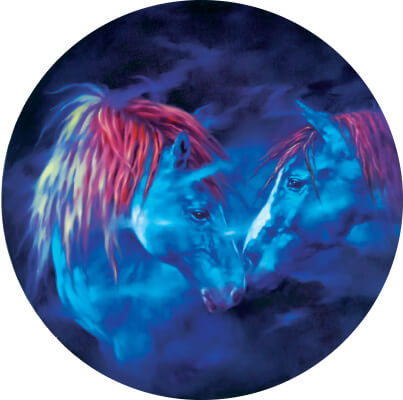 Ma Dongmin's Warmth — Double Horse
The global art market has seen mixed fortunes in recent years. While certain segments such as the high-end fine art market have experienced fewer sales, other segments such as online art, which caters for a wider customer base, have seen considerable growth. 
This shows there are still opportunities in the art market, says Troy Sadler, managing director of Singapore-based art gallery and boutique advisory firm Art Works.
With the increasing volatility in the global financial markets and changing wealth management landscape, modern art has become a non-correlated asset class, he points out. It provides portfolio diversification benefits such as being a storage of value and helping to hedge against inflation. 
Sadler stresses that most of the data signalling the bottom of the art market are drawn mainly from sales at prominent auction houses. But in reality, there are many smaller auction houses around the world that engage the majority of the art collectors and investors. 
"When you look at all the predictions out there, you could be talking about anything, from a Picasso selling in New York to a contemporary piece in Singapore. But when you are talking about the broader market, there are a lot of areas and different wheels in motion that affect the overall outlook," says Sadler. 
According to The Art Market 2017 report by Art Basel and UBS, the global art market achieved total sales of US$56.6 billion last year, down 11% from 2015. The decrease was the result of sales cooling down in certain sectors and fewer high-end sales, particularly in the fine art auction market, which had bolstered the rapid expansion of values until 2014.
Meanwhile, the European Fine Art Foundation says total sales last year were US$45 billion, up 1.7% from 2015, mainly due to entrants such as China, Brazil and Russia. The TEFAF Art Market Report 2017 found the art market to be resilient and experiencing positive growth as sales move away from auction houses to the private sector (private sales by auction houses and to dealers). 
Both reports also note that online sales have significantly improved. The TEFAF report says sales were up 15% from 2015, reaching an estimated US$3.75 billion. According to Art Basel and UBS, online sales stood at US$4.9 billion. 
Interestingly, online sales — which represent artworks priced at US$10,000 or less — accounted for 8.4% of the overall art market, up from 7.4% in 2015, according to US-based online art gallery Saatchi Art. "While the majority of online art purchases continue to occur below the US$5,000 price point (79% in 2017, up from 78% in 2016), 60% of galleries report an increased willingness among clients to buy more expensive (more than US$5,000) art online, up from 42% in 2016,"  it says in its Invest in Art 2017 outlook. 
LEASING ART TO GENERATE INCOME
These statistics are indications that art investments are no longer within the reach of just a few, says Sadler. The art market is also more vibrant than before. 
"The art market has gone from strength to strength. Ten years ago in Asia, it was practically non-existent. But now, around 45% of the artworks — through auctions — went through Hong Kong. Asia went from being a laggard to the biggest art market in the world and definitely the most dynamic," says Sadler. 
It is also the reason Art Works — which has roots in Sydney, Australia — ventured out to Singapore in 2011. While it is primarily an art gallery, it is also a leading firm in this part of the world offering art lovers the buy-to-lease option for their prized collections. For collectors who see art as an investment, this option provides income on top of owning a passion asset. 
Unlike investing in art funds or shared units of valuable paintings, the buy-to-lease option is fairly straightforward. The investor who purchases the artwork has the option of taking it home and hanging it up on the wall or leasing it out to a borrower. Art Works' clients range from interior design firms to multinational corporations, all of whom have rental contracts with the company.
"Clients can come in and buy artwork for their homes. The works we deal in are 99% contemporary and oil-on-canvas paintings. We carry a lot from Asia, particularly China, and also the UK and Australia," says Sadler.
He explains that art aficionados or investors who walk into its private gallery are first given the low-down on the art market. "Ten years ago, the art market in Asia was really small. But now, it is extremely significant. We educate our clients on why this is happening and where it is going as well as the fundamentals behind art investments and what to look for," he says.
"We give them an overview of how everything works and when they fully understand the mechanics of the market, then we start looking at particular paintings. When they are happy with the business and its model, then we talk about art and budgets.
"If a prospective client says, 'I am looking to invest S$50,000 and I will take your advice', we look at the pieces that are available and match the investor with an artwork that has already been contracted."
Sadler says he sometimes gets clients who want only the best paintings by the company's top artists. "I tell them that I will get back to them when I have something."
Investors who choose to lease out their newly purchased art sign an agreement with Art Works' corporate clients, which agree to lease the artwork for two to four years. "We then pay our private clients 6% net of the corporate rental income and charge a management fee of 1% to 2%," says Sadler.
As the higher demand for art has driven up prices, the leasing arrangement gives corporate clients a flexible and cost-effective alternative to access artworks that would otherwise be out of their budget.
"Whether they are law firms, banks, public relations agencies or other companies in Singapore, they lease because they can have a rather special, relatively expensive piece of art hanging on their office walls, but only pay a fraction of the price for it. Plus, they can rotate the artworks at the end of every contract, for example, every year," says Sadler.
The rental cost is a percentage of the artwork's value. For example, if a corporate client rents S$100,000 worth of art at 6% per annum, it pays S$6,000 a year. "This is usually paid on a monthly or quarterly basis," says Sadler."
ARTISTS WITH CONSISTENT CAPITAL APPRECIATION
Art Works features the works of artists who have shown consistent capital appreciation over 5, 10 and 15 years. "We check everything out there, from auction results to retail prices. As all the artworks we deal with come directly from the artists, the provenance is obviously very good. It allows us to get the best possible price," says Sadler.
Every purchase comes with a five-year professional storage facility offered by the Helu-Trans Group, insurance coverage by Chubb Ltd and independent valuations. "Let's say we lease our client's art out. If the contract is up and the client does not want to renew the lease or change the artwork, the artwork will go into storage for a short period of time while we re-market the artwork to be leased again," says Sadler.
"Some clients have bought really expensive works off us and do not want to lease them out. So, we will store them in our warehouse on their behalf until they have room for them or until the value appreciates." 
Clients are assigned personal account managers, who will apprise them on the progress of their artwork, including the capital appreciation, auction results and awards or articles that are relevant to their investment. "So, the clients not only receive rental income from their art but also updates and market information, which help them to make intelligent decisions," says Sadler.
Many of the art pieces held by Art Works are by established Chinese contemporary artists such as Liao Zhenwu and Liu Liguo. According to Sadler, despite the negative outlook for the global art market, their works remain in demand.
The firm's collection also includes the works of British-born contemporary artist Lincoln Townley, Australian contemporary artists Mark Hanham and Jason Benjamin and aboriginal artists Judy Napangardi, Gloria Petyarre and Kathleen Petyarre.
"These artists are in the S$20,000 to S$150,000 price range, and that is a sweet spot. If it gets too expensive, it is harder to lease out because it is a lot of money for our corporate clients. S$50,000 is a good place to start. This price point is ideal, both for the kinds of artists we deal with and also how consistently we will be able to lease out the artwork," says Sadler.
Next year, the firm hopes to carry more works by burgeoning Indian and Southeast Asian artists, he adds. "We are constantly on the lookout for artworks. I am off to Mumbai at the end of the year to visit artists from all over India. We will also have a trip to Vietnam soon to meet artists there. We are focused on contemporary art because it is popular now and really exciting to our clients."
These artworks are in demand not just because of the affinity for contemporary art but also their price points, says Sadler. "If you are talk about blue-chip artists from yesteryear and those who have died, you are referring to the more museum-type pieces. These works do not really fit our leasing business because people want the works now and something that is going to invigorate the look of their corporate office. 
"Also, like any other market, people want what is exciting now. So, contemporary is a lot more affordable than these classic works of art."
Art Works currently deals with art pieces that are priced between S$30,000 and S$100,000. "We want to hold the artwork for five to seven years, at the minimum. During that period, we aim to lease it for as long as possible and then help the client sell it to our client base or other collectors whom we deal with. We charge a 10% brokerage fee when we sell the artwork," says Sadler.
"I had an art piece that one of my clients bought — a Lincoln Townley painting. It has doubled in value over the past 12 to 18 months. He purchased it for about S$150,000. Now, it is easily valued at S$300,000. 
"But this kind of price appreciation is not always the case. Townley is one of the hottest artists in the world now. So, we have done very well for the client. My point is, while the art market is exciting and you can make a lot of money out of it, it is not the norm."
Instead, the firm aims to provide clients with 10% to 15% capital appreciation consistently over 5 to 10 years plus the returns from leasing. "The leasing part is why our clients are willing to own this type of investment — because the leasing income also protects them from the volatility. I think people will be happy with that because they will have a steady income and art is a great hedge against one's equity portfolio," says Sadler.
Despite signals that the art market is bottoming out, he stresses that the market remains highly diverse. "In terms of the outlook, we are very excited about next year. We only deal with contemporary artists in Asia. This has been our strongest year. We opened a new gallery and we have more clients than before. 
"In Singapore, we have seen the market evolve over the last seven years. It has been incredible, in terms of people's openness to learn about the market and their willingness to invest in it. We see the Singapore government's initiative in spending millions of dollars to boost the infrastructure of the art district, where there are more galleries coming up and noticeably more buyers than before."
While the leasing contracts are limited to clients in Singapore, Art Works has a number of Malaysian art collectors and investors on board. This is the reason it is considering opening a gallery in Kuala Lumpur.
The risks? Sadler says while there have been artworks that have not appreciated in value, none of them have depreciated. "Can we guarantee that prices will go up? No, but we do our very best to pick artworks that we believe will appreciate. In the worst-case scenario, at least the prices of the artworks will be stable. So, at the end of the day, they have a beautiful painting that is worth what they paid for. 
For those considering art for their investment portfolio, Sadler recommends buying works from galleries with the right paperwork on provenance and for the right price. "Do your research, ask advice and make sure you deal with reputable companies. I always tell clients that while their artworks can be a sound investment, if they are only looking to add a couple of pieces to their portfolio, they should buy something they like as well. 
"We have had many clients who, after two years of leasing, decide to hang the artwork on their walls for six months or a year. Then, they lease it out later."
Art collectors increasingly focused on returns
According to the Art and Finance Report 2016 by Deloitte and art market analysis firm ArtTactic, while the outlook for the Chinese contemporary art market was in negative terrain as overall sales from auctions dropped 41% in 2015 from the previous year, Southeast Asian art continues to be one of the best performing markets. 
The report notes that despite the global art market downturn in 2009, the Southeast Asian modern and contemporary art market has seen a steady rise, with 28% growth in auction sales in 2015. It also notes that for the first time, the wealth management industry was aligned with collectors and art professionals as 78% of wealth managers surveyed (up from 55% in 2014) felt that art and collectables should be included as part of wealth management offerings.
The report says 72% of art collectors bought art as passion investments. "The emotional benefit of collecting, combined with the potential of a value increase and/or store of value, that is, value protection, is the driving motivation among most collectors in the art market."
It also points out that art collectors appear to be increasingly focused on investment returns, as 64% of art collectors surveyed stated that this was an important motivation, compared with 47% in 2014.
ArtTactic warns in a separate report, the Global Art Market Outlook 2017, that the contemporary art market is showing signs of bottoming out, driven mainly by geopolitical uncertainties. Nevertheless, it found that there had been an improvement in sentiment in all regional markets this year despite the circumstances, with contemporary artworks from Africa, South Asia, the US and Latin America leading the pack with the strongest positive outlook.