This article first appeared in City & Country, The Edge Malaysia Weekly, on March 9, 2020 - March 15, 2020.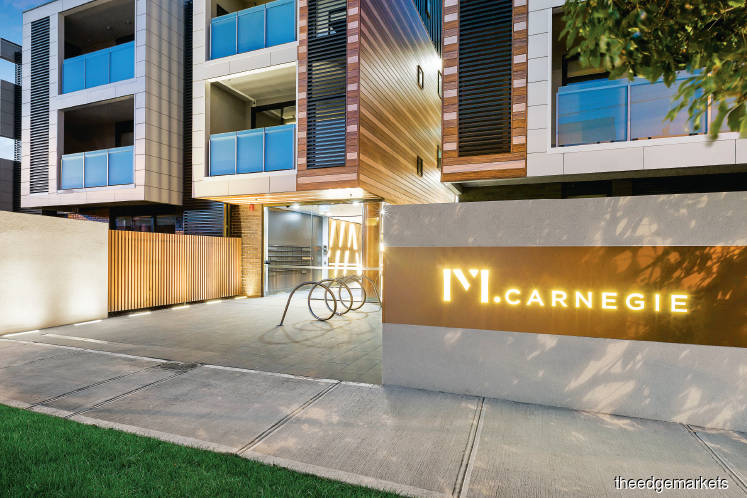 Above: M.Carnegie is the company's first project in Melbourne, Australia
Photo by Matrix Concepts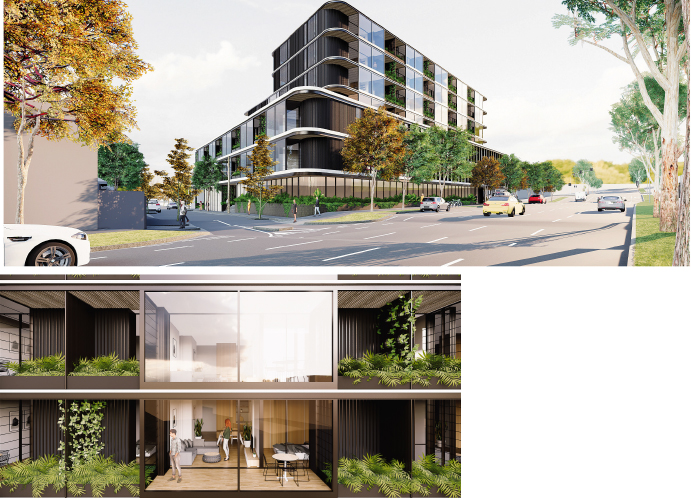 Above: Artist's impression of Matrix Concepts' project in St Kilda and its serviced apartment component (left)
Photo by Matrix Concepts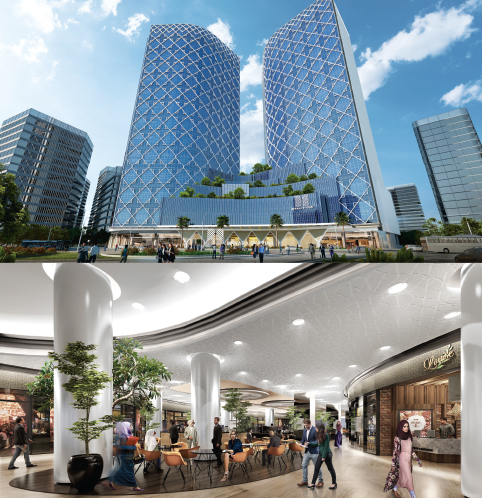 Above: Artist's impression of Menara Syariah Twin Towers and its retail component in Jakarta (below)
Photo by Matrix Concepts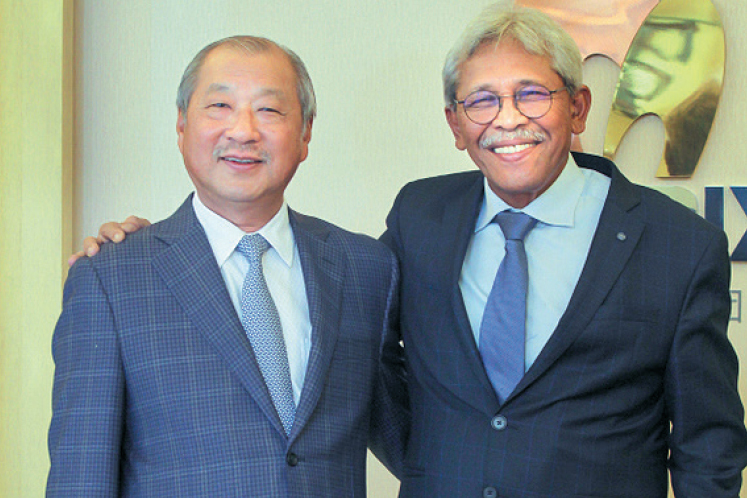 Mohamad Haslah (seen here with Lee): It is not sustainable if we have to keep pumping money there [from Malaysia to Australia], so we spin the project off there and use the profit to fund the next project
Photo by Kenny Yap/The Edge
Property developer Matrix Concepts Holdings Bhd adopts a cautious approach towards growing the company. Chairman Datuk Mohamad Haslah Mohamad Amin says its strategy is to be prudent in its spending and to start small before expanding.
"As a group, we are prudent in spending and we care about the people who support us. We went through difficult times, and I think we are blessed and came out stronger. It is nice to be bullish but we have to look at the reality and be careful. We don't want to be in a situation where we are caught in a cash flow issue because I have seen it during the 1997 [Asian financial] crisis," he says.
Mohamad Haslah is speaking to City & Country at Matrix Concepts' headquarters in Seremban. He comes across as very hands-on in company operations, with all relevant information at his fingertips.
The former banker was appointed chairman in April 2012. After graduating with a diploma in banking,  Mohamad Haslah started his career with Malayan Banking Bhd in 1974. Among other positions, he has worked as executive director at Peregrine Fixed Income Ltd, Hong Kong; country director at Fleet Boston NA, Singapore; and financial adviser with Pacific Plywood Holdings Ltd, Hong Kong.
Growing the brand in Australia
Mohamad Haslah says while it is comfortable with its property development business, Matrix Concepts is transforming itself into a conglomerate with various new sector ventures.
"We have a philosophy … we want to start something small and grow it from there. The reason for this [philosophy] is to position our resources, to make sure that we have the right people. As we grow our businesses, we can't keep relying on external consultants," he says.
This was demonstrated when Matrix Concepts made its maiden foray into Melbourne, Australia, in 2016. It launched an apartment project comprising just 52 units on a 1,600 sq m lot in Carnegie.
Located one train stop away from Monash University, M.Cargenie had a gross development value (GDV) of A$31.97 million, with units priced from A$8,500 to A$10,000 psm. The project, which was completed in 2018, has been fully sold.
"When we started [in Melbourne], we were trying to understand the market, so we started small with M.Carnegie with 52 boutique apartments. They were handed over last year. The project was successful, and then we decided to [expand] our presence in Melbourne with M.Greenvale, offering 79 bungalow lots. So far, some 40% has been taken up," Mohamad Haslah says.
He adds that M.Greenvale will be officially launched in Australia next month. Spanning 10 acres in Greenvale, it has a GDV of A$24 million (RM66 million). The project is located next to Greenvale Reservoir Park and is 10.7km from Melbourne Airport.
The bungalow lots are sized from 178 to 420 sq m, and priced from A$1,150 to A$1,200 psm.
Mohamad Haslah says Matrix Concepts is looking to launch another project, this time in the area of St Kilda, in the second half of the year. A mixed-use development with commercial and apartment components, this yet-to-be-named project is on a 2,540 sq m land and will have a GDV of A$77.8 million.
He explains that Matrix Concepts plans to be in Melbourne for the long term. Its strategy is to develop small projects to avoid being a financial burden to its parent company in Malaysia. This is especially crucial as developers can only receive all the payments upon full completion of the project.
"It is not sustainable if we have to keep pumping money there [from Malaysia to Australia], so we spin the project off there and use the profit to fund the next project. We will grow gradually in Australia and we will do it one [project] at a time as we want to grow the business in a way that doesn't stress us. We look at things opportunistically and if there are good [pieces of land], we will consider them," he says.
All of the company's Australian projects have been profitable. Mohamad Haslah says the profit before tax (PBT) from M.Carnegie was A$5.14 million. The estimated PBT from M.Greenvale is A$3.86 million and the St Kilda project, A$14.9 million. This will hold it in good stead for future projects.
Making inroads into Indonesia
Last year, Matrix Concepts ventured into its second overseas market — Jakarta, Indonesia. While Indonesia is not popular with Malaysian developers, Mohamad Haslah is "very bullish" on the country as it is the biggest economy in the Southeast Asian and has long been underrated.
"The key factor when doing business in Indonesia is that you need to have a reputable partner and understand the culture. We speak similar languages, but their legal system is of the Anglo-Dutch [variety]. Homeownership there is only 15% and, with its population, you can imagine the potential.
"The economy there is positive as it has established the minimum wage system, and their purchasing power is higher now. Their malls are always packed and there is a tremendous need for housing," he says.
Matrix Concepts, together Indonesian entities Agung Sedayu Group, Salim Group and PT Fin Centerindo Dua, formed a joint venture company called PT Fin Centerindo Satu. The JV company owns a 3.6ha tract in the 12ha Islamic Financial District, which in turn is within the 23.5ha International Financial District in Pantai Indah Kapuk 2 (PIK 2), Jakarta.
Spanning 2,650ha, PIK 2 is a mixed-use waterfront city that is being jointly developed by Agung Sedayu and Salim. It is 15 minutes from Soekarno-Hatta International Airport and 30 minutes from the Jakarta city centre.
The JV company will first develop a mixed-use development called Menara Syariah Twin Towers on 1.4ha of land in PIK2. The two 29-storey office towers, which are scheduled for completion by end-2021, have a GDV of US$250 million (RM1.05 billion). The project will have more than one million sq ft of gross floor area and comprise retail units, a landscaped observation deck, an infinity pool, prayer halls and 23 floors of office space. The construction cost of the development is budgeted at US$125 million.
"As they are doing a development related to Islamic finance, they acknowledge that Malaysia is more advanced than Indonesia in [the area of Islamic finance] and so they need a Malaysian partner. The chemistry between us was right and we can work together. It took us a long while to understand Indonesia [the culture and the way they do business] … as their system is different [from Malaysia] but I think we are safe as we have reputable partners," Mohamad Haslah says.
"At the same time, we see many opportunities within Indonesia itself and we are looking at these opportunities, especially the 30 million affordable-housing target set by the government. We will give first priority to working with our current partners. [Otherwise,] we will go for other partners."
Mohamad Haslah notes that Matrix Concepts is not only looking at Jakarta, but also other cities in Indonesia, including in East Kalimantan — the location of the country's new capital — where he sees a need for more housing.
Future endeavours
Mohamad Haslah states that the company will focus its efforts in Indonesia and Australia for now, and there are no plans to venture elsewhere as "our hands are full". He is also happy with Matrix Concepts' ample landbank in Malaysia as well as its decent cash flow and gearing.
"When you are in a foreign country, it is not only about learning how to do business, it is also about learning the way they do business and the culture of its people. To get there is difficult, so when you get there, you need to make sure you develop the opportunity," he says.
Matrix Concepts' expansion does not stop here. Mohamad Haslah states that it is important for a company to plan five years ahead and start preparations now. Currently, it is looking to boost its investment properties. As its overseas business grows, there is also a possibility of listing its international businesses.
"We are thinking of having another vehicle to take on all overseas businesses if we have enough sizeable projects. We are also looking at investment properties … to put them in one company. Whatever we plan, it must be five years ahead and we need to prepare ourselves for that," he concludes.
From humble beginnings to listed company
Matrix Concepts was founded by group executive deputy chairman Datuk Lee Tian Hock in 1996 as a property development company. It has since expanded into several other business divisions, including construction, education, hospitality and healthcare.
It was listed on the Main Market of Bursa Malaysia in May 2013. The following year, Matrix Concepts entered The Edge Billion Ringgit Club, which recognises excellence in companies with a market capitalisation of above RM1 billion.
Its flagship development — the 5,233-acre Bandar Sri Sendayan township in Seremban — won The Edge Malaysia Property Development Excellence Award last year. The award recognises large-scale developments that have had a significant impact on an area as a catalyst of growth.
Bandar Sri Sendayan, which has an estimated gross development value of RM8.3 billion, was launched in 2004 in a joint venture with Negeri Sembilan's Mentri Besar Incorporated. The township has a population of 40,000 and has residential, commercial, institutional, high-tech industrial, agricultural and leisure components. There are plans to build malls, offices and a hospital in the township.
Matrix Concepts' education business is represented by Matrix Global Schools while its hospitality business consists of d'Tempat Country Club and d'Sora Boutique Business Hotel. All of these products are located in Bandar Sri Sendayan.
Last year, Matrix Concepts ventured into the healthcare sector when it signed an agreement to take over the operational management of Pusat Hemodialisis Mawar's hospital division, haemodialysis centres and clinics for the next 30 years.
With regards to property development, it has projects in Kluang, Johor, and Kuala Lumpur in Malaysia. Several years ago, it expanded overseas — first to Melbourne, Australia; and recently, to Jakarta, Indonesia.