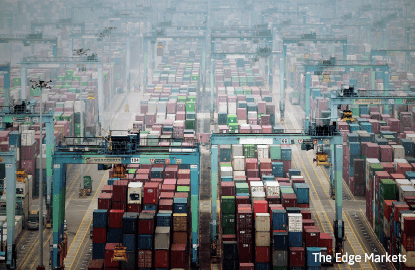 This article first appeared in digitaledge Weekly, on September 14 - 20, 2015.
GIVEN the volatility in equities this year, the market has more often than not disappointed investors. Yet, some analysts say the counters in the logistics and transport sector could offer investors plenty of food for thought.
Soong Wei Siang, a Kenanga Research analyst who tracks stocks in the industry, argues that the charm of those in the business of shipping, freight and land transport would appeal to investors in today's weak market environment due to the resilience of their earnings.
In a May 18 report, Soong writes that factors such as e-commerce growth in the local market, the industry's fast-moving consumer goods-oriented customer mix, potential revaluation of logistics companies' vast assets like landbank and the growing trend of logistics outsourcing warrant a rerating of the sector.
When contacted, Soong tells digitaledge Weekly, "We believe that the logistics theme has been overlooked by investors for some time but there is deep value in the sector. We believe that logistics counters should feature in the portfolios of investors, given their resilient earnings."
Kenanga Research's top picks in logistics stocks are a quartet comprising Century Logistics Bhd (fundamental: 1.90; valuation: 2.40), TASCO Bhd (fundamental: 1.80; valuation 1.40), Xin Hwa Bhd (fundamental: NA; valuation: NA) and Harbour-Link Group Bhd (fundamental: 1.70; valuation: 1.80).
"We like Century Logistics and TASCO. Both companies have visible earnings growth, expansion plans and a dividend-paying philosophy. Century Logistics' valuations are cheaper than its peers'. It also has a good dividend payout policy of 50% of its net profit. We expect Century Logistics to have a dividend yield of 4% to 5%," says Soong.
"TASCO has a dividend yield of about 2% but it is backed by its Japanese owner NYK. TASCO can leverage NYK's vast distribution network and be more involved regionally going forward."
Meanwhile, Harbour-Link, a comprehensive logistics provider in Sabah and Sarawak, can capitalise on government-backed economic initiatives like the Sarawak Corridor of Renewable Energy. Kenanga Research is projecting a net profit growth of 53.3% and 22.9% for FY2015 and FY2016 respectively, supported by its logistics division.
Commenting on Xin Hwa, Soong says, "The company is a smaller logistics play. Its operations are restricted to land transport, but operating on a smaller scale allows it to enjoy higher-than-average margins. If it develops into a more integrated logistics player, its earnings base will widen significantly."
Despite good reasons for investors to look at logistics, some analysts warn that the sector, which has traditionally been sensitive to external trade factors, has certain downside risks.
RHB Research analyst Ahmad Maghfur Usman, who has "buy" calls on TASCO and Freight Management Holdings Bhd (fundamental: 1.40; valuation: 1.80), says the current economic landscape of slower global growth and weakening external trade numbers for Malaysia are a "substantial" threat to the earnings of logistics companies.
"TASCO and Freight Management will still be profitable but there are risks. Plus, we cannot predict how long the slower global growth and weak economic environment will last. The bright side, of course, is that economic conditions will recover eventually," he says.
Similarly, Chris Eng, vice-president of Etiqa Insurance and Takaful's investment management division, who has the same stock picks, says he does not have compelling "buy" calls on Freight Management and TASCO but nevertheless believes they are good bets for longer-term capital appreciation.
"TASCO handles a lot of the warehousing needs of online retailers like Zalora and Lazada. As more people turn to online shopping, it should be positive for TASCO's earnings. As for Freight Management, it is a fundamentally stable and well-managed company. We believe there is potential for capital appreciation over the longer term. As long as external trade numbers are healthy, it will do well," he says.
Furthermore, investments in capacity expansion made by both TASCO and Freight Management suggest that the longer-term growth prospects remain intact. TASCO has plans to spend RM120 million to RM150 million on building a four-storey warehouse to elevate storage capacity by 45%. Meanwhile, Freight Management is looking to expand its trucking fleet in Penang where demand is strong.
As Malaysia experiences an increase in e-commerce activity, Ahmad Maghfur says GD Express Carrier Bhd (GDEX) is his top stock pick in the logistics sector. The stock is expected to book the strongest earnings growth among its peers under RHB Research's coverage.
"GDEX (fundamental: 3; valuation: 0.70) has seen very strong earnings growth with profit up 40% to RM9.2 million in the fourth quarter of financial year 2015. We believe there is still room to grow with earnings mainly driven by stronger e-commerce activity," he explains.
---
Note: The Edge Research's fundamental score reflects a company's profitability and balance sheet strength, calculated based on historical numbers. The valuation score determines if a stock is attractively valued or not, also based on historical numbers. A score of 3 suggests strong fundamentals and attractive valuations. Visit www.theedgemarkets.com for more details on a company's financial dashboard.