This article first appeared in City & Country, The Edge Malaysia Weekly, on October 14, 2019 - October 20, 2019.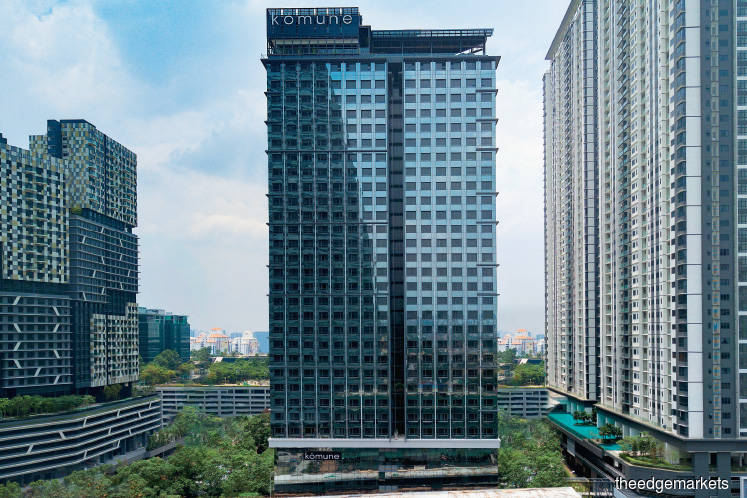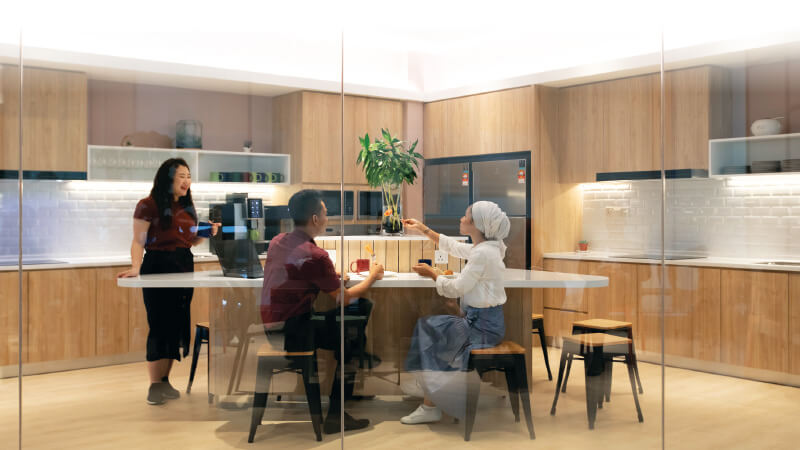 The communal kitchen
At Komune Living, the vibe is distinctly young, bright, easygoing and hip. This is no ordinary hotel — in fact, it is more than a hotel, says head of UOA Hospitality Dickson Kong.
Established in 2011, the hospitality arm of UOA Group manages four properties at Bangsar South — a 60-acre mixed-use development in Kuala Lumpur.
The 648-room Komune Living has a co-living concept and aims to fill a gap in the hospitality offerings in the market, Kong tells City & Country.
"I lived overseas for a long time and honestly, I think one of the best periods of my life was my university days. Back then, we stayed in a dormitory, where you could meet the most people and have fun together.
"I find that as we grow older, it is harder to meet people, especially like-minded ones. It is difficult even to get to know our neighbours. So, we came up with Komune Living, which is a bit like a dormitory for our target market — young working professionals," explains Kong, who joined UOA Hospitality in 2016.
He describes Komune Living as a cross between a full-fledged hotel and a dormitory. Guests will still get the security and services expected in a hotel but as its name suggests, it will focus on community and co-living.
"We have a lot of community events planned. Our aim is to get people together — we want them to meet and have fun together," says Kong.
Spaces to gather in
The spaces in Komune Living have been created to encourage interactions. We are seated in the communal kitchen for the interview and it is brightly lit with a light colour theme. It is also fully equipped with cooking stations and an island in the middle of the room.
"Guests can come here to cook and share a meal. We have everything except groceries, which they will have to buy themselves," Kong smiles.
The communal kitchen is not the only place guests can cook and mingle in. Komune Living has an outdoor barbecue area for those who want to fire up the grill.
Guests can also make full use of the communal lounge, launderette and games room. The lounge is much like the living room of your home — a place to chill, watch a movie and get to know each other — while the launderette is located in a cosy corner and is self-service. Tokens can be purchased to operate the washing machines and there are spaces for folding and ironing laundry. The games room has video games, a pool table, board games and gaming consoles.
On the rooftop is a swimming pool from which guests can enjoy a great view of the city. On the same floor is the gym, which is equipped with free weights, treadmills, stationary bicycles and ellipticals.
On the ground floor is Komune Café, which offers coffee and a range of meals, including some grab-and-go eats. A co-living hotel would not be complete without a co-working space. Named Komune Co-Working, the 36,000 sq ft space offers workstations and fully equipped meeting rooms on Level 2. Extra charges apply for use of the co-working space. UOA Hospitality has another Komune Co-Working space of 30,000 sq ft in Jalan Pinang, Kuala Lumpur.
"We want Komune Living to be a place where you can work, live and, hopefully, play a lot. The events we have planned are things that are close to the hearts of young executives, such as fitness and technology.
"People lead very busy lives these days. Some work from 9am to 9pm, six days a week. The only remaining time you really have is when you are eating, sleeping or trying to meet people. So, at Komune Living, guests can come together over a meal or games and just communicate," says Kong.
Dreamers and thinkers
Komune Living offers two designs for its rooms — Thinker and Dreamer. All rooms have a clean, minimalist look. However, the Thinker-themed rooms have a darker palette of colours compared with the Dreamer rooms. After seeing them for ourselves, we agree that the slight change in colours does create a different feel.
The smallest room is 17 sq m (almost 183 sq ft) while the largest is 38 sq m (about 410 sq ft). They come in different configurations, ranging from a single-bed studio to a loft with two queen-size beds and a sofa bed that can fit six people.
"We are looking at both short-term and long-term stays. The short-term stay programme allows daily check-ins and check-outs. We hope to encourage more people to stay here long term. We are offering a long-term rate starting from RM1,800 a month — with housekeeping included — which we hope most young executives will find attractive," says Kong.
"Normally, to get good rates for an apartment, young executives would have to commit to one or two-year rentals, which can be quite troublesome. I think people are kind of nomadic these days. We are offering not just the security, community and facilities but also the flexibility."
He adds that Europeans and Americans tend to place more premium on flexibility compared with the more traditional Asians. "Asians tend to think that they have to own a house but I think a lot of younger people are finding that this is not that important after all."
Co-living is a new concept in Malaysia and to get an idea of how it will be received, UOA Hospitality put out feelers.
"One great advantage we have is the ecosystem and community we already have in place in Bangsar South. We have a close relationship with our tenants and there is a large community of expatriates and young working people here. So, we told them about Komune Living and the response has been very positive. We could rent out an entire floor to a company to house their employees. This is different from a hotel and it is also cheaper than a hotel," says Kong.
Instead of a general manager, Komune Living has a community manager. "A community manager is a bit like the head of a village. The person's job is to make sure everyone is fed and the rooms are clean, and to drive the events and foster a community," he continues.
"We have our internal targets when it comes to occupancy. Of course, we hope to achieve as high a rate as possible."
Ultimately, the ethos of Komune Living is to give people a chance to meet, create a sense of community and a sense of belonging. It will be officially opened on Oct 16.
Different offerings for different market segments
UOA Hospitality owns and operates RM500 million worth of hospitality assets. Its portfolio includes VE Hotel & Residence, Connexion Conference & Event Centre, Komune Living, Komune Co-Working and the recently rebranded Invito Hotel and Residence (formerly known as Capri Fraser).
Following the end of Fraser's management term in September, UOA Hospitality took over the operations of Capri Fraser and rebranded it on Oct 1.
"We are very pleased with what Fraser has created and done for UOA Hospitality. We have learnt from them and we have learnt from our mistakes. The Malaysian hospitality market has been challenging. So, we are looking at how we will be able to consolidate and bring the cost down while still offering the same level of service and products to our customers," says Kong.
"One way is to expand our footprint as well as cluster certain positions within the company to bring the cost down. What we have now is a more occupancy and cost-based strategy. There are so many different offerings in today's market. For us, it's not just about product differentiation but also about being able to provide quality products at an affordable range."
Each UOA Hospitality asset caters for a different market segment. VE Hotel & Residence is a four-star property with 432 hotel rooms and fully furnished 1 and 2-bedroom serviced residences, catering for business travellers.
Invito offers 240 spacious studios and apartments starting from 650 sq ft. It is geared towards those in senior management who not only prefer bigger rooms but also tend to spend more time there. And, of course, Komune Living will meet the rising demand from millennials and tech-savvy travellers.
Meanwhile, Connexion Conference & Event Centre has over 200,000 sq ft of space, spread across Nexus and The Vertical. It offers meetings rooms, ballrooms and an auditorium.
"We saw an average of 70% to 75% occupancy across all our hospitality properties last year, which is not too bad. We have been very lucky. We have built a team that has been able to carry the brands as well as the organisation forward," remarks Kong.
According to him, UOA Hospitality was founded to provide hotel rooms to its tenants. "Our tenants had complained that there were not enough hotel rooms in the vicinity. Distance and traffic were an issue. So, we started UOA Hospitality to serve the needs of our tenants and we created Connexion to enable them to hold meetings close to their offices."
While UOA Hospitality is open to exploring other opportunities, it has no plans to expand out of the Klang Valley at present.
"This is not the best time to be looking at venturing out of the Klang Valley as the market is challenging now," says Kong.
UOA Hospitality has an annual turnover of RM90 million and with Komune Living, it will be operating three brands with over 1,300 rooms.