This article first appeared in The Edge Malaysia Weekly, on December 31, 2018 - January 06, 2019.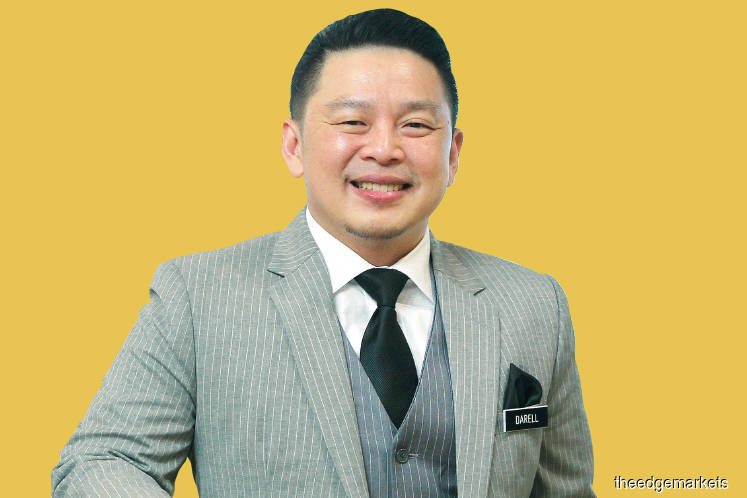 AFTER the momentous general election, how have the last seven months been for businesses and industries? What is the outlook for 2019? The Edge asked various people, from Minister of International Trade and Industry Datuk Darell Leiking to a former minister, a banker, economists and business leaders.
Datuk Darell Leiking
Minister of International Trade and Industry
The Edge: What has been the most challenging part of your job?
Leiking: The challenges were always there. I was very new to the ministry, and I had to take very quick lessons to deliver what the prime minister had mandated. One of the promises that we first initiated was the 3S strategy — search, seek and secure investors for Malaysia. The new one is the fourth S. Once you have secured them, you have to service them. They face a lot of other challenges when they come to Malaysia, so that is why the ministry must also service them when they are here. We cannot abandon them. I wanted new investors and for them to have confidence in the new Malaysian government. We must reciprocate this. And that has been the way forward for us.
At the same time, we face other problems, such as the bureaucracy of the past administration, but we are improving. To be fair, the civil servants also want to follow how the new government wants things done. One of the things the prime minister cautioned us about was that when the investors come in, the approvals take too long. But the worst thing is, even rejections take too long as well. So, this is what the prime minister wants us to correct.
I know that complaints will always be there. It is good that we find solutions each time there is a complaint … and MITI is a ministry that is very dynamic. It actually brings a lot of money — not by law, but by invitation — into Malaysia. For MITI, we have to find a reason to entice investors to come to Malaysia.*
*As told to The Edge in an interview
The following are written answers to questions from The Edge:
Broadly, what are the main or major policies that MITI plans to introduce in 2019?
Industry4WRD, the national policy on Industry 4.0, will be an important focus moving forward. MITI is working hard to propel the transformation of the manufacturing sector and its related services to be smarter, stronger and driven by people, process and technology. We have four national goals, namely uplifting productivity, increasing manufacturing value-add to GDP, strengthening innovation and capacity and doubling up the number of high-skilled jobs. MITI is finalising action plans to implement Industry4WRD, especially in terms of readiness assessment and intervention programmes.
The establishment of the Joint Task Force between the Ministry of Finance and MITI is an important step forward for the regulatory reform agenda, particularly to improve the trade process and tax administration. As Budget 2019 states, we want to show that "we are open for business". MITI will also review the overall regulatory process and enhance the transparency, accountability and credibility of regulatory decisions.
The inclusion of new agencies, such as Standards Malaysia, SIRIM and MIMOS, will enable MITI to embark on initiatives to leverage the digital economy and technology to further uplift the manufacturing and services industries. The adoption of international standards and smart technology will be an important driver of growth. We will also leverage the expertise of EXIM Bank and InvestKL Corp to push forth the trade and investment agenda.
MITI and agencies are collaborating to further uplift trade and investments. We are looking at forging greater synergies to facilitate businesses. There will be more joint programmes and activities across agencies to facilitate the private sector's growth. The agenda of the new government is to push harder and create a conducive business environment.
Good Regulatory Practice will be intensified in 2019, including unified online public consultation to ensure that the rule-making process in Malaysia is more transparent, predictable and inclusive. The process of reviewing the National Policy for the Development and Implementation of Regulations is currently being undertaken, after five years of implementation, and will be reported next year (2019).
What are the challenges or risks that Malaysian businesses should be mindful of?
Despite the robust economic performance in 2018, risks to growth are tilted to the downside, emanating from heightening uncertainties in the global environment such as trade protectionism and rising trade conflict, volatility in global financial markets and oil prices, drops in commodity prices as well as geopolitical tension.
A prolonged trade war between the US and China is expected to have an impact on both countries and also other economies. It is also expected that most economies and companies outside the US and China will be affected due to their interconnected supply and value chains, as well as income in the global market. In turn, this will also impact global economic growth.
At the same time, Malaysian businesses need to continue to adapt to the structural transformation of the global economy as a result of the rapid advancement of new technologies and digitalisation, as well as the emergence of new elements such as e-commerce and environmental issues.
An initial assessment undertaken by the Institute of Strategic and International Studies (ISIS) shows that the Malaysian economy's dependence on trade (Malaysia's exports-to-GDP ratio stood at 70%), its high exposure to the Chinese economy and its deep integration in global electronic supply chains mean that continued trade tensions between the US and China will be significantly detrimental to Malaysia's economic growth.
However, downside risks to the trade tensions may be mitigated by the potential for Malaysian manufacturers in specific sectors to benefit from increased demand for substitutes for the tariff-imposed Chinese goods as the US-imposed tariffs have significant overlap with Malaysia's export capabilities.
If trade tensions persist and tariffs remain, continued trade diversion and rerouting of export demand to other Asian countries (excluding China) will lead to investment diversion, potentially causing supply chain shifts in the short-to-medium term and supply chain creation in the medium-to-longer term.
Malaysian firms should now capitalise on this opportunity to expand their trade and investment horizons with investors and businesses from the US and China. Companies from the US can consider Malaysia as their alternative regional production hub. For example, companies can produce selected products in Malaysia to avoid additional tariffs imposed by the US on imported products from China.
Similarly, Chinese-based companies are considering and exploring new markets to avoid the high tariffs imposed by the US on China. By exploring new export markets, especially Asean, Chinese companies could transfer their manufacturing operations to Asean countries. The distance from Asean to China will be an added advantage for Chinese investors.
Still, while we may benefit from the trade war, we need to be careful in ensuring that the new investments are not to circumvent the protectionist, unilateral measures imposed by the US and China, including trade remedy measures. For example, the iron and steel industry is aware of new investments by China in Sulawesi, Indonesia, which may also flood Malaysia's market. This will pose a further challenge and issue for us.
We also need to be mindful of the US' pro-bilateral approach. We are aware that both the US and China have come to an amicable solution and agreed to retract some tariff measures among themselves. At the same time, Malaysia may face competition from its counterparts that can also supply similar substitute products.
Malaysian businesses also need to take more initiatives and become industry leaders in responding and adapting to the rapid technological advancements. Rather than shying away from disruptive technologies, local players need to embrace the transformation brought about by these technologies. For example, Malaysian businesses' participation in ecommerce has registered a continuous increase for seven years to RM85.8 billion in 2017. We need to continue to grab the prospects under the implementation of the National eCommerce Strategic Roadmap (NeSR), including higher integration in the ecommerce platforms such as Go eCommerce and Digital Free Trade Zone (DFTZ).
Save by subscribing to us for your print and/or digital copy.
P/S: The Edge is also available on Apple's AppStore and Androids' Google Play.